Last Updated: 26 August 2022
Feeling warm sand between your toes on Portugal's finest golden beaches is an unforgettable experience.
But you can work up quite an appetite!  Fortunately, the Algarve boasts some of Portugal's best cuisine.  Tickle your taste buds with these three classic dishes when you're next in the Algarve region.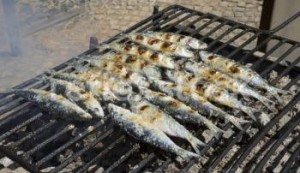 Sardinhas Assadas
Ask anyone to name Portugal's "local" favourite food is.  Odds are high they'll say sardines.
Sardines usually evoke images of shrivelled fish on top of pizzas and long frowns as people wrinkle their noses in disgust.  But the sardines caught in Portugal's oceans are meaty, flavourful and embedded in Portuguese culture.  
Portugal's reputation of having the finest sardines in the Mediterranean is rivalled only by Italy and Spain.  They have a much meatier flavour than you may expect.  They taste more like a richer tuna.  
I've enjoyed many balmy nights by the little quay in the beautiful seaside town of Portimão.  The harbourside is lined with restaurants and cooks stoking their coal barbeques. 
Fending off clouds of smoke, I easily succumbed to the aroma of sardines cooked over the hot charcoals.  Who wouldn't?  Even if you're not hungry, it's impossible to resist them, as they are grilled right before your eyes.
There's no right or wrong way to eat sardines.  Pick them off their bones and eat them with fresh bread topped with olive oil.
Sardines are an important part of local culture and play a key role in local festivals.  Every February, the picturesque village of Carvoeiro celebrates Carnival.  Families cram together (like sardines!) and join processions of giant sardine floats winding their way through cobbled streets. 
Alternatively, if you're staying close by in early to mid-August, celebrate Portimão's Sardine Festival with the locals.
>> For more information on the Algarve, check out "The Algarve – Portugal's Winter-less Region".
Chicken Piri Piri
If sardines are not your taste, don't worry.  Portugal has much to offer the travelling foodie.
Cooking with passion over hot coals are hallmarks of Portugal's food.  The Portuguese are unashamedly proud of their earthy cuisine.  They conjure up simple dishes, using only a handful of fresh ingredients bursting with strong flavours.
A classic example is Portuguese Chicken is Piri-Piri.  This fiery speciality owes its name to the crimson coloured pepper that livens up the sauce.  Grown in southern Africa, in former Portuguese colonial territories, the piri-piri pepper (or African Birds Eye Chilli) is a dozen times hotter than a jalapeno.  
The first time I tried it, local Bombeiros (firemen) would have struggled to contain the fire raging in all 4 corners of my mouth!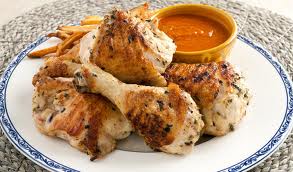 The sauce is made from crushed African Birds Eye Chillies, onion, garlic, pepper, salt, citrus zest, lemon juice, paprika, pimiento, basil, oregano, bay leaves and tarragon.  
If you feel adventurous but don't have asbestos lined tonsils, ask the waiter to sprinkle a drop of the sauce on the side of your plate.  
But remember to have emergency number 112 programmed in your 'phone.  And a full bottle of ice cold Sagres beer on hand!
Pastel de Nata
No meal is complete without dessert.  I'm sure Portugal is single-handedly responsible for increasing demand for dentists in far flung places like Brazil, Mozambique, India and Macau.  
Portugal's seafarers are renowned for sailing to all 4 corners of the globe.  They introduced this national egg tart pastry, with centuries old history, to anyone looking for a quick sugar fix.   
It's a wonderfully simple dessert and synonymous with Portugal.  It's soft and creamy on the inside and crispy on the outside.  Just writing about them, stirs up vivid memories of "having just one more" and licking my lips at the end of a wonderful meal.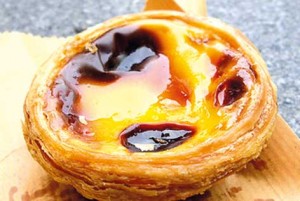 "When in Rome, do as the Romans do" as the cliché goes.  "When in Portugal, eat until your heart's content".  
Eaten all over Portugal, the most famous pasteis de natas are from Belém in Lisbon.  I've been lucky enough to have one or two in Beléms many pastelerias
>>For more information on Belém and Lisbon check out "24 Hours Exploring Lisbon's Maritime Past and Tram 28"
Final Thoughts 
Shadow-box through thick clouds of barbeque smoke; tackle an African Birds Eye, and become best friends with your dentist because there's a big prize awaiting you.  
Discover Portugal's love affair for fresh fish, spices and custard tarts.  You'll quickly realise there's more to the Land of Navigators than Port.  It deserves its status as a country with a rich culinary history.