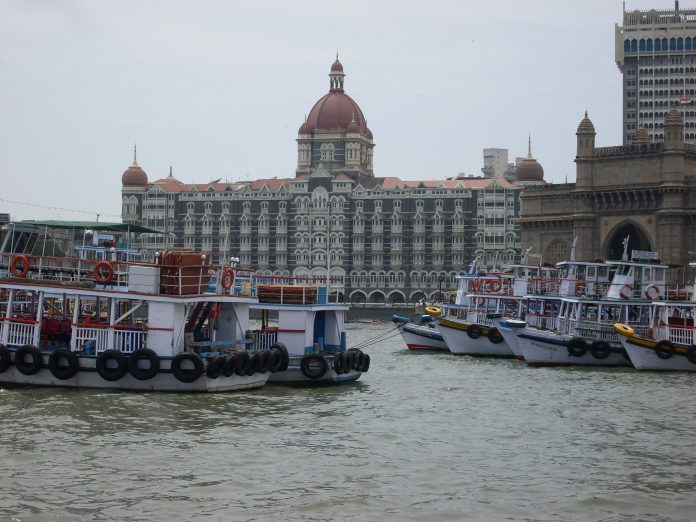 Updated 24 September 2022
WHY GO TO MUMBAI
There's no escaping it. Mumbai is extraordinary. You either love it or hate it! Its chaotic and exhausting.
Bustling with boundless energy, if you want evidence how India represents its unity in diversity, Mumbai should be added to your travel plans.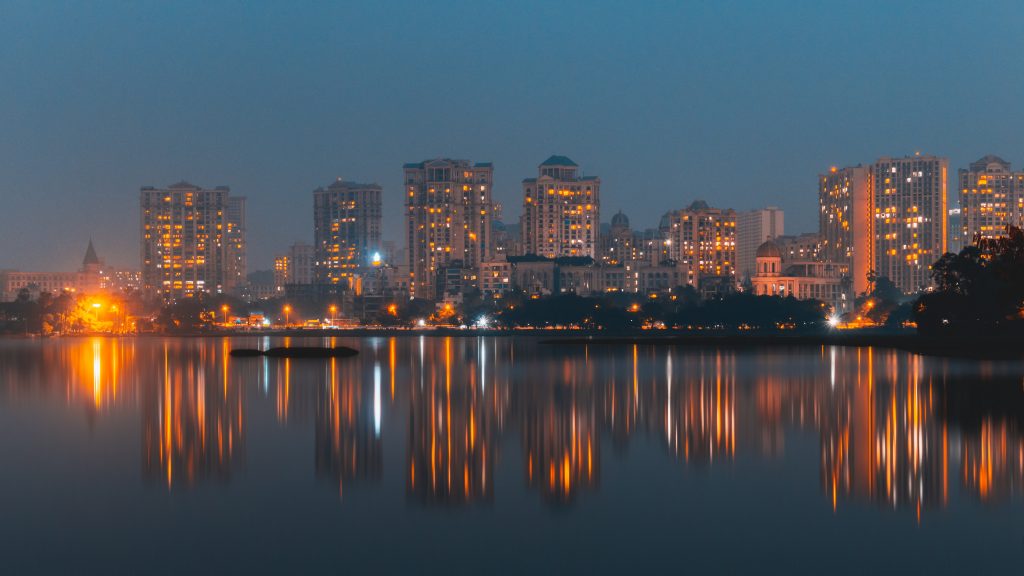 21 million people call this sprawling tropical seaport home. India's second most populated city is, in many areas shiny, brand-new, and unashamedly successful.
In other areas, it's unbelievably squalid and poor. Wealth and squalor live side by side.
A trip to India is incomplete without visiting Mumbai. Allow yourself some time to absorb and appreciate its quirks. All of your five senses will be on high alert as you indulge in a city full of excesses.
WHEN TO TRAVEL TO MUMBAI
Mumbai's weather is moderated by the Arabian Sea.  The best time to visit Mumbai is in the cooler winter months (October to March).

Mumbai becomes very hot and dry during the summer (March to June) until the monsoons arrive in mid-June and continue until September.

MUMBAI FAST FACTS
Chatrapati Shivaji International Airport is approximately 28 kms from the city centre. A taxi to the main tourist district, Colaba, should be approximately ₹500.
MasterCard and Visa are widely accepted in Mumbai.  Many shops also accept American Express and Diners Club. ATMs are widely available throughout the city and many debit cards are accepted as well.
Malaria is prevalent in many parts of India and therefore you should seek medical advice before travelling.
Tipping in India has always been difficult as there are no boundaries or proper guidelines. Many hotels and restaurants have introduced a service charge of about 10% to replace tipping. Hotel porters expect around ₹50 to carry your luggage. Local tour guides expect around ₹100, and I'd recommend about ₹200 per day for drivers if you hire a car with a driver.
Nationals from all countries (except Nepal and Bhutan) require a valid visa to travel to India.
The Colaba Causeway and Fashion Street are the main shopping districts and are located in the heart of the city.
Dubbed India's "city of dreams". Budding wannabe actors and actresses flock to Mumbai hoping to be the next Bollywood star. Did you know Mumbai's film industry churns out more than 900 films each year!
Mumbai is India's beating economic heart. It's vibrant stock market and business centre cater for many of India's billionaires. Formerly called Bombay, Mumbai is full of reminders of the days of British rule.
PLACES TO STAY IN MUMBAI
Mumbai has a titanic supply of rooms.  Visitors on tight budgets should be prepared to spend more in Mumbai than other cities on the sub-continent.
The cost of Mumbai accommodation varies but you can be sure that you'll find a hotel room to suit your budget.  Standards at the lower end of the scale can often be difficult to tolerate.
I recommend choosing a hotel in or around the Colaba district in south Mumbai.  It's close to many popular restaurants and to a few major landmarks.
If you're on a tighter budget, try Banda in Mumbai's northern suburbs for cheaper hotels.  Here are two hotels I am familiar with.
The majestic Taj Mahal Palace Hotel is centrally located and provides an oasis away from Mumbai's hustle and bustle.
Many of its 565 air-conditioned rooms offer extensive views of The Gateway of India and Arabian Sea.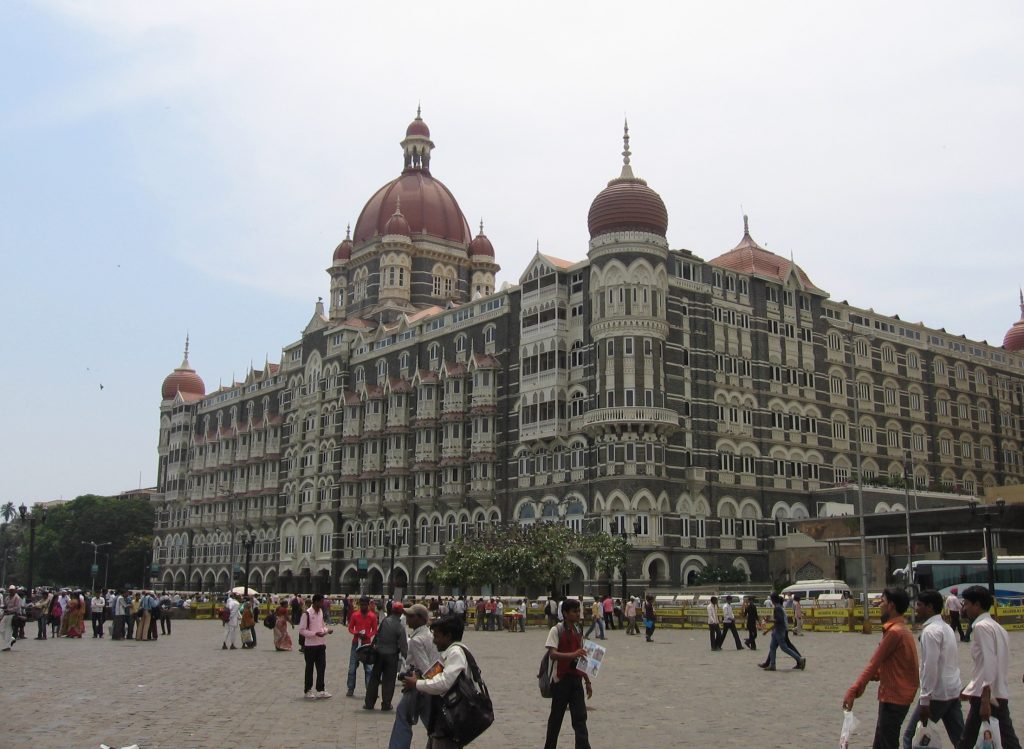 Conveniently situated less than 200 metres from the Gateway of India, it's a perfect location to catch a ferry to Elephanta Caves, explore the city or stroll to the nearby Prince of Wales Museum.
I haven't stayed overnight but have had coffee a few times there.  If you're not staying at the Taj Mahal Palace, you should pop in for an afternoon of indulgence.
Location: Apollo Bunder Road, Near Gateway of India, Apollo Bunder
Email: reservations.mumbai@ihcltata.com
Telephone: +91 22-6665 3366
Medium: Ramee Guestline Hotel Juhu
I stayed in this small boutique hotel in 2015.  I chose it because it was 2 minutes from the beach, in the popular Juhu suburb, and only 4kms from the airport.  The hotel has a rooftop swimming pool, gym and health club and nightclub!  Overall, I wasn't disappointed, but the nightclub was deafening!
Location: 462, AB Nair Rd, Juhu Tara, Juhu
Email: reservations.juhu@rameehotels.com
Telephone: +91 2267159200
Budget: Hotel Godwin
The Hotel Godwin is a good budget choice in Colaba and close to the museum and Gateway of India.  It has wonderful roof top garden where you can escape the city's hustle and bustle.
Location: Colaba Cuseway, 41, Garden Rd, Apollo Bandar, Colaba
Email: hotelgodwinindia@gmail.com
Telephone: +91 22 2284 1226
7 MUMBAI SIGHTS NOT TO MISS
Victoria Terminus
Victoria Terminus (Chhatrapati Shivaji Terminus) is an extraordinary UNESCO World Heritage Site.  Built in 1887, the building is classic and magnificent in its conception.
The tall palms that guard the railway station's entrance provide an exotic tropical setting.
It still fulfils its original purpose.  3 million (yes 3 million!) Mumbaikers flood in and out of the city through this station every day.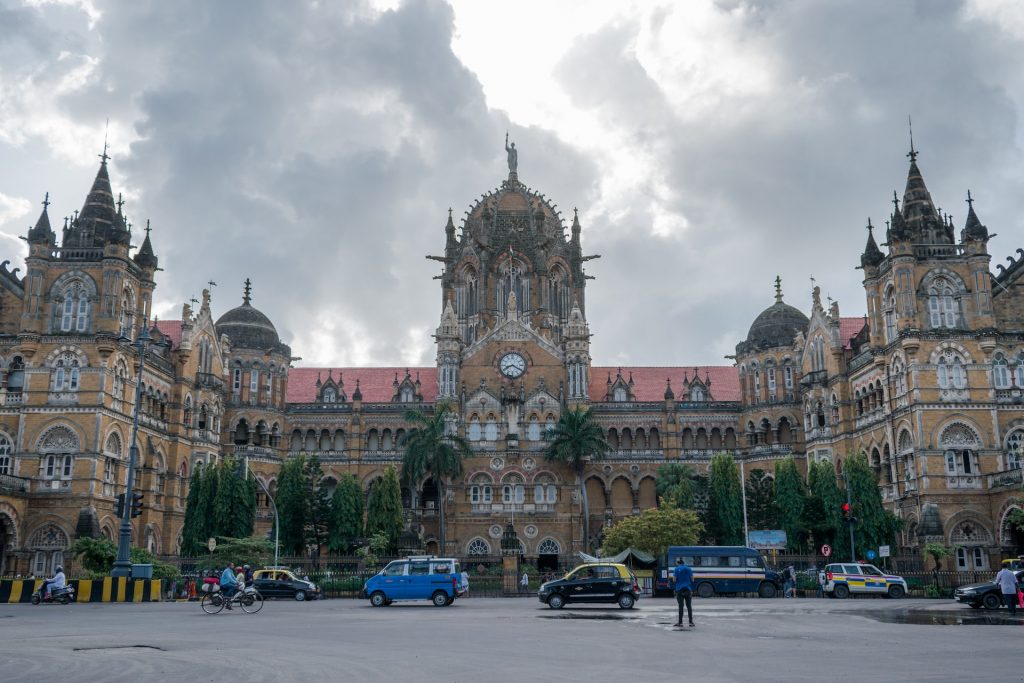 If you don't fancy a "Mumbai Train Massage" I'd recommend going first class!  It will still be crowded but not as much as normal carriages.
Personally, I'd also recommend avoiding the carnage of boarding trains in Mumbai's rush hour!
I recall being overwhelmed the first time I successfully navigated a busy morning train into the city.  I'd never seen so many people in one place.
Exiting onto the main street, I was confronted with swarms of taxis, double-decker buses, road-side vendors selling roasted sweetcorn, coconuts, and exotic fruits.
I quickly succumbed to the lure of a certain global fast-food shop opposite to grab a cold drink and air conditioning!
Location: Chhatrapati Shivaji Maharaj Terminus, Fort
Timings: 24 hours
Nearest Railway: Chhatrapati Shivaji Maharaj Terminus
Admission: Free
Discover Elephanta Island
Escape the city's chaos and noise with a 30-minute ferry ride to the quiet UNESCO World Heritage Site.  Sprawled over 16 square kilometres, 2,000-year-old Hindu and Buddhist temples and sculptures nestle inside 7 caves.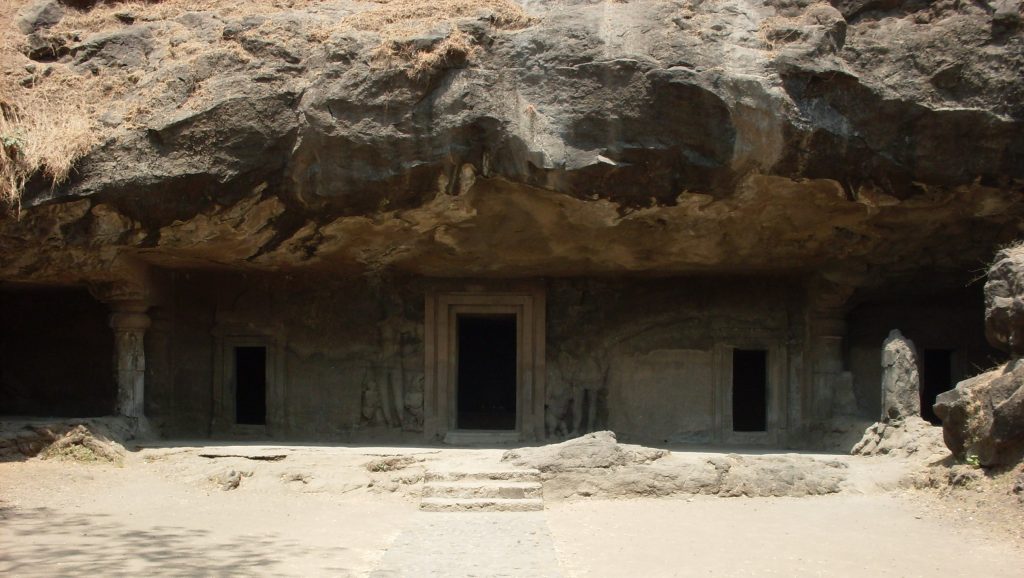 Originally called Gharapuri, Portuguese sailors renamed it after discovering a large stone elephant on the island.
Sadly, in 1814 the elephant figure collapsed and was relocated to Victoria Gardens and reassembled.
Beware of monkeys as they can be a little aggressive.  Keep your water bottle and food secure inside your bag.
I learned the hard way.  A monkey boldly snatched my water bottle and was not going to give it back when I approached it!
Location: Gharapuri Island
Timings: 9AM to 5PM (closed Mondays)
Nearest Railway: Churchgate. Caves can be reached by 1 hour ferry from Gateway of India
Admission: ₹600 for foreign citizens.
Embrace The Gateway of India's Architecture
Mumbai's iconic Gateway of India is the starting point for many visitors looking to explore the city.  Built in 1911 to commemorate King George V and Queen Mary's visit, its archway stands at 26 metres.  It's adjoined with four turrets and intricate latticework carved on stones.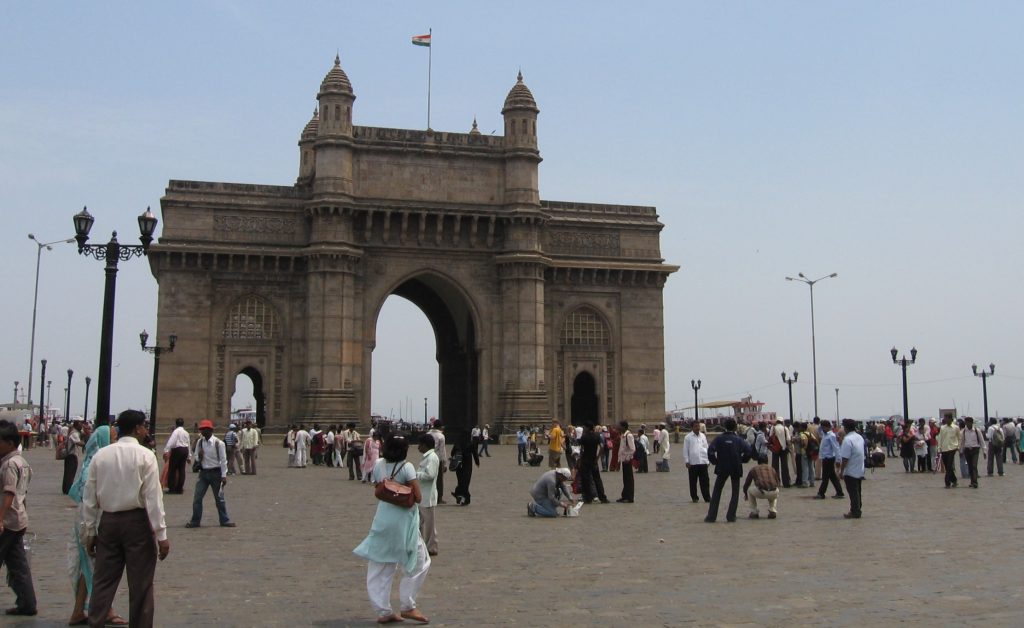 Overlooking the Arabian Sea, it was once the main arrival point for visitors from the west.  In 1947, British ships symbolically set sail for England from the Gateway for the last time.
Visited by millions of visitors each year, The Gateway of India symbolises Mumbai's grandeur and proudly represents its bygone era and modern-day people.  At night, its beauty is intensified by Mumbai's bright lights and the moon casting silhouettes on the Arabian Sea.  Admission is free.
Location: Apollo Bunder
Timings: 24 hours
Nearest Railway: Churchgate
Admission: Free.
The Prince of Wales Museum
Centrally located, Chhatrapati Shivaji Maharaj Vastu Sangrahalaya, as it is now called, plays a prominent part in preserving Mumbai's and India's extensive history.
The museum showcases more than 50,000 exhibits representing Indian history, as well as artefacts from other countries.  The museum lies within beautifully manicured lawns and landscaped gardens.
Location: 159-161, Mahatma Gandhi Road, Fort
Timings: 10.15 AM to 6.00 PM
Nearest Railway: Churchgate
Admission: ₹650 for foreign citizens.
Relax on Marine Drive ("The Queen's necklace")
Mumbaikers love nothing better than strolling along Marine Drive's palm tree lined coastline to catch a glorious sunset and to enjoy the cool, refreshing sea breeze.  Chowpatty Beach, at its northern end is well-known for its fast food and nightlife.
Hugging the city's Arabian Sea coastline, Mumbai's bright streetlights illuminate its 3kms to resemble a string of pearls or "Queen's necklace".
Hang Out at the Hanging Gardens (Ferozeshah Mehta Gardens)
Locals gather at The Hanging Gardens (also called) for its tranquillity and uninterrupted views over Chowpatty Beach and The Arabian Sea.
This beautiful park boasts opportunities to catch some amazing sunsets or to simply stroll through its gardens and hedges shaped into animals.  Situated opposite Kamala Nehru Park, it's easily reached by public transport or by taking a taxi from the city.
Location: Malabar Hills
Timings: 5AM to 9PM every day
Nearest Railway: Grant Road (Western Line)
Admission: Free.
Explore the Gandhi Museum (Mani Bharvan)
Situated in a quiet leafy lane, Mani Bharvan was Mahatma Gandhi's home when he visited Mumbai between 1917 & 1934.  Visitors can view photo exhibitions and memorabilia depicting Gandhi's life, including an old spinning wheel ("charkha") that he used to use.
Location: 19 Laburnum Road, Gamdevi, near Malabar Hill
Timings: 09:00 and 18:00 most days
Nearest Railway: Grant Road (Western Line)
Admission: Donation
Mumbai's Open-Air Laundry
Mumbai's highly organised open-air laundry is a bizarre oddity.  Dhobi Ghat, in the heart of Mumbai, is where magic happens.  Behind the railway line, sunk below street level, the mystery of what happens to the city's laundry reveals itself.
From 04:30 until late into the night, washermen and women wash the clothes of half of Mumbai's population.  This explains how the clothes you give reception in the morning are returned to you on the same day.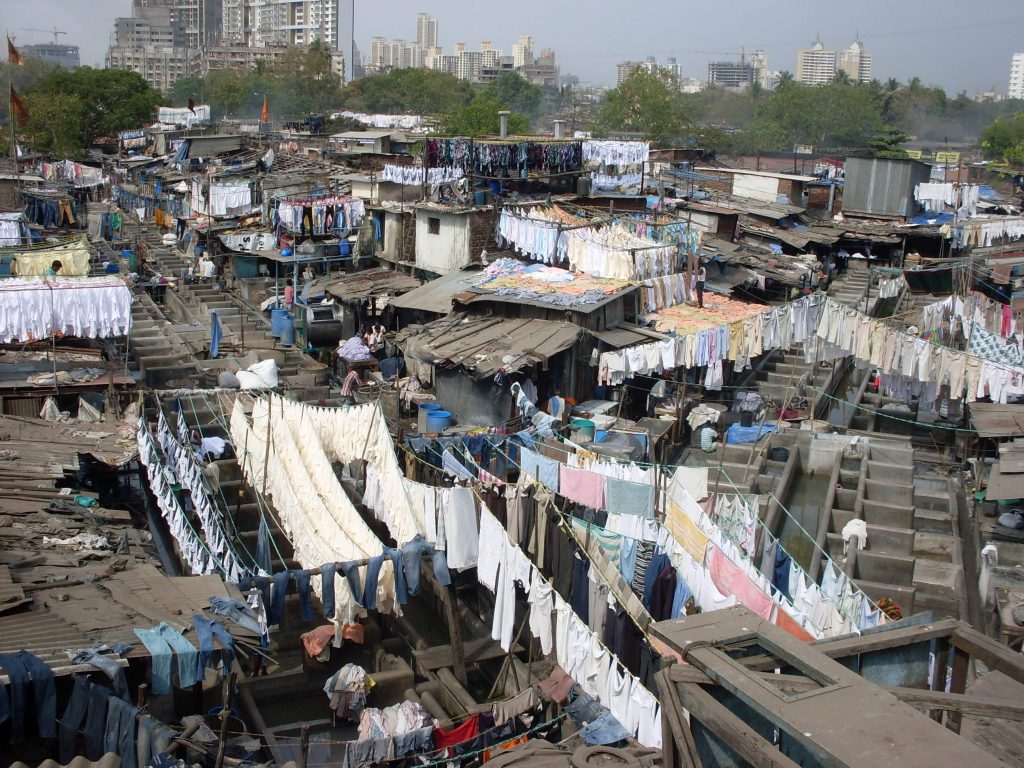 The dhobi-wallers use hardly any machinery.  They rely on hard work and traditional ways.  Clothes are flogged and beaten by hand, with reservoirs of water and tonnes of caustic soda, on any one of the 800 concrete stones.
Location: Mahalaxmi Ghat, Near Mahalaxmi Raiway Station
Timings: Work is done from 4:30 am to 10:00 pm.
Nearest Railway: Mahalaxmi (Western Line)
Admission: Free.
MUMBAI'S FOOD SCENE
Mumbai's food history follows its growth from a fishing village to a modern-day metropolis.  Wave after wave of immigrants from all over India brought their cooking methods and regional dishes with them.
Eating out in Mumbai is great fun and inexpensive.  Whether you're a vegetarian or not, you'll discover ample supply of restaurants and roadside food stalls to fuel your appetite.
Where to Eat Breakfast in Mumbai
For breakfast, try the iconic Leopold Café on Colaba Causeway.  Unfortunately, it needs little introduction.  It received worldwide attention resulting from Mumbai's horrific terrorist attack in November 2008.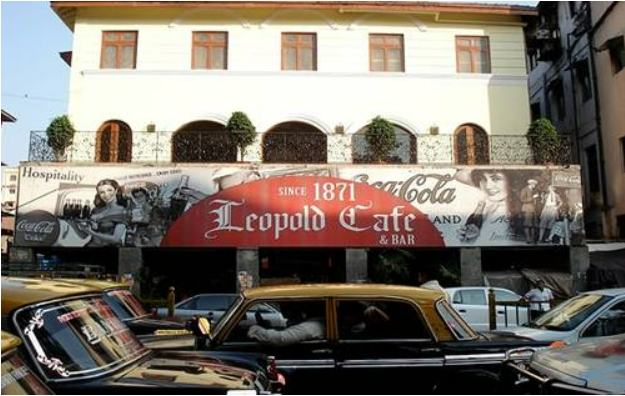 Bullet holes are still clearly visible in the walls as gruesome reminders of the incident.
Address: Shahid Bhagat Singh Road, Colaba Causeway.
Timings: 7:30AM to 12:00 AM
Phone: +91 22 2282 8185
Lunch in Mumbai
Street food is synonymous with Mumbai.  For a fraction of the price of an Auckland latte, delve into a variety of choice to break your diet!
Head to Chowpatty Beach for an authentic experience.  Chow down on a pav bhaji – soft bread roll (pav) served with thick vegetable curry (bhaji).  Or vada pav, better known as the Indian Burger, a deep-fried potato ball with a bun.
Or if you're calorie conscious, try the Bhel Puri.  Potato is mixed with puffed rice, vermicelli and crunchy puri, and topped with tamarind sauce, it's a clear winner with Mumbaikers.
Follow these with kulfi (Indian ice-cream) before a long leisurely walk along the sandy beach to burn some calories off!
Address: Chowpatty Beach, northern end of Marine Drive.
Dinner in Mumbai
For dinner, head over to the hugely popular, award winning, Khyber Restaurant.  If you're lucky, you might end up rubbing shoulders with Bollywood and international celebrities.
Located near Mumbai's High Court, Khyber boasts a rich and diverse menu, focusing on northern India and the Mughal era.
Listen to thumris and ghazals playing in the background.  Meanwhile your appetite is charged for a menu of exotic dishes made with fresh ingredients and selected with great care and passion.
Address: M.G. Road, Fort
Timings: 12:30 to 4.00 pm and 07.30 pm to 12.00 pm.
Phone: +91 22 4039 6666
MUMBAI'S BEST BEACHES
In Mumbai's western suburbs, Juhu Beach is easily Mumbai's most popular beach.  Several Bollywood stars live in Juhu.
Juhu Beach comes alive in the evening with its carnival atmosphere.  Children play on rides.  Their parents soak up a sunset and a snack from a local vendor near the main car park.
As the sun sets over Chowpatty Beach, the Arabian Sea shimmers like melting gold.
Locals occupy their evenings chatting with family and friends or sit quietly mesmerised by the gentle sound and sight of the waves.
Later, they enjoy an evening breeze with a walk along Marine Drive (also called the Queen's Necklace).  While the location is excellent, Chowpatty Beach was like a landfill site and too busy for me.
Versova beach, in northern Mumbai's upmarket Andheri suburb hosts a large proportion of Mumbai's fishing community. The beach is relatively empty in the mornings but gets crowded in the evenings and weekends.
HOW TO GET AROUND MUMBAI
Taking the Bus in Mumbai
The city's buses go everywhere the trains don't.  But they're not very tourist-friendly.  Expect some challenges.  Don't expect to see bus numbers and destinations shown in English on the front of buses.  Fares begin at ₹5.
Ride a Local Train
Local trains operate in a south to north direction, which helps travelling from one end of the city to the other.  Trains are widely used by 8 million commuters every day and always very full!
There are three lines: Central, Western, and Harbour. The Western Line operates between Churchgate in South Mumbai to the city's north and is most useful for tourists.  Fares start at ₹5 in 2nd Class.
Metro Train
The AC Metro Train currently operates between Ghatkopar and Versova and runs past Mumbai Airport.
It connects to the city's Harbour and Western Lines at Andheri, providing an inexpensive option for tourists to reach the tourist district.  Fares start at ₹20.
Auto Rickshaws
Auto rickshaws only operate in the suburbs, and you won't find any in South Mumbai. Like taxis, auto rickshaws' fares are set by meters.
Fares start at ₹21 for the first 1,500 metres and then ₹14.20 per kilometre.  A premium is added after midnight.
Taxis
The iconic black and yellow taxis are prevalent throughout Mumbai.  Unlike most other Indian cities, you won't have to argue to turn the meter.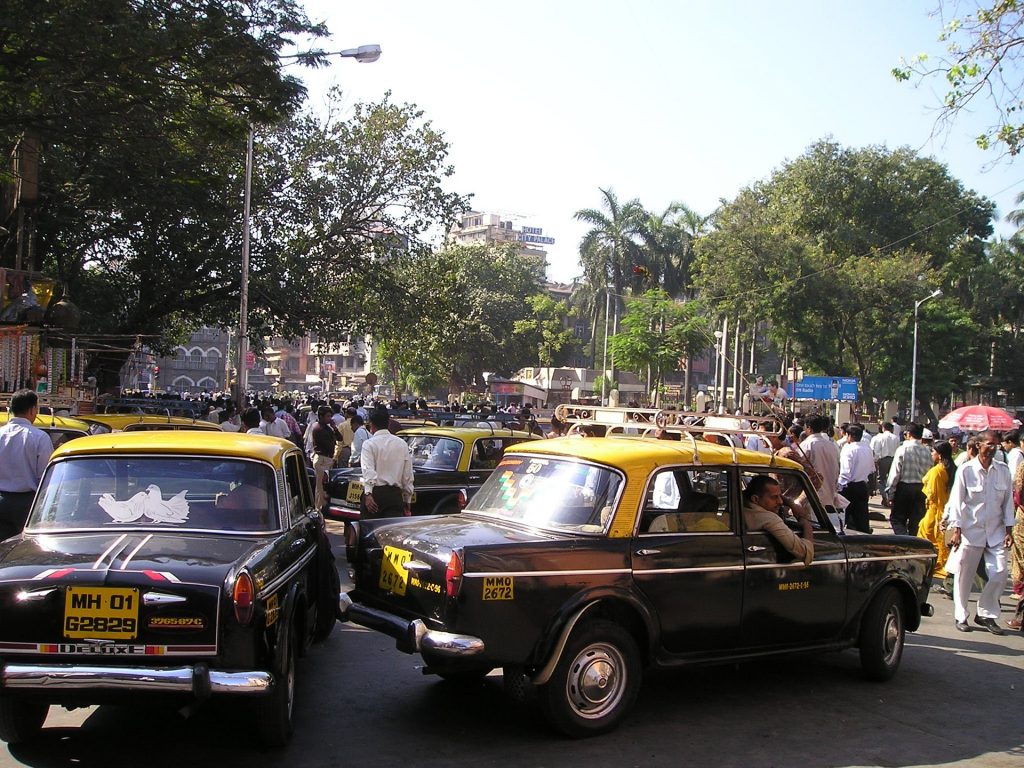 Be aware the driver may try to overcharge you by taking you the long way.
One "ambitious" driver drove me the long way back to my hotel in Juhi and tried to overcharge me.  I knew how far it was and the right price as I had done the journey a few times!
Fares start at ₹25 for the first 1,500 metres and then ₹17 per kilometre.  A premium is added after midnight.
Ridesharing Apps
Uber and Ola (the Indian equivalent of Uber) are widely available in Mumbai. They're a great alternative to taxis.
You don't need to ask your driver to speak English or if they understand your Marathi!  You set the landmark in the app and sit back!  Fares start ate ₹100.
Mumbai Monorail
The monorail line was opened in 2014.  It offers little benefit to tourists.
Mumbai is a city of dreams.  Be prepared to be hassled, bumped and jostled on crowded pavements, and persistently asked to part with your cash.  It's also a city to create memories.
You'll need several days to really soak up its intoxicating and unique vibe.  If you aren't planning to stay in Mumbai long, check out my highlights.
Enjoyed reading this article?  Please leave a comment below.