ARE YOU PLANNING your first trip to Jaisalmer this year? If you are, you're probably wondering what are some of the best things to do in Jaisalmer?
I've travelled throughout Rajasthan several times and feel like I know my way around. It's easily my favourite state in the whole of India.
I've visited Jaisalmer, Jaipur, Udaipur, Bikaner, Jodhpur, Ajmer and Pushkar at least three times each. Yet they're all different and all have their own unique charm.
Jaipur is the Pink City. Udaipur, the white one, and Jodhpur the blue city. There's a good reason Jaisalmer is the Golden City.
Where is Jaisalmer, and why go?
Jaisalmer is a city in the state of Rajasthan in India, close to the border with Pakistan. It is situated in the heart of the Thar Desert, which is India's largest desert.
The "Golden City", due to its yellow sandstone architecture, glows in the sunlight. Jaisalmer is famous for its magnificent fort, Jaisalmer Fort, which is a UNESCO World Heritage site.
Jaisalmer also has a rich history and cultural heritage, with various temples, palaces, and havelis that are worth exploring. Overall, Jaisalmer is a must-visit destination for travellers who want to experience the magic of Rajasthan.
When to Go
Jaisalmer is mostly dry throughout the year. November, December, January, and February offer the best weather in Jaisalmer. You'll generally enjoy daytime temperatures averaging between 20°C and 28°C. Although when I last visited Jaisalmer in mid-October 2022, it was 30°C at 10 o'clock in the morning, soaring to 37°C in the afternoon!
Compare these temperatures to its suffocating, humid, summers from April to October when the mercury regularly exceeds 40°C! It's been said that Rajasthan has some of the world's hottest climates. I can vouch for that. A few years ago, I sizzled in a scorching 47°C in Jaisalmer!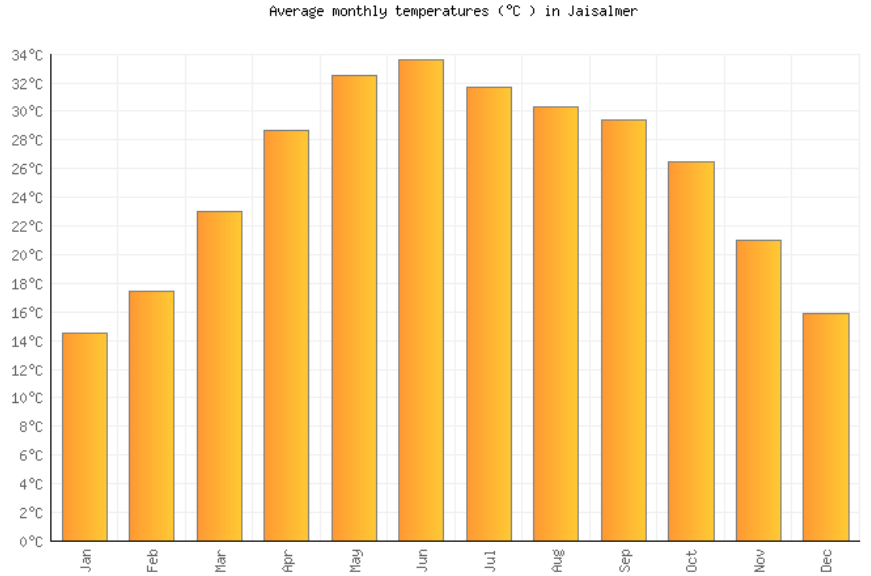 7 of the best things to do in Jaisalmer.
#1. Discover Jaisalmer's Heritage: Explore the Magnificent Sonar Quila (Golden Fort)
One of best things to do in Jaisalmer, and top of everyone's list, is to explore the fort. It has no opening or closing times and is free!
Mooching around this enormous sandcastle is one of my favourite things to do when I visit Jaisalmer. As I approach its huge defensive gates, I literally feel I've stepped back in time.
It's easy to be captivated by this desert citadel, despite its unrestrained thirst for the tourist rupee.
Rajasthan is so well-known for its numerous forts that Sonar Quila may be considered "just another one" in its collection. But it's distinctive. People still live and work inside the fort.
While walking on cobbled stones leading up to its huge gates, it's easy to imagine life there a few hundred years ago. You don't visualise what it was like by looking at artefacts in some government museum. You actually live it!
UNESCO World Heritage Site.
Jaisalmer ("the Golden City") is ornately carved from golden-honey sandstone which lights up as the sun rises and sets. Jaisalmer Fort, also known as Sonar Quila ("Golden Fort") is in the heart of Jaisalmer and is one of Rajasthan's most popular tourist attractions.
It's one of five forts throughout Rajasthan awarded a prestigious UNESCO World Heritage Site tag. It rises from the desert like a magical illusion from former times. Its golden colour earns it the nickname of the Golden Fort.
The Majestic Jaisalmer Fort: An Architectural Wonder with a Fascinating Past
Built by Rajput ruler Rawal Jaisal in 1156 AD, it stands tall on a hilltop overlooking the city. Surrounded by 30m high walls, its 99 sandstone bastions form an outer chain providing defensive cover from invading armies. It has stood the test of time as it has never been conquered.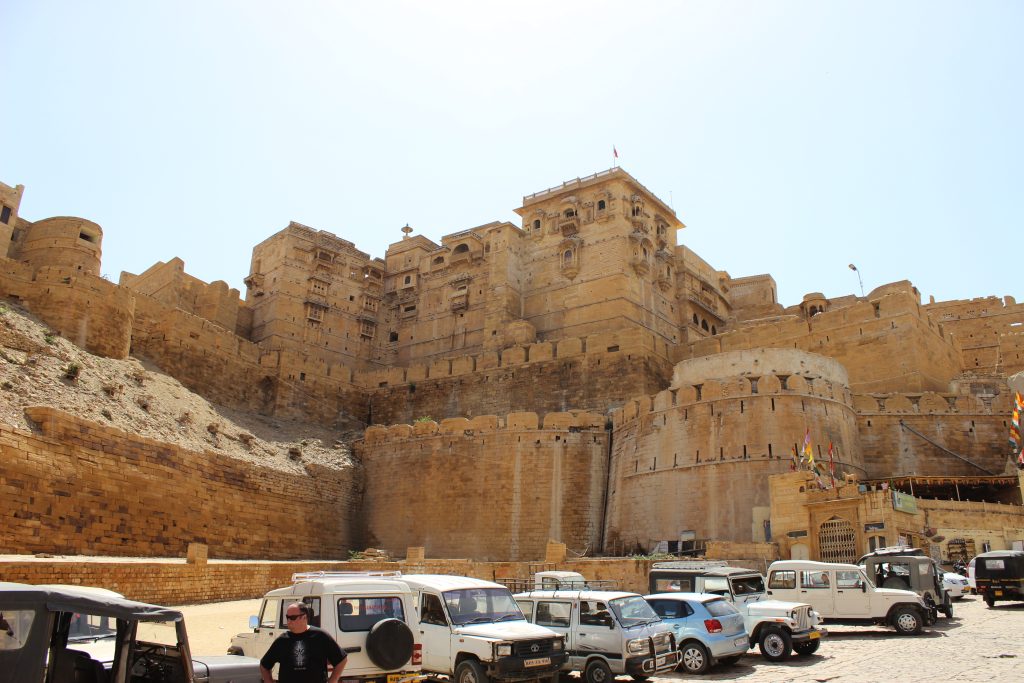 Get Lost in Jaisalmer's Mystical Beauty: An Unforgettable Adventure Awaits You
The fort is home to several beautifully preserved palaces, temples, and havelis (traditional houses). The most famous palace is the Raj Mahal, where Rajput kings resided.
Intricate carvings and frescoes adorn the palace which are a visual treat for visitors. The palace has several courtyards, gardens, and fountains that add to its charm.
Sonar Quila boasts several temples worth visiting, including Laxminath Temple, dedicated to the Hindu goddess of wealth and prosperity. The temple's beautiful carvings set the scene for a popular place for locals to worship.
The fort's Jain temple is dedicated to the Jain Tirthankara Rishabhdev. Its popular elaborate carvings are a must-see for those interested in Jainism.
Similarly, inside its walls, the old city's narrow cobbled streets hide temples and ornately decorated homes (havelis, built by wealthy merchants). Many are expertly chiselled from the same straw and honey-coloured sandstones as Sonar Quila itself.
No wonder Jaisalmer is dubbed Rajasthan's "Golden City".
These havelis, and their intricate carvings and frescoes provide glimpses into Jaisalmer's wealthy merchants' lifestyles. The most famous, and largest, haveli within the fort is Patwon ki Haveli.
EDITOR'S TIP
Enjoy the fort's birds-eye views. Sonar Quila's elevation offers numerous Instagram opportunities.  Several cafés and restaurants display signs offer the best "sunset views" or "city views". Mahendra ("Mr Happy") at Shanti The Peace Restaurant serves up a refreshing cold Kingfisher and wide choice of snacks!
The fort's museum showcases the city's rich cultural heritage. A huge collection of artifacts and manuscripts gives visitors an insight into the region's history and culture.
The fort is a true testament to the Rajput's architectural and engineering skills and is a symbol of Rajasthan's rich history and culture.
#2. Discover the Beauty of Jaisalmer's Havelis.
Jaisalmer's havelis are historical mansions that showcase unique architecture and intricate designs. They are characterised by their ornate facades, intricately carved jharokhas, and beautiful murals.
Many of these havelis have been restored and converted into hotels, giving visitors the opportunity to experience the rich cultural heritage of the city. Some of the most famous havelis in Jaisalmer include Patwon ki Haveli, Salim Singh ki Haveli, and Nathmal ki Haveli.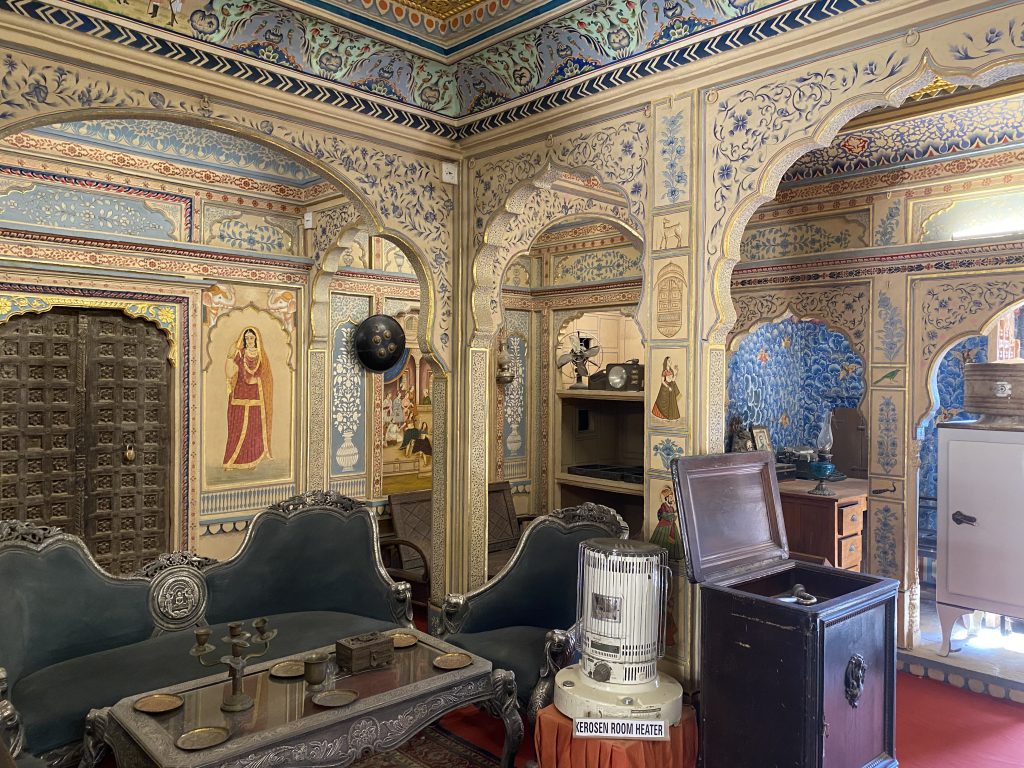 The Royal Splendour of Havelis: A Window into India's Majestic Past
Patwon Ki Haveli, built in the 19th century, is the city's largest and most elaborate of all the havelis. Built as a complex of five separate havelis by a wealthy merchant, Guman Chand Patwa, it served as his family's residence.
Today, it's a museum, showcasing the opulence and grandeur of the era in which it was built. The haveli's carvings, beautiful frescoes, and stunning lattice work, make it a must-visit destination.
Salim Singh Ki Haveli, built in the 18th century, is another magnificent haveli. Its roof is shaped like a peacock, and its beautiful paintings and carvings depict the life of the city's rulers and their families.
Nathmalji Ki Haveli, built in the late 19th century, is another iconic haveli. Its symmetrical design has two elephants, carved out of stone, at its entrance. The haveli, also known for its intricately designed stone carvings, ornate frescoes, and beautiful paintings, reflects the cultural heritage and lifestyle of the era.
#3. Shop 'til you drop. A Colourful Tapestry of Rajasthani Culture and Traditions
As you navigate your way through Sonar Quila's narrow alleyways you'll feel like you're in a rabbit warren. But don't stress – you'll discover something magic on every street corner.
Jaisalmer's bazaars are vibrant and colourful, offering a wide variety of handicrafts, textiles, jewellery, spices, and traditional Rajasthani items. The bazaars are a shopper's paradise, with narrow lanes and streets lined with shops selling everything from camel leather goods to intricate metalwork.
Whether you're looking for jewellery, textiles, handicrafts, or street food, you'll find something that suits your taste and budget.
Find Everything You Need and More
Sonaron Ka Baas Bazaar is every girl's dream! Famous for its beautiful high-quality gold and silver jewellery, crafted by local artisans visitors can find everything from delicate necklaces and bracelets to heavy neck chains and earrings.
Visitors can also find a variety of other precious and semi-precious stones in the market.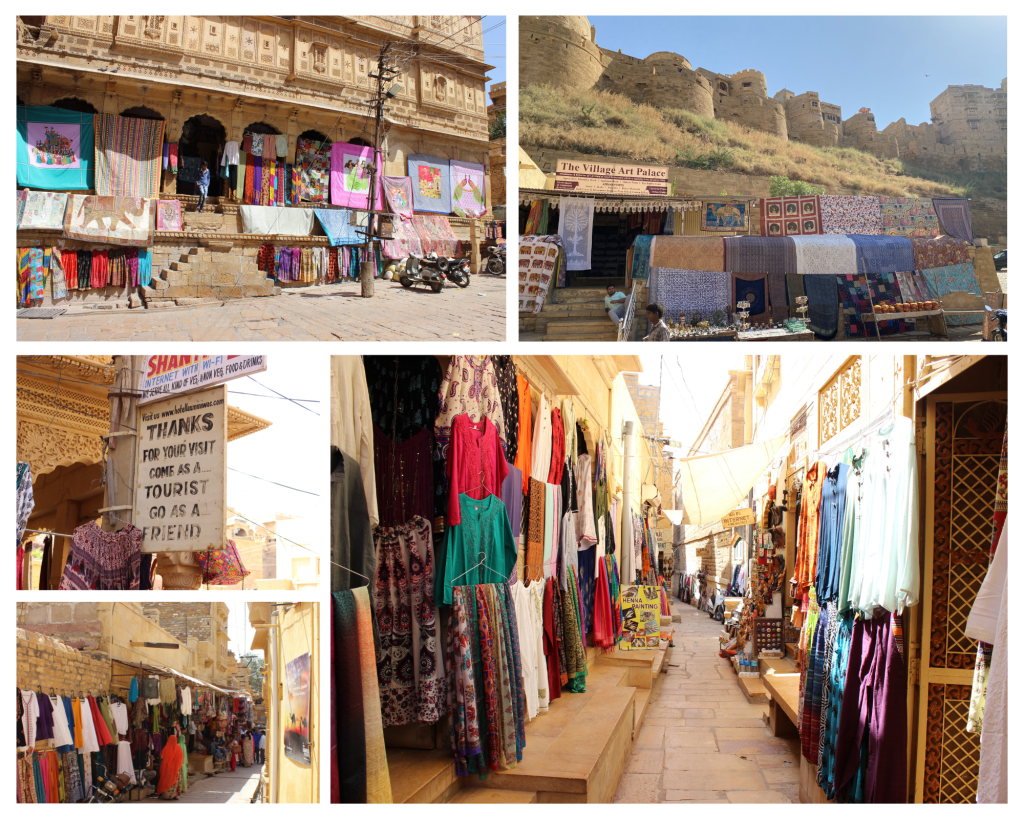 Patwaon ki Haveli Bazaar, located inside Patwaon ki Haveli has been converted into a shopping complex. Visitors will find beautiful silk, cotton, and woollen fabrics in a variety of colours and patterns. The market is a great place to find traditional Indian clothing, such as saris, lehengas, and salwar kameez.
Vendors in the bustling Gadisar Bazaar sell goods made from locally sourced materials, such as sandstone and brass. Visitors will also find a variety of wooden and metal crafts, including traditional Rajasthani paintings, carvings, and sculptures.
The market is a great place to find traditional Indian toys, such as kites and marbles. You'll be able to pick up other souvenirs, including keychains, magnets, and postcards.
Finally, the Manak Chowk Bazaar is another popular shopping destination. This market is famous for its street food, spices, and sweets. Visitors can find a variety of traditional Indian snacks, such as samosas, pakoras, and chaat.
It's a great place to find traditional Indian sweets, such as gulab jamun and rasgulla. Visitors can also find a variety of spices, including cumin, coriander, and turmeric.
In a nutshell, Jaisalmer's bazaars are a shopper's paradise. Whether you are looking for jewellery, textiles, handicrafts, or street food, you are sure to find something that suits your taste and budget.
#4. Unwind and Rejuvenate on Gadisar Lake
Gadisar Lake, in the heart of Jaisalmer, is tranquil and serene. Maharawal Gadsi Singh, the 14th century ruler of Jaisalmer, built it to collect and store water.
Beautiful yellow sandstone walls and several shrines and temples surround the lake. The most famous temple, Tilon-ki-Pul, is a Hindu shrine dedicated to Lord Vishnu and is located on the lake's eastern banks.
A great way to experience Gadisar Lake is to sit quiet on its water's edge and let its peace and tranquillity wash over you. The sound of water lapping against its shore and occasional honking of geese flying overhead creates a serene atmosphere. It's perfect for meditating or simply relaxing.
The lake is a popular spot for boating. Families and friends hire small boats to leisurely paddle on the lake's calm waters and to marvel at the temples and shrines.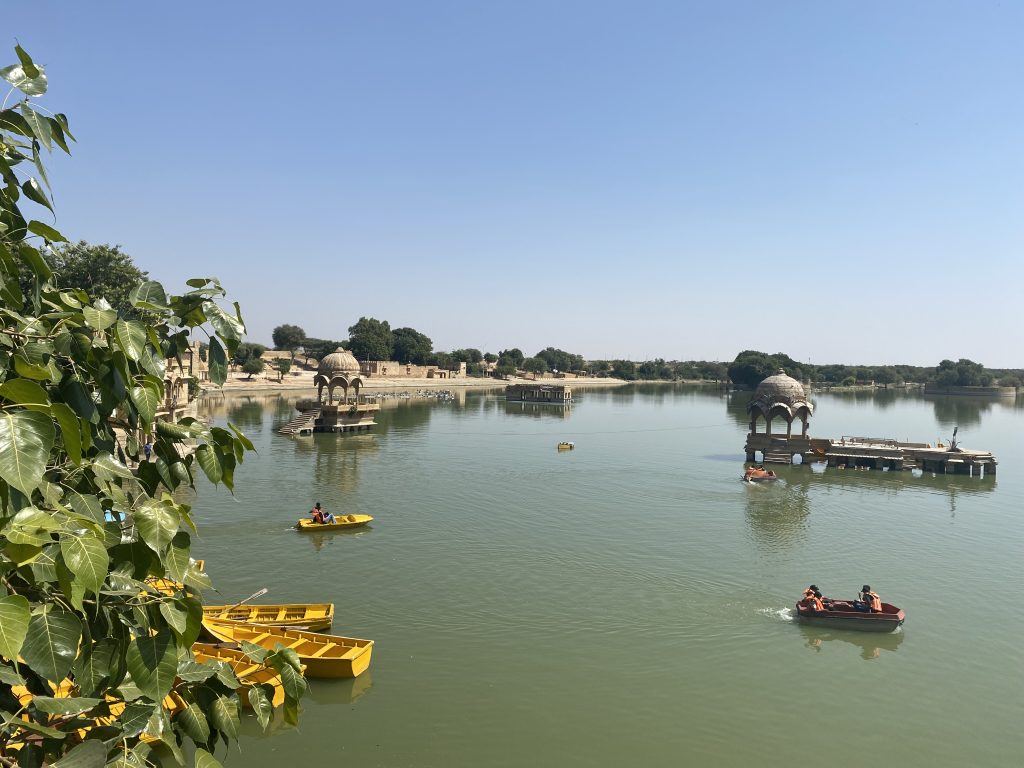 In the evenings, the lake is illuminated with vibrant lights, creating a picturesque setting for romantic strolls and picnics. Vendors serve variety of street food and refreshments, making it an ideal spot for a lazy evening snack.
EDITOR'S TIP
The lake offers a soothing place to escape Jaisalmer's heat or when you're tired of roaming throughout the day. Sit quietly and enjoy the tranquillity. Alternatively relax on the water with a boat ride to explore the surrounding temples and shrines.
One of the lake's more unique features are the small sand dunes that are found around the water's edge. Local children love to play on them. They also provide opportunities to try out sand-toboggans or simply enjoying the view from the top of them.
Location: Gadisar Lake Rd, Postal Colony
Timings: Visit any time but boats are available from 8 am till 8 pm
Recommended Duration: 1 hour.
Admission: Entry is free, but boats will cost approximately ₹50.
#5. Taste the Flavours of Rajasthan: Indulge in Mouth-Watering Delicacies and Instagram Moments.
Of course one of the best things to do in Jaisalmer is to eat! Jaisalmer has many restaurants offering exotic dining experiences while giving amazing views of the city's sunset. The restaurants offer a variety of Indian and western cuisines. Here are some of the best rooftop restaurants in Jaisalmer I think you should check out:
Kuku Coffee Shop
Inside the fort, coffee lovers unwind with their breakfast fix freshly ground coffees. Antique artefacts scattered throughout the snug little café give it a rustic touch.
The menu includes a variety of coffee and tea choices, pastries, and sandwiches, which are all made using fresh ingredients. More importantly, the café's baristas are happy to brew the perfect drink, whatever their customers' taste buds!
Shanti The Peace Restaurant
Every time I visit Jaisalmer, I head here for either breakfast or lunch. One visit and you'll understand why it's called Shanti (a Sanskrit word meaning peace).
In his oasis inside the fort, Mehendra, the owner, refers to himself as Mr Happy and always lives up to his nickname. The restaurant serves delicious Indian and Western food and shares panoramic desert views with one of the forts ancient canons!
The hotel's rooftop restaurant offers stunning panoramic views of Jaisalmer Fort. The restaurant serves delicious regional and international cuisine. Candlelight dinner, with panoramic views of Jaisalmer Fort, on the terrace creates a romantic atmosphere.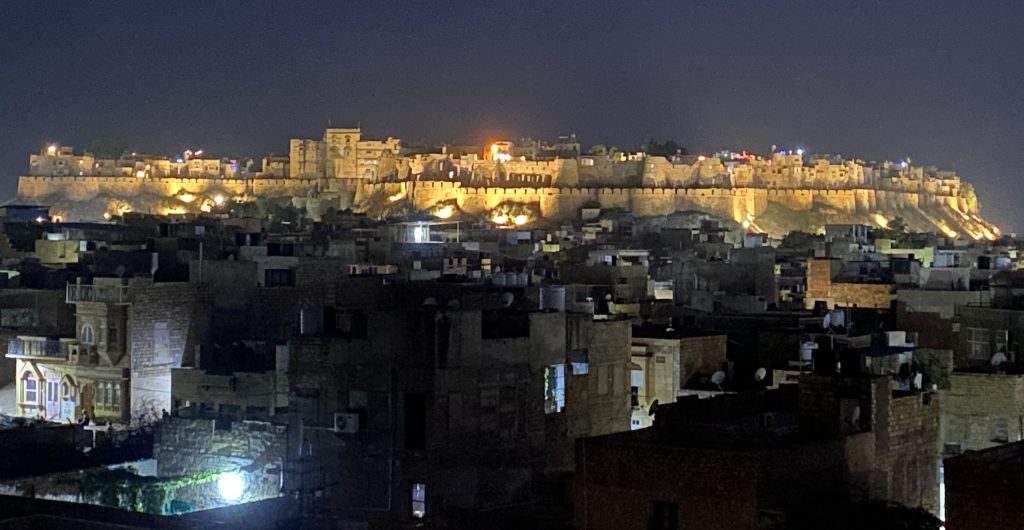 EDITOR'S TIP
In my view, this boutique, luxury hotel, provides excellent value accommodation and food and is easy walking distance to the fort. Its rooms and suites are tastefully decorated with traditional Rajasthani artwork, hand-painted frescoes, and carvings.
Many rooms offer stunning views of the surrounding desert landscape and the Jaisalmer fort. The hotel's facilities and services ensure a comfortable and memorable stay for guests. It features a traditional Rajasthani-style bar, library, swimming pool, spa, several lounges, and gardens where guests can relax and enjoy its peaceful surroundings.
#6. Explore the Royal Grandeur of Jawahar Vilas Mandir Palace
Jawahar Vilas Mandir Palace is a stunning architectural masterpiece and a must-visit for history, architecture, and culture aficionados. The palace is open to visitors throughout the year, who can enjoy guided tours, attend cultural performances, and explore the museums and gardens.
Also known as the Jaisalmer Royal Palace, it was built in the late 19th century by Maharawal Jawahar Singh, who ruled Jaisalmer from 1874 to 1895. The palace, considered to be one of the finest examples of Rajasthani architecture, beautifully combines Rajput and Islamic styles.
The palace's sprawling complex of buildings and courtyards, each have their own distinct character and style. The three-storey main building is expertly carved and adorned with intricately detailed latticework and jharokhas (overhanging balconies). Walls and ceilings are decorated with elaborate frescoes, paintings, and carvings.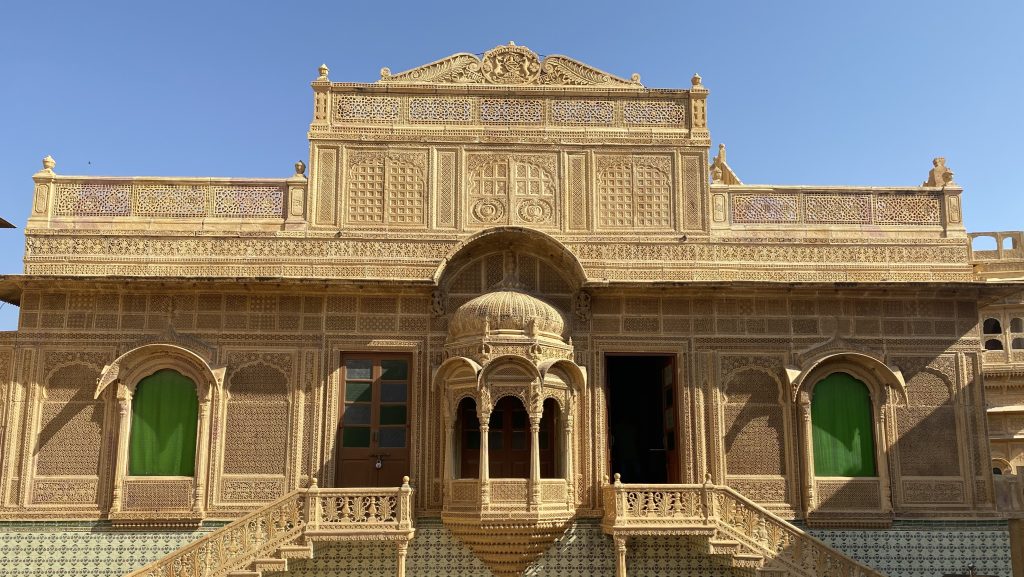 The Palace's lush gardens, dotted with fountains and water bodies, provide a tranquil haven in the midst of the bustling city. The large collection of vintage cars, including a Rolls Royce, a Packard, and a Daimler, are a testimony to the Maharaja's love for luxury and style.
The Textile Museum showcases intricately woven hand-woven textiles of the region. The War Museum displays weapons and armour used by the Rajputs during the medieval period. The most striking museum, the Royal Museum, houses numerous rare artifacts, including manuscripts, jewellery, and clothing.
Location: Gandhi Chowk Rd, Sadar Bazaar, Jaisalmer
Timings: 8AM to 12PM
Recommended Duration: 1 hour.
Admission: ₹50 for foreigners
#7. Connect with History: Walk Among the Royal Cenotaphs at Bada Bagh
Jaisalmer's Royal Cenotaphs, at Bada Bagh, are 7kms from the city. The cenotaphs ("chhatris") are memorials built to honour the rulers of the Jaisalmer Princely State. The site consists of several beautifully carved sandstone monuments, each dedicated to a different ruler.
Bada Bagh, meaning "big garden" in Hindi, is situated on a rise overlooking fields. It provides panoramic views of the surrounding desert landscape. The first cenotaph was constructed in the early 16th century. Others were added over the centuries as new rulers came to power.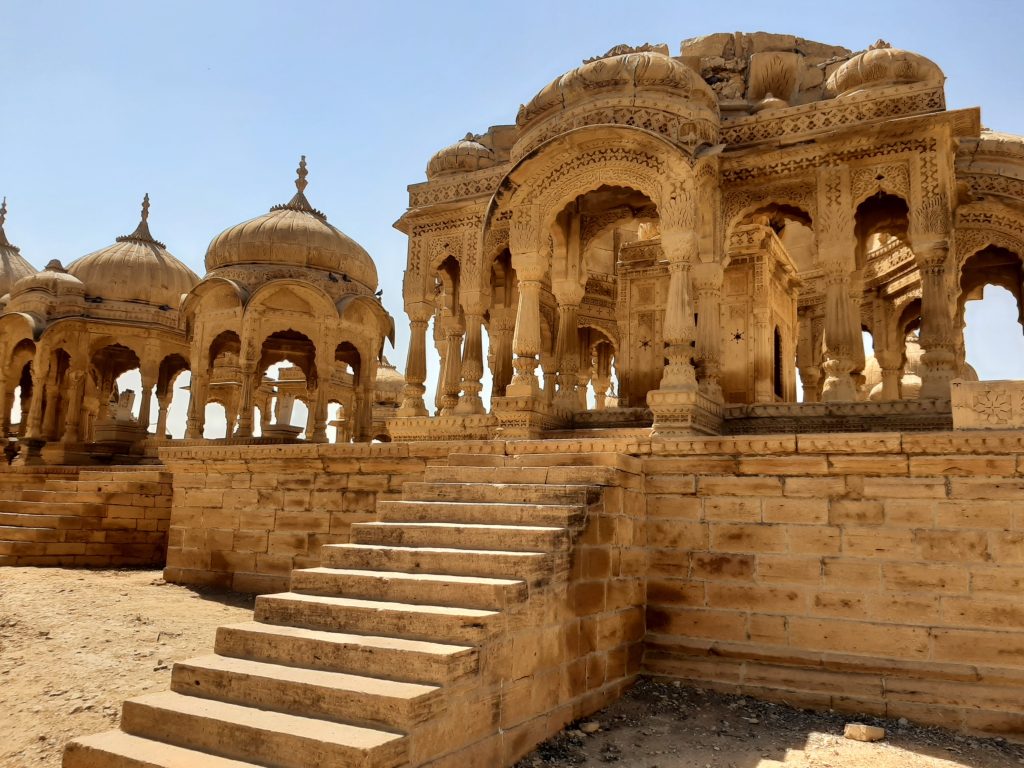 Each cenotaph is uniquely designed and decorated, showcasing local artisans' skills and architectural styles of different eras. The structures are adorned with ornate carvings, lattices, and inlay work. The monuments stand on raised platforms covered by large domes and supported by pillars. The domes are often painted in bright colours, adding to the beauty of the site.
Bada Bagh is an important historical site. It provides insight into the life and times of the rulers of Jaisalmer.  Not only are the cenotaphs a tribute to the past but they also serve as a symbol of the region's rich cultural heritage. The site is a popular tourist destination, attracting visitors who come to admire the beauty of the monuments and learn about the region's history.
Location: Bada Bagh, Ramgarh Road, Jaisalmer
Timings: 8AM to 6PM
Recommended Duration: 1 hour.
Admission: ₹10 each and ₹50 for car
Conclusion
Without a doubt you'll instantly fall in love with Jaisalmer! It boasts too many unique and epic things to explain them all here.
Its citadel fort, breath-taking sunsets and starry nights, and vibrant markets are just an appetizer. Add its stunning architecture, rich culture, and warm hospitality, it'll leave you with a lasting impression as one of India's true treasures. I hope you enjoyed my summary of the best things to do in Jaisalmer.