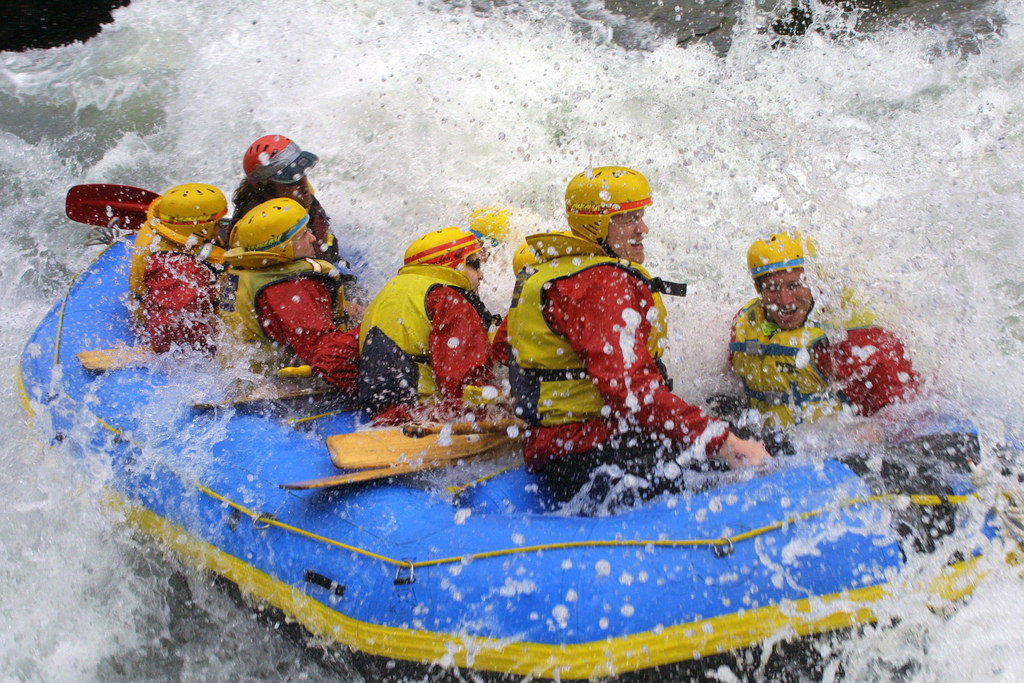 I'm just a few minutes into 25 kilometres of heart pumping adventure and I think I know how James Bond must have felt careering down the Thames in The World Is Not Enough.  But I am not in London.  I am in Surfers Paradise on Australia's Gold Coast.
"Welcome to Paradise Jet Boating" Lisa greets us as we prepare for 55 minutes of adrenalin pumped exhilaration.  "Grab a waterproof jacket if you'd like one" she later adds.  I decline – a decision I'd later regret!
Under an autumnal blue sky, we're soon clambering aboard Paradise 1 like lambs to the slaughter and for the next hour we'll be in the hands of Scott.
Forget queuing for 40 minutes at a theme park to get a 20 second adrenalin rush.  Paradise Jet Boating offers more spins, loops and turns than any roller-coaster ride.  Jet boating has really risen in the ranks of adventure activities since first being discovered in New Zealand many years ago.  If you want to play safe, take up knitting!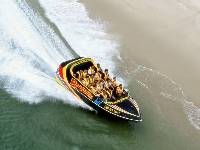 On the Gold Coast,there are 4 operators and we chose Paradise Jet Boating for their more extensive itinerary and numerous tourism nominations.
Powered by a massive 5.8 litres turbo engine, Scott heightens our anticipation as our 20 seat aluminium beast purrs at 6 kilometres per hour past the congested moored yachts and dinghies.  We soon accelerate and propel up the Broadwater, zigzagging past buoys, partially submerged tree trunks and in and out of wholemeal flour coloured sandbanks.  The azure water seems too shallow as we slam into white foaming wakes left by jet-skiers and vessels.  I imagine being on set of a Leonardo Di Caprio & Kate Winslett blockbuster and our hull being torn apart.  But these enormous beasts can turn on a sixpence in as little as 10 centimetres of water.
The fun really starts when the water is deep enough for Scott to lunge us into 360 degree spins. Huge waves of water rise like wild white stallions as they clamber to be the first to transform us from dry land-lubbers to soaked thrill-seekers. My cotton sweat shirt and board-shorts absorb the majority and I assume that my chivalry protects my fellow adventurers from the ignominy of also looking like drowned rats.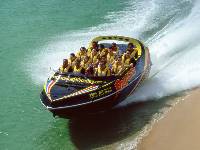 Scott was just playing with us.  More sharp turns, 360 degree spins and hair raising manoeuvres play havoc with those with finely coiffured holiday haircuts. Fortunately, I don't need to worry in that department but sea-salt crusts on my lips from endless sea spray and does nothing to quell my hunger.  I imagine the taste of salt on some "fush and chips" from one of the excellent local chippies.  I have never understood why Aussies pronounce fish differently to the rest of us.  However, the quality of their fish and their warm hospitality can never be disputed.
"That one cost the owner $26 million, has a titanium roof that cost $1.2m, revolving master bedroom and has a basement garage for 15 cars" Scott declares as we glide past Sovereign Island's exclusive plush waterfront mansions.
Hunter-gatherer fisherman wade knee deep as they wait patiently for their spoils on the banks of South Stradbrooke Island.  I can't help wonder if they know that Scott has seen sharks on similar trips at least 3 times per week over the last month.  Small family boats are anchored and bob up and down like ducks in a tombola stall as their owners build sand castles or collect shells with their children and enjoy the good weather.
We make our way back to Paradise Jet Boating's HQ with the same G-force ferocity, bolting and swerving between water depth markers and mangroves, avoiding harm's way at the very last moment.  It's an adrenalin rush and is seriously liberating.
I'm a self-confessed pacifist when it comes to theme parks.  I prefer to be propelled forwards and horizontally, rather than being thrust 120 metres upwards like a NASA space pilot; or trying to keep my breakfast down on a gyrating roller-coaster – although Scott did his best to defy gravity at times.
A jet boat ride was pretty high on my wish-list on this trip to the Gold Coast.  I managed to keep my breakfast down, share a post-code with the rich and famous for a few seconds and survive a fully clothed shower – all for AUD 63.  Next time, I'll be first in line for a water-proof jacket!
Getting there:  Paradise Jet Boating is situated at Mariners Cove Marina, 60 Sea World Drive, Main Beach, Gold Coast.  Jet Boat adventures run hourly from 09:00 to 17:00 every day.