Updated: 1 September 2021
If India is a crown, Rajasthan, the land of warriors and royals, is undeniably its jewel. Rightly so, for many reasons.  The iconic desert state has earned countless accolades from travellers from all corners of the globe.
Rich history, magnificent monuments, colourful culture and bustling bazaars attract visitors every year to Rajasthan.  And yes, I forgot to mention its food!
No trip to any of India's twenty-nine states would be complete without trying its street food. Rajasthan is no exception.
Rajasthan's gastronomy is best savoured in its authentic street food.  The kind of food that locals crave.
One thing that always stands out for me is the extensive and impeccable use of spices. Rajasthan's street food stands as a testament to its complex and rich history.
Every time I visit Rajasthan, I discover a new set of tantalising culinary wonders.  If you're like me, everything you'll eat in Rajasthan will move you a step closer to falling in love with her.
Here are a handful of my local favourites which you can get at most street stalls or dhabas.
Pyaaz Kachori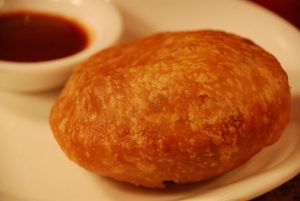 Pyaaz kachori is one of the stars of Rajasthan's street food culture.
Fluffy, fried flour-based crust is filled with golden brown onions and mixed with a variety of spices.
You'll find different versions of this street food in Rajasthan; some filled with dry fruits (Mawa Kachori in Jodhpur is also quite famous) while others with lentils.
Served with coriander and tamarind chutney, Pyaaz Kachoris is a delightful snack on a cold winter evening. It's even better washed down with a cup of masala chai from the local chai-wallah.
>  Must Try: Rawat Mishtan Bhandar in Jaipur, Rajasthan serves undisputedly the best Pyaaz Kachoris.
>  Price for Two People: Under ₹100
Daal Baati Choorma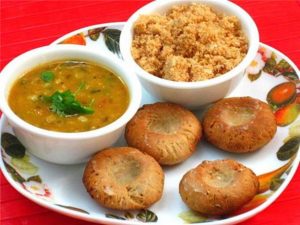 Daal Baati Choorma is unmistakably one of the region's signature dishes.
Rajput warriors would break them into pieces and bury them in sand to bake them under the sun.
After a battle, they'd dig up and eat the perfectly baked baatis with camel or goat milk.
The mere mention of the three-in-one treat is enough to start salivating. Daal-Baati-Choorma combines three different ingredients:
Firstly Daal, a rich mixture of five lentils cooked together with exotic spices and lots of clarified butter. Baati, a baked dough ball made with clarified butter, wheat flour and milk.
Thirdly, Choorma, a crushed, sweeter version of baati.  Infused with cardamom, crumbled dessert completes the dish quite deliciously.
>  Must Try: Krishna Dal Bati Restro in Udaipur is famed to offer the best Dali Baati experience in the state.
>  Price for Two People: Under ₹500
Kalmi Vada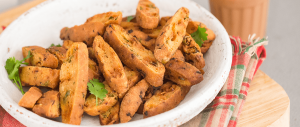 Made with soaked gram dal, ginger, chili, coriander and other spices, Kalmi Vada is basically a fritter.
Crispy and crunchy, it's best served along with mint and chilli chutney.  They're perfect appetizers, especially with a piping hot cup of chai.
>  Must Try: Bapu Bazaar in Jaipur.
>  Price for Two People: Under ₹50
Mirchi Bhajji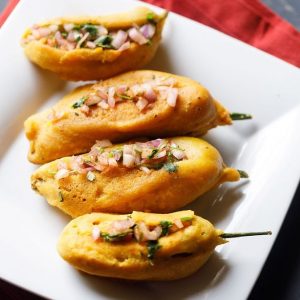 Like me, people of Rajasthan love their spices. If you're looking for something fiery, intense and highly addictive, Mirchi Bhajji will hit the spot!
Widely available throughout India, Rajasthan can't claim sole bragging rights.  But, in my opinion, it offers the best version.
Mirchis ("chillies") are stuffed with potatoes and spices, coated with gram flour.  They are then fried until golden brown to become Mirchi bhajjis.  Served with a bowl of mint and tamarind chutney, they're a perfect snack.
>  Must Try: Shahi Samosa in Jodhpur.
>  Price for Two People: Under ₹100
Kulfi
Did you really think I was going to overlook dessert?  India has so many delicious desserts. An entire lifetime wouldn't be enough to try them all.
But we all love ice-cream don't we?
Kulfi, India's creamy and frozen combination will create unrivalled memories.  Every Indian will easily recite fond childhood memories of homemade kulfi.
Kulfi-wallahs pour slowly simmered milk into kulfi moulds and frozen to create an immense silky flavour.  Nuts, dried fruits or rosewater is often added to enhance the experience.
If you haven't tried it yet, you're missing something very special.  You can easily find Kulfi-wallahs throughout Rajasthan.
>  Must Try: Any Kulfi-wallah along Jaipur's MI Road.
>  Price for Two People: Under ₹120
Ghevar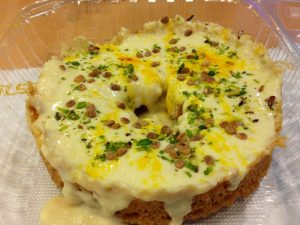 Ghevar has a special place in the hearts of Rajasthani communities, especially during local festivals.
Teej, Gangaur,  Makar Sankranti and Raksha Bandhan would be incomplete without this honeycomb patterned dessert.
Flour and ghee are mixed and dropped in hot ghee from a height to form disc shapes.  Further calories are added by topping them with sliced almonds, pistachios, almonds and silver leaf.
I'd recommend not worrying about the weighing scales with this dessert!
>  Must Try: Jaipur and Ghevar go hand-in-hand, although you'll find it anywhere in Rajasthan.  I recommend Laxmi Mishtan Bhandar in the heart of Jaipur.
>  Price for Two People: ₹300 or more.
Camel Milk Lassi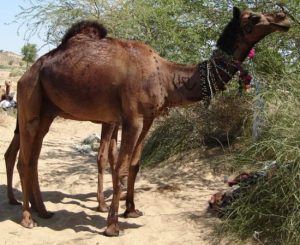 I recall sipping my first camel milk lassi, a salty yogurt-type drink popular throughout Rajasthan.
It was a hot summer's day in 2017, and my son and I had stopped for samosas at a food stall in Bikaner.
Very low in fat, highly salty and power-packed, camel milk is India's claim to a new superfood.
Rajasthanis think nothing better than slurping (and I mean slurping) a tall glass of camel milk lassi.  I, on the other-hand, prefer the sweeter buffalo milk versions, laced with rosewater.
>  Must Try: The streets of Bikaner are famous for the Camel Milk Lassi
>  Price for Two People: Under ₹300
Rajasthan is without doubt a mecca for visitors.  Rich in history, iconic Rajasthan boasts a kaleidoscope of vibrant colours, sensational landscapes, and mouth-watering cuisine.
Don't leave Rajasthan without witnessing the creativity and elegance of the "land of kings'" cuisine.
Let me know if you have a favourite Rajasthani street food.