Updated: 11 December 2022
Is there a better way to experience a country's culture than by exploring its street food?
India is jam-packed full of incredible street foods to indulge in. The trick is to know where to start.
If India is a crown, Rajasthan, the land of warriors and royals, is its jewel. This iconic desert state earned its countless accolades from holidaymakers from all four corners of the globe.
Visitors flock to Rajasthan every year to experience its rich history, magnificent monuments, colourful customs, and bustling bazaars.
My Addiction to Jaipur's Street Food


There's an old Spanish proverb that says, "The belly rules the mind".
This applies to me when I'm in India! I've been several times and had several foodgasms every time, and especially throughout Rajasthan.
Visitors often overlook India's biggest state is no exception to the country's gastronomic talents. One aspect that always stands out for me is India's extensive and impeccable use of spices.
Related Article: India – The Land of Spices
Rajasthan's street food stands as testament to its complex and rich history. I discover new tantalising culinary wonders on every visit.
Vendors line its streets selling chai, meals, freshly squeezed fruit and vegetable juices.
7 Popular Jaipur Snacks and Drinks


Jaipur, Rajasthan's capital, is dubbed the "Pink City" due to its old pink walled district. Its forts, places, gemstones, and jewellery make it a popular tourism destination. It's a foodies paradise.
Whether you're a carnivore, vegetarian or vegan you'll be spoilt for choice.
Here are seven of my favourite snacks and drinks in Jaipur.
#1. Dal Bati Churma


If Rajasthan has a national dish, Dal Bati Churma would be it! While not strictly a street food, you'll find them in every village. Simply talking about Dal Bati Churma to any self-respecting Rajasthani makes them salivate!
It is highly prized. Requiring minimal amounts of water to prepare, it has an impressive shelf-life. Rajput warriors buried them in sand and left them baking under the sun. After battle, they'd dig up and scoff the perfectly baked batis, washed down with camel or goat milk.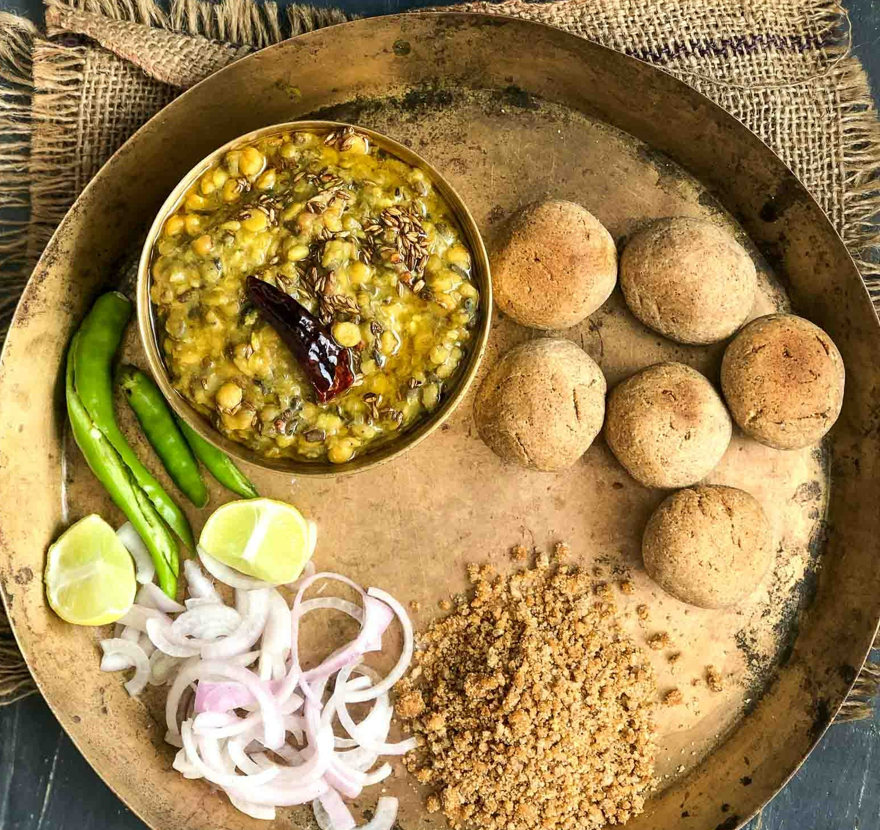 Making Dal Bati Churma is not complicated, although the best recipes are fiercely disputed!
Five different varieties of lentils (dal) are soaked overnight in water. Masoor Dal, Hari Moong Dal, Chana Dal, Dhuli Moong Dal and Kali Urad Dal are the stars of the show. The softened dals are then mixed with clarified butter (ghee) and spices.
The bati is a round-shaped dumpling made with whole wheat flour. Carefully roasted over an open fire, they become crispy on the outside but remain soft inside. A friend of mine in Jaipur helps me roast them on a BBQ!
Some bati is reserved to be bathed in ghee and sugar (jaggery) before being crushed to form the churma.
All three are then served to complete a trio of Rajasthan delicacy.
Address: Rajasthani Thali Dal Bati Churma, Gayatri Sadan, Near Collectorate Circle, Bani Park. ₹350 for one person.
#2. Pyaaz ki Kachori
Pyaaz ki Kachori is a star of Jaipur's street food culture. It's certainly one of my favourites and a real hit for breakfast, washed down with a steaming cup of masala chai!
Pyaaz ki Kachori has a fluffy, deep-fried flour-based crust. It's stuffed with golden brown onions, and masala spices, such as turmeric, chilli, cumin, and fennel. Kachoris are typically served with generous helpings of tamarind or coriander and mint chutneys.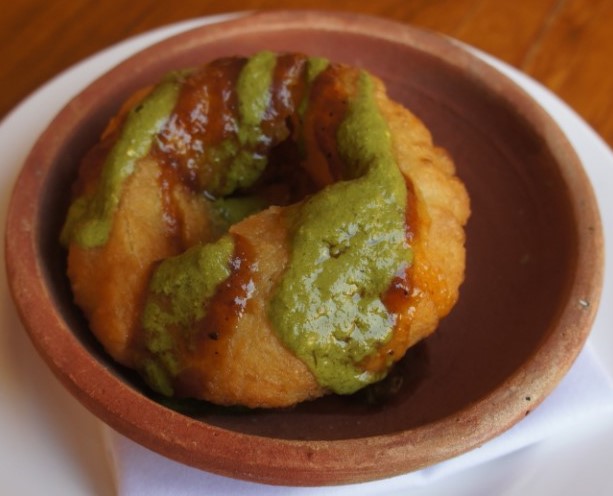 Rawat Misthan Bhandar tops a long list of Jaipur's popular vendors.
Its long glass counters are crammed with kachoris and numerous other savoury pastries. It also displays an excellent selection of sweets ("mithai"). But you don't need to look far in Jaipur – every street corner has someone selling kachoris.
Originating in Jodhpur, Pyaaz ki Kachori is now eaten all over Rajasthan, mainly as a breakfast snack. You'll find many other versions of this street food throughout the state. Jodhpur's Mawa Kachori is filled with dry fruits and others are filled with lentils (Dal Kachori).
Your waistline won't thank you, but you shouldn't miss out trying these popular spicy Rajasthani snacks.
Address: Rawat Mishtan Bhandar, Sindhi Camp, Jaipur. Opens daily from 06:00 to 22:30. ₹45 for one piece
#3. Mirchi Vada
I challenge you to find a street corner that doesn't have someone selling these!
Like me, Jaipurites love their spices. If you're looking for something fiery, intense, and highly addictive, Mirchi Vada will hit the spot!
This tonsil-tickling fried appetiser is widely available throughout India. Rajasthan can't claim sole bragging rights. But, in my opinion, Jaipur offers the best version.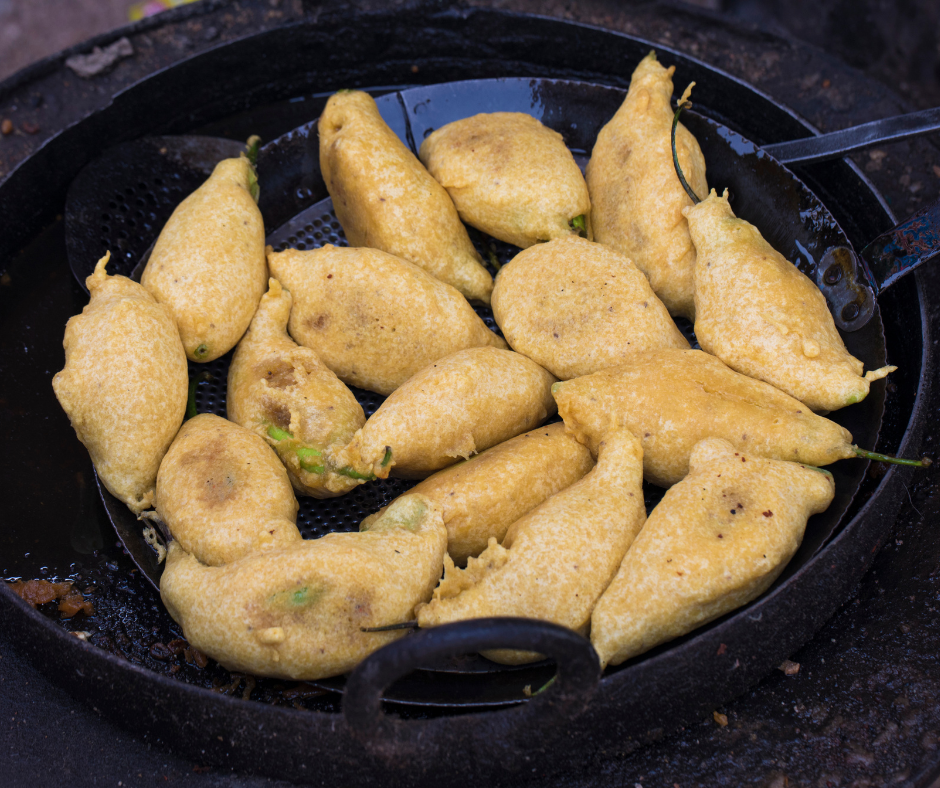 Huge mirchis ("chillies") are slit open and stuffed with potatoes and spices. Coated in besan gram flour, they're fried until golden brown to become Mirchi Vadas.
Served with a bowl of mint and tamarind chutney, if you have the willpower, they're a perfect snack! ₹20 for one piece.
#4. Lassi at Lassiwala, Jaipur


It's unthinkable to visit Rajasthan in its warmer months without gulping down some sweet lassi. Its texture and thickness lies somewhere between a milkshake and milk.
The quintessential Indian drink is a silky blend of freshly churned curd (yogurt) crowned with nuts or saffron (kesar). Or to maintain India's love with highly calorific sweets, lassis are often topped with thick layers of buttery cream!
India's popular drink is often served in earthen cups. You may be offered a salted version. Or one which is blended with water, spices and sometimes fruit. Mango Lassi and Gulabi Lassi (rose) are high on my list.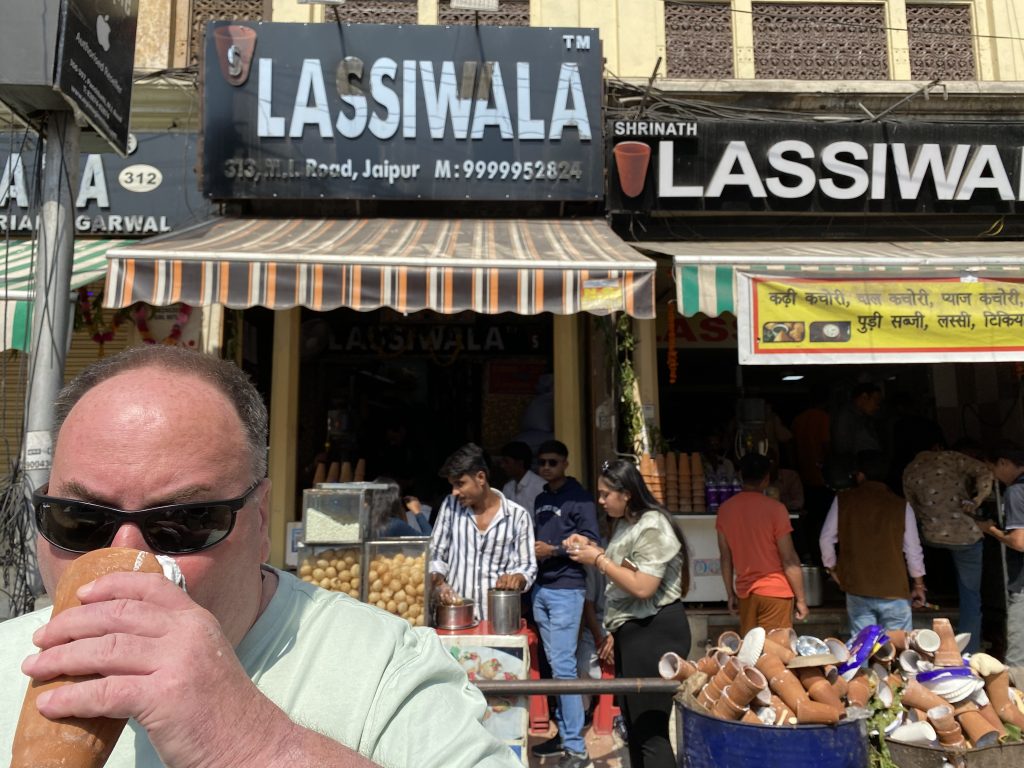 When I'm in Jaipur, it's not long until I jump into a rickshaw and head down to Lassiwala on MI Road.
It added "Original" to its name to proudly distinguish itself from competitors. It's operated from a small road-side shop since 1944. Loyal patrons gather on the pavement outside.
Get there before 2pm, as their lassis are so popular they sell out fast!
Address: Lassiwala (Original), MI Rd, Jaipur. Opens daily from 07:00 to 16:00. INR₹80 for a large cup.
#5. Aloo Tikki on Kabir Marg, Jaipur
I adore Spain's potato croquettes. I can't resist India's version either.
It's not hard to find this snack on India's chaat stalls and street corners. I've willingly parted with may rupees with the same vendor in Jaipur for several years.
I pull up a plastic stool and sit alongside rickshaw drivers, local families, and other eager regulars. It's not long before Deepak satisfies our appetites.

Ceremoniously mashing boiled potatoes (aloo) before mixing them with peas, onions, and spices, they soon become flat patties. A quick shallow fry on both sides, on a very hot griddle, transforms them into crisp, golden hashbrown masterpieces.
A crispy outer layer perfectly balances the soft melt-in-your-mouth interior. Served with either a spicy coriander and mint chutney, or a sweet tamarind chutney, one plate is never enough.
Address: Kabir Marg, Bani Park, Jaipur. Opens daily from 12:00 to 21:00. ₹80 for two aloo tikkis and chutneys.
#6. Ghevar
Indians have a love affair with sugar. It's a national pastime.
Sugaraholics, who don't mind regular trips to the dentist, indulge their obsession in Jaipur.
Ghevar has a special place in Rajasthani hearts, especially during local festivals. Flour and ghee are mixed and dropped in hot ghee from a height to form disc shapes. Further calories are added by topping them with sliced almonds, pistachios, almonds, and silver leaf.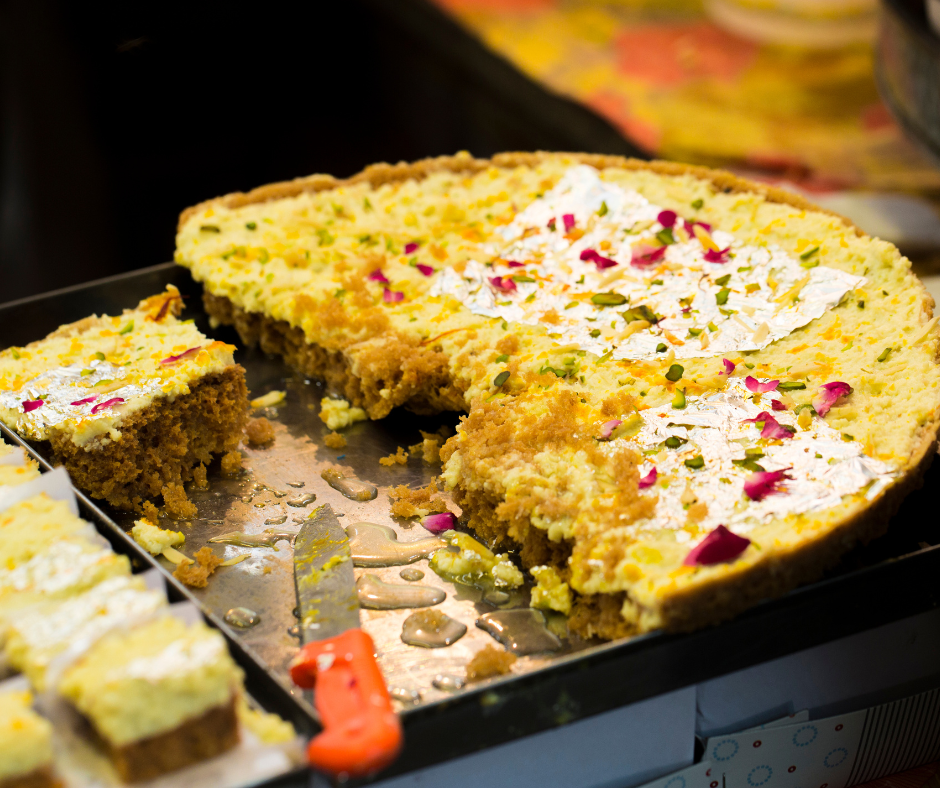 Many festivals, including Makar Sankranti and Raksha Bandhan would be incomplete without this honeycomb patterned dessert.
A special sweet dessert from Jaipur that is essentially a disc made from flour, soaked in ghee, milk and topped with sliced almonds. This sweet dish has a crunchy texture and is made in a mould.
There are varieties of Ghevar that can be prepared from a plain, mawa (condensed milk) and malai ghevar (cream). I'd recommend not worrying about the weighing scales with this dessert!
Address: Laxmi Misthan Bhandar (LMB), Johari Bazar. Opens daily from 07:00 to 23:30. ₹195 for one cake.
#7. Paan
Paan is a traditional mouth freshener and digestive chewed and eaten usually after any meal.
You'll find a paanwallah (someone who sells paan) on almost every street corner in India.
They sell their after-dinner treats from simple, often colourful, tiny wooden huts. Shutters are often held up by poles and many use makeshift tarpaulin roofs to keep people dry.
Strings of single cigarettes and sachets of chewing gum hang like party decorations.
Bowls of shiny green betel leaves soaked in water, covered with wet muslin cloths, occupy centre stage.
As soon as an order is placed, the paanwallah's hands begin creating his masterpiece. He removes a leaf and smears a thin layer of chuna lime paste and adds katha, a herbal extract from an acacia tree.
The variety of ingredients he adds next is wonderful to watch.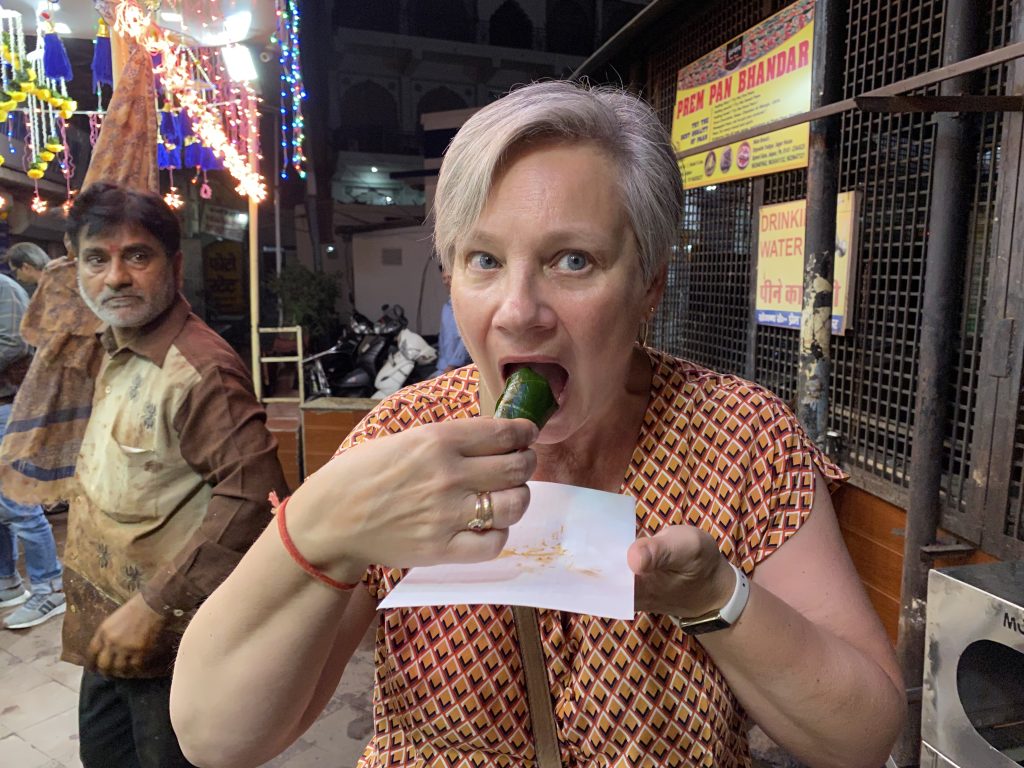 Each paanwallah proudly follows a family recipe, handed down through many generations. But no self-respecting paanwallah would omit fennel seeds, cloves, cardamom, nutmeg, and coconut. Dried rose petals dipped in sugar syrup (gulkand) are an extravagant addition.
To complete the show, the paanwallah folds the leaf and ingredients into a neat triangle and secures it with a clove. Eagerly waiting customers thrust the whole paan into their mouths and hope it's not a messy experience!
Address: Prem Pan Bhandar, Ajmeri Gate. Opens daily from 06:00 to 02:00. ₹40 for one piece.
#8. Kulfi
I know I said 7 but did you really think I was going to overlook ice cream? India has so many delicious desserts. An entire lifetime wouldn't be enough to try them all.
But we all love ice-cream, don't we?
Kulfi, India's creamy and frozen combination will create unrivalled memories. Every Indian will easily recite fond childhood memories of homemade kulfi.
Kulfi-wallahs pour slowly simmered milk into kulfi moulds and freeze them to create an immense silky flavour. Nuts, dried fruits or rosewater is often added to enhance the experience.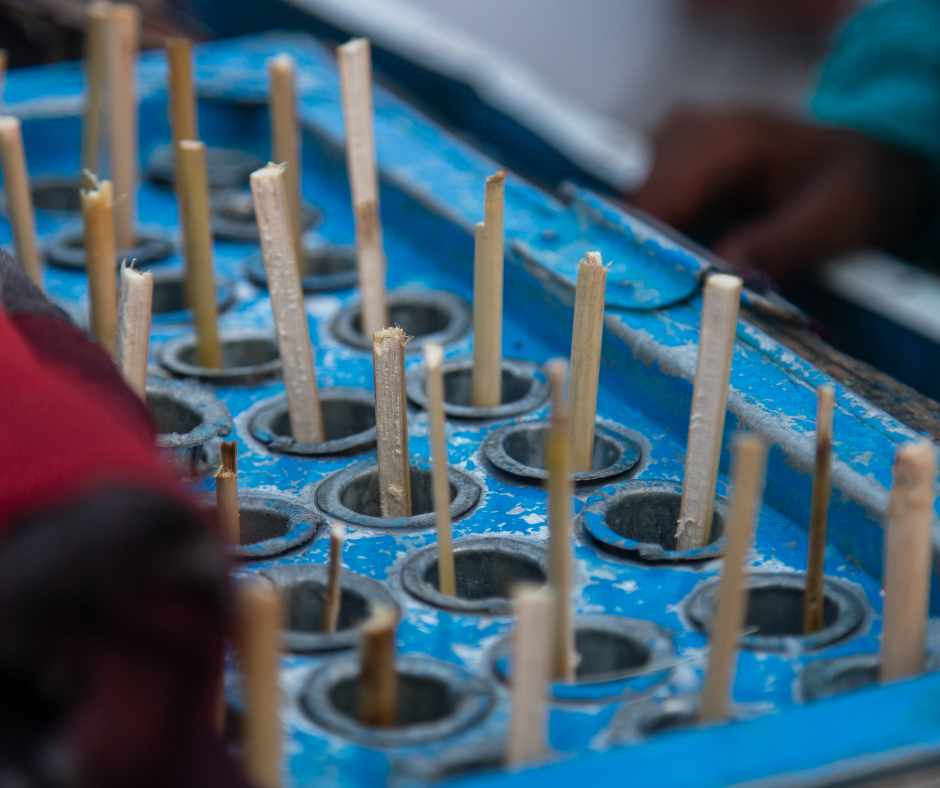 If you haven't tried it yet, you're missing something very special. You easily find Kulfi-wallahs throughout Jaipur. I find it difficult to resist grabbing one!
Address: Indian Kulfi and Faluda, Bapu Bazar. Opens daily from 9:00 AM to 11:30 PM. ₹40 for a Kulfi Kesar Pista
Conclusion
Indian cuisine never fails to deliver flavour, fiery spices, and unforgettable aromas. In Jaipur, discover its authentic character and charm which you'll find on its streets.
Discover family recipes that street vendors have been handed down for centuries.
Have you experienced a dish so delicious that you've had a 'foodgasm'?  If you have a favourite street food in Jaipur or India, please share it by leaving a comment.