Widely accepted as one of the most beautiful countries in the world, New Zealand boasts so many tourist attractions that beckon travellers from near and far.  Real Journeys will take you on an unforgettable trip on Queenstown's Lake Wakatipu.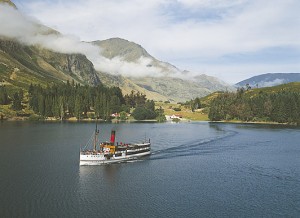 Let the adventure begin aboard TSS Earnslaw
Step aboard the illustrious passenger steamship TSS Earnslaw and take a cruise back in time. Relive the sights and sounds of a bygone era as you ride the last coal-fired vessel in the southern hemisphere.  Arouse   your senses as you watch puffs of ash-grey smoke billow out from the ship's giant smokestack, and listen to the hissing engines, and the chimes of authentic telegraph bells as the skipper rings directions.
Tickle your curiosity by browsing through historical photos at the Fo'c'sle Gallery.  Or grab a cup of coffee at the café before heading out onto the deck to gaze at the glorious alpine scenery as the ship glides majestically across Lake Wakatipu's crystal blue waters.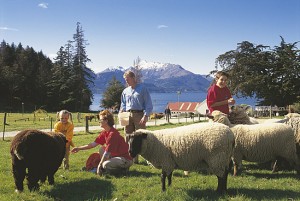 Lasso in the fun at Walter Peak High Country Farm
Get ready because the fun is just about to start as you get out those work boots to celebrate farm life! Disembark the Earnslaw and visit the renowned Walter Peak High Country Farm on Lake Wakatipu's western shores.  Savour the idyllic atmosphere as the local host graciously makes you feel right at home.
Walter Peak lets you experience the simple joys of country living. Pet and feed sheep and deer in their holding pens, and get up close to the magnificent Scottish Highland cattle with their long elegant horns and thick coats.
Explore the lush farm fields the old fashioned way – by riding a sturdy horse! Hold on tight to your saddle as your guide takes you around the verdant hills to a lookout that provides panoramic views of the lake and surrounding mountains.
Your rural adventure would not be complete without a front bench view of some spectacular sheep shearing. Be amazed as the farmer quickly shears a sheep right before your very eyes, and you can even learn to spin wool!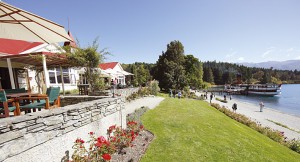 Wine and dine at Colonel's Homestead
Round your day off at the historic Colonel's Homestead, where you can amble around lush lakeside gardens and enjoy tea, and home baked scones and pikelets.  Or if you're really hungry, dine on a succulent barbecue lunch, while enjoying the incredible views from the lakeside terrace.
As you board the TSS Earnslaw for your short journey back to Queenstown, sit back and relax in the warmth of a golden sunset and reflect on your day.  Visit http://www.realjourneys.co.nz for booking information and further details.