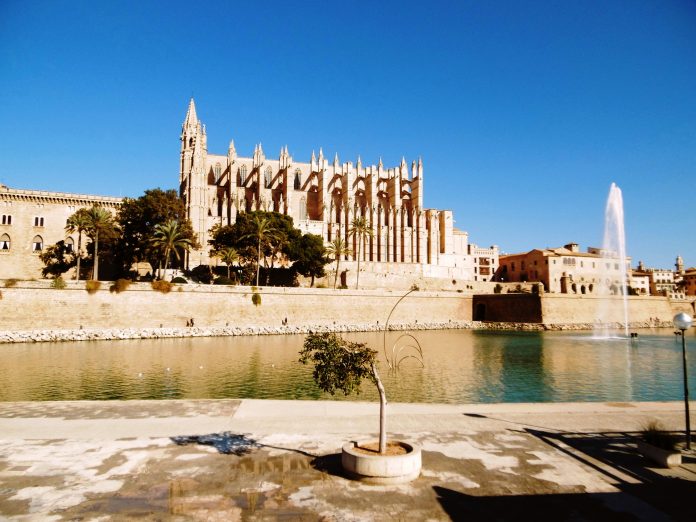 Majorca, one of Spain's Mediterranean Balearic Islands, is well known for beach resorts and sheltered coves, and its Roman and Moorish buildings.
When it comes to European holidays, you're spoilt for choice. You might decide to explore the towering Austrian Alps, the picturesque French countryside, or an ancient Italian city. However, your idea of a perfect European holiday might involve only one thing: A good beach.
Majorca, located off Spain's east coast, tops the list for best European beach destinations for many reasons. Its expansive coastline means that the island's beaches are plentiful and diverse. This Mediterranean gem has rugged, hard-to-reach coves to the north and wide, sandy beaches in the south.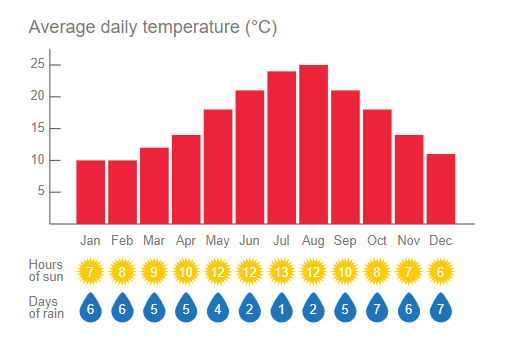 Majorca receives over 300 days of sunshine every year. So you won't be surprised to know that beach life top's the locals and tourists' agendas.
Majorca has at least 34 Blue Flag beaches with excellent facilities and amenities, making them popular for families. Majorca is certainly one of my favourite holiday destinations. Here's a selection of a few beaches you don't want to miss when you visit Majorca:
Camp de Mar
I have many happy memories of enjoying many holidays in Camp de Mar's family atmosphere, on Majorca's sheltered southwest coast. Its beach has been awarded a Blue Flag, widely considered the gold standard for beaches.
Purposefully built, this small resort is popular with families due to the calm and shallow water. You will find an abundance of sun loungers and parasols, and the tranquil water makes it a good choice for snorkelling and paddle boating.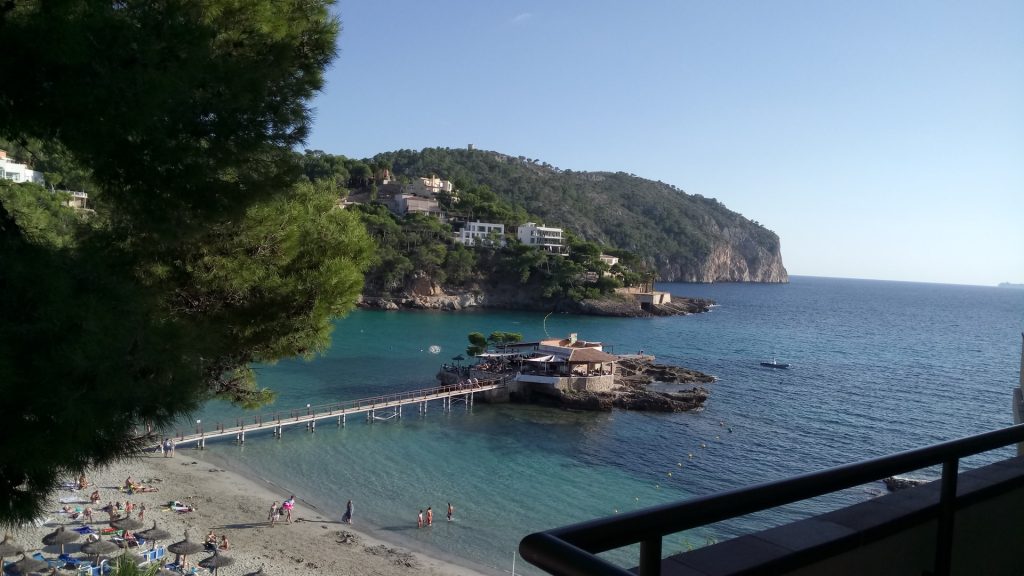 Camp de Mar offers guest facilities such as showers, toilets, and ramps for disabled access. There are several restaurants in the area; perhaps the most eye-catching is Illeta, located on a small, rocky island. To reach Restaurante Illeta, cross the wooden bridge from the beach to the island. This bridge also serves as a jetty for summer boat trips to Sa Dragonera Island.
Peguera
Just a five-minute drive, Peguera is Camp de Mar's close neighbour, and boasts three white-sand beaches which make up the resort's community. There's a vast selection of hotels and restaurants, and it is one of the few locations on Majorca where surfers can catch a wave.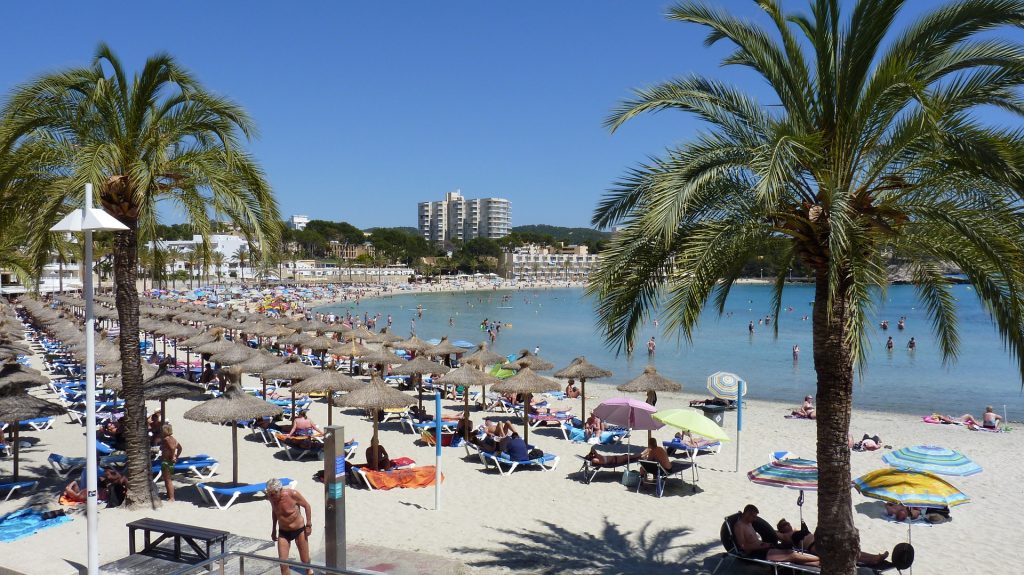 In Peguera, discover the sea from a different perspective from a glass-bottomed boat, or take a cruise to the nature reserve island of Sa Dragonera. The nearby cove of Cala Fornells is perfect for escaping the crowds, or you may select to use one of the exclusive beach clubs nearby.
Cala Portals Vells
Located within the Natural Area of Special Interest of Cap de Cala Figuera, this remote beach has golden sand, rocky cliffs and shimmering clear water. To reach it you'll wind your way through a pinewood track where seabirds nest. The beach slopes gently into the turquoise sea, surrounded by rugged cliffs.
You'll easily find a restaurant serving local specialities, such as seafood and tapas. This small cove is popular with locals, but in the off-season, you might be lucky enough to have it all to yourself.
Sa Calobra
Sa Calobra's dramatic setting has inspired artists for many years. Although the beach is a mixture of pebbles and stones, its crystal-clear water and stunning scenery make it worth a visit. Located in the northwest of the island, Sa Colabra consists of two beaches situated at the end of a gorge.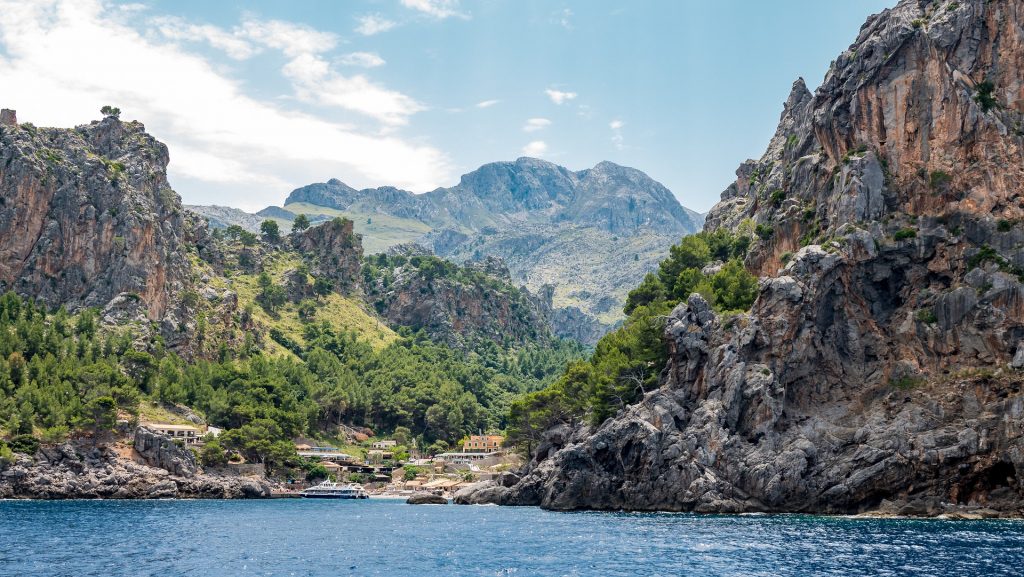 The first is a tiny beach overlooked by a restaurant. Reach the large and more impressive beach by walking a footpath and a narrow tunnel. This secluded path makes it one of the more unique and remote beaches on the island.
Regardless of where you end up in Majorca, you'll be enchanted with the Mediterranean's jewel in its crown. With a rugged coastline, swathes of sandy beaches and clear azure waters, you're never far from one of its prized beaches.