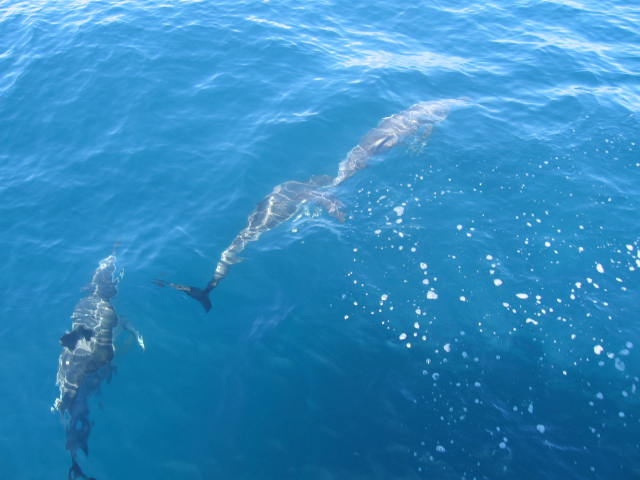 Many whale-watching excursions result in nothing more than sunburn, disappointment and a wasted day.  My recent whale-watching trip with Auckland's Whale & Dolphin Safari certainly dispelled that myth.
With 6 weeks of Rugby World Cup 2011 ending 6 days ago, Auckland has returned to a cosmopolitan lifestyle city offering more than just rugby.  With a Sunday ahead with no sport, and a "child free opportunity", my wife and I boarded the Dolphin Explorer with a small party of eager people in search of whales in Auckland's Hauraki Gulf Marine Reserve.
There's something uniquely awesome about seeing a mammal, weighing 20 tonnes and growing up to 15 metres, glide gracefully in and out of the ocean.  It's common to see Bryde's Whales all year round in Auckland's sparkling waters.  Seeing one so close in my own "back-yard" has been on my "bucket list" for a while and a close encounter with one is such an intimate and humbling experience.
As the vessel's skipper Andy, first mates Rob & Sonia welcomed us aboard, I'm sure that our fellow passengers were hoping to experience once-in-a-lifetime memories and endless photographs for their albums.
With the comfort of Rob's short safety briefing, The Dolphin Explorer purred out into Auckland's Waitemata (meaning "sparkling waters" in the Maori language) Harbour and immediately into the Hauraki Gulf.
"Keep your eyes peeled folks as there's a good chance you'll see dolphins and other sea-life in the next few minutes.  We often see Orcas in the Harbour" Andy enthused.  Inspired by such exclamations, we immediately honed our senses.  "We're not sure where the whales will be this morning, so we'll head out a few kilometres to see if we can spot some" Andy added.  And within a few minutes, pods of dolphins were playing in the vessels' bow waves and Little Blue Penguins appear, like torpedoes, on the port-side.
"The Hauraki Gulf Marine Reserve  covers 1.2 million hectares and is home to a wide range of cetaceans & also occasionally, seals.  Our waters are rich feeding grounds and provide a massive seafood buffet for Bottlenose Dolphins, Common Dolphins, Orcas (Killer Whales), Bryde's Whales and many seabirds who all spend much of their lives in Auckland's waters" the quick witted Rob declares.  "So obviously, we can't be 100% sure of seeing whales" he added.
We were on the look-out for Brydes Whales, New Zealand's most common whales.  Andy's clear instructions about what to look for – shiny grey "foot prints" on the water's surface and the unmistakable "blows" as they surface to breath – meant we'd be vying for bragging rights to proclaim that "I saw it first".
For the first 40 minutes, we scanned the horizon.  We were rewarded for our enthusiasm.  Scores of dolphins entertained us with their acrobatic frolicking.  In the distance, hundreds of Australian Gannets resembling Kamikaze pilots plummeted from the sky to gorge on the shoals of pilchards being rounded up by the dolphins.  We were assured that this feeding frenzy was an excellent sign.
A solitary black shadow appears, and glides for a few seconds with its back arched before disappearing.  That's what makes sighting a whale so exciting – the expectation and the excitement of the chase.  Perhaps lady luck and timing had a helping hand today.
Moments later 2 more giants emerge and our excitement was now heightened.  Passengers scramble to the vessel's bow and grab the railings with a collective chorus of gasps and shrieks.  The Dolphin Explorer is substantial with more than enough room for everyone on its 2 viewing decks.  Cameras and binoculars were now focused to capture the show that these magnificent creatures were putting on for us.
Suddenly, and silently, another cast member appears from nowhere just 10 metres in front of us.  The Marine Mammal Protection Act prohibits vessels from approaching to within 50 metres from whales.  But even an extremely conscientious skipper like Andy can do very little when a curious mammal 4 times the size of an African elephant decides to approach us.
Even for veterans like Andy, the excitement was still strong.  Our "show" in Auckland's marine playground continues for another 15 minutes and then without any sign of an encore, our giant friends vanish.   We continue to second guess which direction they're heading to and when they'll resurface for air.  But alas, the creatures of the deep have disappeared to the depths.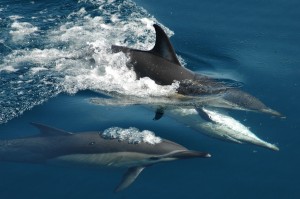 Reluctantly, we head back to Auckland's terra firma.  We are accompanied most of the way by inquisitive, playful dolphins.  "I've had an amazing experience in New Zealand for the last 19 days and this one is no different" Herbert, from Malaysia insisted with a grin that confirmed his obvious joy.  Undoubtedly, our trip was worth the 08:30 start on a warm Auckland spring morning.  Our aquatic performers did everything but jump into our boat and I have enough memories to cross whale watching off my bucket list.
Auckland's Hauraki Gulf offers one enormous seafood buffet – if you're a Bryde's whale with a healthy appetite for plankton!
Plan your unique experience, in Auckland's crystal clear marine reserve, observing some of our planet's largest and playful creatures.  Auckland's Whale & Dolphin Safari offers all-year round trips and virtually guarantees that you'll see dolphins and whales on every trip.  Call them now on 0800 397 567 or visit their website.  Book early, as places fill up quickly.  An adult fare costs $160; children $105 and family discounts are available.