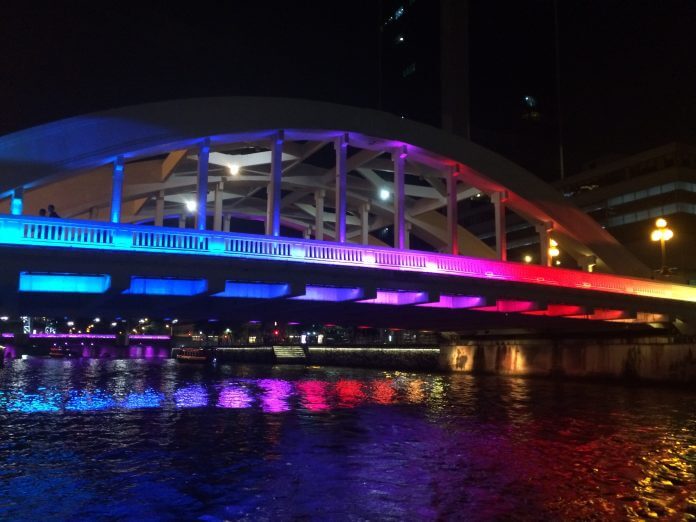 I was recently asked what my favourite city was.  What a tough question!  I've been privileged to travel to many places. To me, the beauty of travelling is seeing new places for the first time and experiencing different cultures.
Experiences like those will be influenced by many things: The people, the weather, the stage of life you've reached and much more.
Often, during our globe-trotting – be it business or pleasure – a place just sticks in our mind.  Maybe you've had an amazing experience recently; or have a burning desire to try somewhere new.  Perhaps you lived somewhere and moved on but feel that you've never left there at all.  We're all different.  What cities would be on your list?
Here's my list, in alphabetical order.  How did I choose them?  I didn't use any hard and fast rule – I followed my heart!  I've included them because I've been there more than once; have lived there; or would like to live there one day.
AGRA
I'd read about it.  I'd seen it on TV.  And I'd heard stories from people who'd been there.  But nothing can compare to actually being there.  It's one unique place and is the only city that boasts 3 UNESCO sites!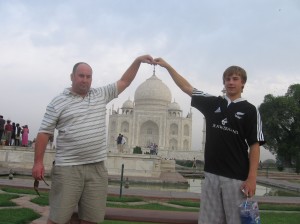 Of course, the jewel in its crown is the Taj Mahal, which needs no introduction.  And I don't have enough room here to write about how stunning it is.  I first visited The Taj Mahal in 2009 but went again earlier this year with my son and we celebrated his 17th Birthday watching the sun rise on the Taj's steps.
The 2 other UNESCO sites are well worth a visit:  Agra Fort (also, called the Red Fort is a powerful red sandstone fortress with 2.5-km-long enclosure walls) and Fatehpur Sikri (the imperial city built by the Mughal Emperor, Akbar, between 1571 and 1584).
I can truly say that I could go and see these over and over again.  But if it wasn't for these 3 sites, Agra city would not make my top 500.  It's dirty, crowded, and noisy.  But truly memorable!
Highlights: The Taj Mahal and sharing my son's 17th Birthday; Agra Fort & Fatehpur Sikri
AUCKLAND
Auckland is blessed with so many natural assets that there is no reason to ever be bored there.  Being the only city in the world to boast two harbours, it's no wonder that the "City of Sails" offers some of the best boating and fishing in the world.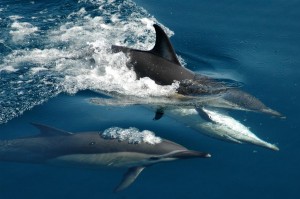 If I'm not taking a lunch-time stroll along Takapuna beach (or one of so many others within 5 kms of my home) looking for a convenient spot to throw my towel down and read a book whilst listening to the waves break, I'm probably sitting in my home office, planning what to do next.  I love Auckland's open spaces, mild all year round climate, fresh air and excellent choice of wine and seafood.  Living on Auckland's North Shore, in less than an hour I can be in the Waitakere Rainforest swimming under a waterfall; or hopping on a ferry to one of Auckland's idyllic islands in the Hauraki Gulf; or driving the short 20 minute coastline route to soak in naturally heated thermal hot-pools.
I'm proud to call Auckland "home" since moving here in 2001.  But don't just take my word for it.  Auckland is repeatedly ranked as one of the top 10 most liveable cities in the world.  I can't think of a better place to raise a family.
Highlights: BBQs with friends & families; Dolphin Explorer; All Blacks games at Eden park; Christmas morning on Castor Bay beach.
CARDIFF
When I think of Cardiff, I think of belting out Hen Wlad Fy Nhadau ("Land Of My Fathers") at the top of my voice on match day at the Millennium Stadium.  On match day, Cardiff transforms into a sea of red jerseys, large inflatable leeks & daffodils and non-stop singing.  Anyone who knows me will know that I'm extremely proud of my Welsh heritage.
Cardiff is a city that's proud of its culture, language and history.  Welsh is the oldest surviving language in Europe and also boasts the oldest flag (although the Danes dispute this).  It's the capital and most populated city in Wales & the 10th largest city the UK.
Cardiff Castle, with a proud 2,000 year history, sits impressively in the city centre, close to Millennium Stadium (the national stadium) and the River Taff.  But Cardiff isn't all about rugby, singing and castles.  Its recently developed Cardiff Bay has been transformed from Docklands and now boasts world class waterfront bars & restaurants.
Highlights: Match day at the Millennium Stadium and pre-match wander around the castle; visiting friends and family in nearby Bridgend.
DUBLIN
Dublin, the capital of Ireland, has a population of approximately 1.2 million.  Three words spring to mind when I think about Ireland: Green, friendly & Guinness.
The Irish rank as one of the friendliest people on earth.  I found navigating in and around Dublin to be extremely easy and the city boasts of having more park area per square kilometre than any other European capital.  The Temple Bar area is worth a visit to sample a pint or two of Black Gold.
Highlights: The people; freshly pulled Guinness at St James Gate brewery
GOLD COAST
With its catch-phrase of "Beautiful one day; perfect the next!" I've never doubted Queensland's jewel in its crown.  Bathed in 300+ days of glorious sunshine each year, the Gold Coast's subtropical climate is perfect for enjoying 57 kilometres of golden sun-kissed beaches, theme-parks and abundant night-life.
I've been several times.  I've witnessed my children progress from playing in paddling pools & on carousels to become adrenalin junkies kamikaze down Wet 'n' Wild's Mammoth Falls; and defy gravity on Movie World's Lethal Weapon.
But the Gold Coast isn't just a wallet sapping myriad theme parks and beaches.
A short drive away, you can enjoy the Gold Coast Hinterland, where three national parks, mountains, waterfalls and natural rock formations add to the menu of activities.  And an easy 40km drive north is Brisbane, the capital of Queensland.  Brisbane, centred on its river, offers an extremely laid back and friendly city life – it even has city centre man-made beach for a lunch-time dip!
It's not surprising that the Gold Coast is a favourite overseas destination for Kiwis.  I'm certainly looking forward to my next trip.
Highlights: Cuddling koalas at Lone Pine Koala Sanctuary; a trip on a Cloud 9 seaplane; strolls along Brisbane River; hand feeding kangaroos at Currumbin Wildlife Sanctuary; Wet 'n' Wild; Shark bay at Sea World.
HAMBURG
I used to commute to Hamburg once or twice per month for 2 years on business, so I'm pretty familiar with Germany's second largest city.  It's cosmopolitan and affluent and certainly has a lot to offer.
Hamburg has a unique maritime charm and combines this cleverly with wide open spaces and abundant greenery.  The city boasts an array of quaint canals but its centrepiece has to be its lakes, the inner and outer Alster Lakes, which provide the perfect meeting point.  At Christmas, a huge Christmas tree is lavishly decorated and erected in the middle of the inner lake.  The city's Town Hall (The Rathaus) is an impressive building and survived unscathed from bombing in WWII and shoulders the many canals.
I recall shopping in the Mönckebergstrasse shopping precinct (how could I forget that name); hailing down cream coloured Mercedes Benz taxis, and vast quantities of German beer.  I also recall Hamburg being where I first announced to colleagues that I was emigrating to the other side of the world.
Highlights: "Working hard & playing harder" with colleagues; walking around the city in the evenings.
JAIPUR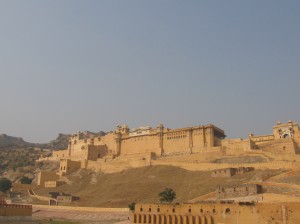 Jaipur – the 3rd link in India's "Golden Triangle" – must be the dictionary definition of "Melting Pot".  I have a love-hate relationship with Jaipur, having been twice.  It's fast, congested & noisy but easily makes up for it with some of the most spectacular monuments and cuisine in a country full of superlatives and surprises.
Dubbed the "Pink City" because so many of its buildings are made from orange-pink sandstone, Jaipur is both a fort and palace connoisseur's paradise.  It's easy to get "drunk" on the sheer scale and size of Amber, Jaigarh and Nahargarh Forts.
I vividly recall my first "traffic-jam" In Jaipur.  Waiting to cross a roundabout, my driver and I were jockeying 4 to a lane with streams of rickshaws, scooters, bicycles, buses with people hanging off/on top of, peddlers carrying their wares and even camels and elephants.  You had to be there to believe it!
Highlights: An elephant ride to Amber Fort and the fort itself; Choki Dhani Cultural Village; and the food!
MADRID
Madrid is easily my favourite European city and possibly my favourite city in the world.  Spain is a remarkable country and one I miss since moving to New Zealand.  I was fortunate to have worked in Madrid a few years ago, in my corporate days, and it still evokes strong memories to this very day.  It's a city full of colour, wide streets and atmosphere.
I recall the long, leisurely, lunches ("la comida") that Spaniards are renowned for – a chance to meet with colleagues over several courses of typical Spanish food, accompanied by a glass or two of vino tinto.  The food is nothing short of remarkable.
I found that Madrid is an easy city to walk around but was thankful for its excellent Metro and bus system on hot sticky summer days.  I particularly enjoyed strolling around Madrid with no real destination in mind.  Whether ambling up the impressive Gran Via, meandering through courtyards, back-streets or squares, Madrid is steeped with history, culture and impressive monuments.
I did pluck up the courage to see a bull-fight in Las Ventas bull-ring.  It wouldn't be everyone's "cup-of-tea" but at least I can say that I've been – I'm not sure I'll do it again though.  As a football fan, watching FIFA's "Team of the 20th Century" Real Madrid in front of 92,000 screaming madrileños was always worth the ticket price.
Madrid is a special place and I can't wait to return.
Highlights: Sipping wine and eating tapas in Plaza Mayor; strolling through El Retiro Park.
MEXICO CITY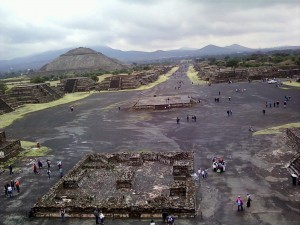 Mexico City has much more to offer than a stop-over destination for Mexico's beach resorts.
It's the oldest city in the Americas and is perched 2,240 metres above sea level and has few rivals for its rich history.  Ruled by The Aztecs before the Spanish conquered it, the city has a chequered history.
I arrived in Mexico City in 1993 and it was a total novelty as I didn't know anyone who had been – many of my friends and family were still booking holidays to Spain, Portugal or Greece for summer holidays.  But I wanted to be different.  It finds its way on to my list, as I spent the first few days of my honeymoon there!
I vividly recall the thousands of iconic green VW Beetle taxis ("Los Vochos"), chillies for breakfast and exploring the ancient Aztec ruins.
Highlights: The ancient city of Teotihuacán; The Zocalo
PALMA DE MALLORCA
I've already mentioned my love of Spain and for those who didn't know, Palma de Mallorca is the main city on the Balearic island of Majorca, off the east coast of Spain.  I don't recall how many times I've been – many – and I still dream of living there one day.  Perhaps during a New Zealand winter.
Palma is a city of modern hotels, chic bars & restaurants and up-market shops and yet retains its old architecture.  I've lost count of the number of steps I've walked on its narrow cobbled streets, packed with charm and full of character.
I recall the scenic single track train journeys to Sóller and can still smell the fruit and nuts as the train climbed and wound its way through the Serra de Tramuntanthe and surrounding orange & almond groves.  I still carry a photo in my wallet of Karen & me with our 5 month old son, Rhys, on our laps on one of those journeys.
Palma Cathedral (La Seu) dominates the City and offers an amazing introduction as you drive into the city.  Palma is such a warm & friendly city; the food is amazing and it's a perfect location for a family holiday.
Spain's national dish, Paella, is particularly good here and is one of my all-time favourites, which is why I cook it every Christmas Day on the BBQ at home!
Highlights: Getting "lost" around the back streets; lunch-time Paella and a bottle of chilled San Miguel.
QUEENSTOWN
The first time I visited Queenstown was in September 2001 for a conference.  I'd only been in New Zealand for 3 months so didn't know what to expect in the depths of New Zealand's South Island.  I needn't have worried.   I was hooked from the very first moment.  Queenstown is probably my favourite holiday destination on the planet!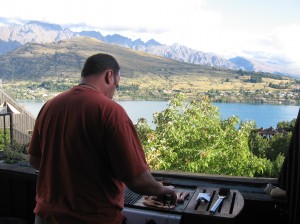 Queenstown isn't technically a 'city' but anyone who has been there will know why I couldn't leave it out!  Billed the Southern Hemisphere's "adventure capital" it has so much to do – rain or shine; summer or winter.  But it's not all about bungy jumping, jet-boating, para-gliding and skiing.  Its compact little centre, on the shores of the majestic Lake Wakatipu, is ideal for a gentle stroll before a dip in the crystal clear lake; or a game of free Frisbee Golf in the Botanical Gardens.
I'm not much of a skier, so we generally fly down to our timeshare that overlooks the lake for some serious "R&R" during our summer holidays in January.  It's a perfect base to explore the surrounding picture-postcard scenery that Queenstown is famous for.  With both Milford Sound and Doubtful Sound within a day's drive, Queenstown really is the ultimate lake & alpine destination.
Highlights: Sitting in the spa with a glass of wine watching the sun set over the Remarkables Mountain range; a fly/cruise trip to Milford Sound; and the views overlooking Lake Wakatipu.
SINGAPORE CITY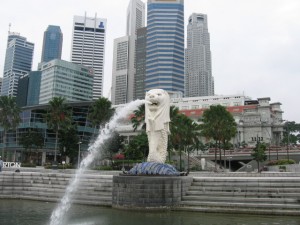 Singapore was probably the 1st city I sub-consciously added to my list – I was born there!
I have visited several times since and just can't get enough of the place.  On a recent stop-over from Mumbai to Auckland, I quickly compared it to Mumbai's chaos, poverty and noise – Singapore is the exact opposite!  The city is spotlessly clean, surprisingly green and openly affluent.
Its atmosphere, cuisine & cultural diversity make it a special place and evidence that people of all religions can live together peacefully.  Its excellent Mass Rapid Transport (MRT) system ensures that everyone has easy access to all areas of the city.  And the MRT also provides welcome relief from the hot and humid weather!
Clark & Robertson Quays are a great way to while away a few hours in the evening.  I've witnessed many changes to the Lion City over the years –  Sentosa Island has been transformed from a sleepy annex to the city to a resort style destination, complete with hotels, casinos and theme park.
As a child, I watched repeated slide-shows as my Dad poured slide after slide into his projector.  I dreamed of what Singapore was really like, as I turned page after page in my parents' photo-albums.  I don't have HG Well's time-machine.  But I'm sure that both the old and modern day Singapore is/was a wonderful place to grow up.
Highlights: China Town, Night Safari, Kranji War Memorial , and of course enjoying a Singapore Slings at Raffles
I hope you enjoyed my list of favourite cities around the world.   Maybe you've been to some of them; perhaps some are on your own wish list.  We can't buy experience – sometimes you just have to 'give it a go'.  Grab yourself a globe, spin it and choose your next destination and then book your tickets.  Who knows, maybe your favourite city is out there just waiting to be discovered!