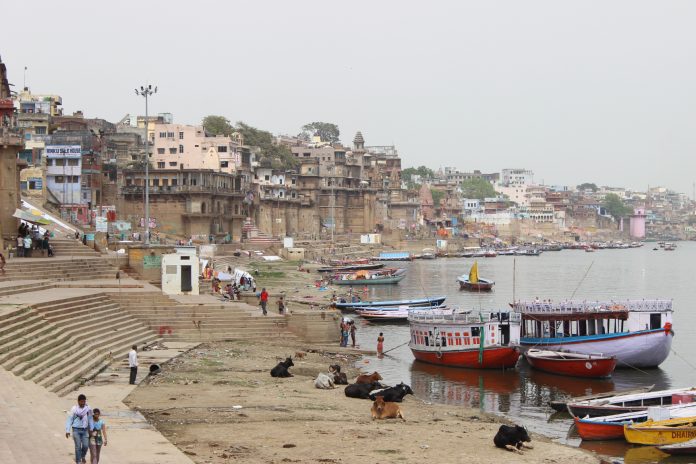 There's no doubt that Varanasi is as compelling as any trip to Delhi, Agra or Jaipur. In a single visit, you can witness life and death side-by-side while Varanasi's residents carry on with their daily lives.
Sunrise Boat Tour
To appreciate Varanasi before the heat and crowds become too overwhelming, I opt for an early morning cruise.
Bleary-eyed, and with sun beginning to warm my face, I witness a Hindu way of life that's been taking place for thousands of years. Scattered along the river-banks yogis practise, pilgrims flock to the sacred river to take a dip, and priests perform rituals.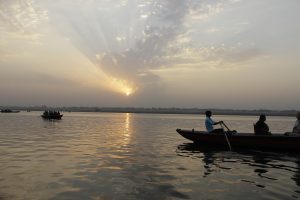 Cremation Ghats
Varanasi's burning ghats are both vivid and certainly memorable. I admit my eyes were curiously fixed on the macabre scenes that unfolded along the Ganges' riverbank.
My thoughts quickly moved to noting how business-like last rites were being dealt with. And in the end, the scenes were both very touching and moving.
Basically, the scene is simple enough.
Deceased bodies are enveloped in saffron and pink fabrics and garlands of flowers. They do little to hide the frail human shapes as family members carry their loved ones down the steps leading to the sacred Ganges River. Drummers and bands accompany them.
In the West, we typically hide our deceased – either to be embalmed or to be cremated. I stop and think how far removed we are from Hindu culture.
Bodies are unashamedly left on the stairs or ghats for hours, awaiting their turn to be immersed and purified in the Ganges.
They're then taken to the wooden funeral pyres. Several pyres are already alight or smouldering.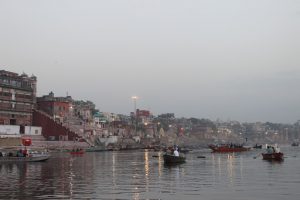 Sandalwood and mango logs continue to arrive by boat, unloaded and neatly stacked until needed.
Locals and tourists, alike, curiously and casually observe the events from their boats or from the upper terraces. Photography, as you'd expect, is strictly forbidden. I have no issues respecting these private moments.
Everything seems bizarrely informal. People go about their business against a stunning backdrop of houses and temples.
Buffaloes, cows and goats forage for food and prod floating marigold garlands; stray dogs sniff and rummage through bones and ashes.
Escape to Sarnath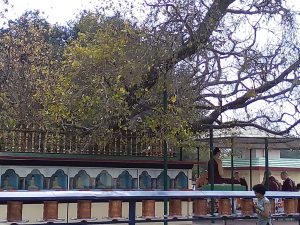 Varanasi has been a Buddhist city for almost as long as it has been a Hindu city. Leaving its busy streets behind, six kilometres away, lies Sarnath.
Buddha is said to have preached his first sermon here during the fifth century BC. Now a place of pilgrimage for Buddhists, many red and saffron robed pilgrims wander throughout its grounds.
I took the photo of the Bodhi tree to the rhythmic, soothing, sound of a group of Tibetan monks with shaved heads seated motionless beneath it.
As I took it, a young Buddhist monk from south India approached me.
It was as if his saffron robe assured him the confidence to meet a stranger, knowing that such friendliness would not be abused.
Strolling the Ghats
By mid-afternoon the sun burns fiercely above the Ganges. I am pouring with sweat again.
As I tackle the ghats' steep slopes and steps, a regular stream of "interesting characters" approach me and hold out their hands, the global sign synonymous with requesting money.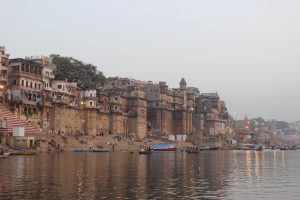 Small platforms, shaded with bamboo umbrellas are sprawled along the ghats. Grey-haired, bare-chested, saddhus meditate alone in warm sunshine or quietly address followers.
Their popularity varies. Some preach to two or three devotees, while other audiences jostle for position on the surrounding steps.
Stall holders, musicians, holy men and beggars line the steep steps that lead to the city's streets.
Evening Aarti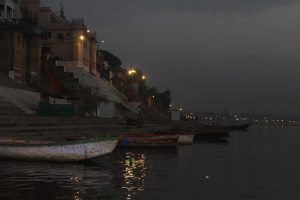 By the end of the day, I'm shattered but eager to experience another cultural experience. But this time from the safety and comfort of a sunset boat tour.
Listening to Sanskrit mantras, cymbals, bells and drums, the evening Arti is a vibrant and and majestic spectacle. The Ganges is adorned with flower petals and illuminated with the glow of floating candles.
Key points to note when visiting Varanasi.
* Avoid taking photos of cremation ghats.
* Death is a spiritual and everyday thing in Varanasi. Go with an open mind.
* Take a boat ride at sunrise.
Nowhere have I ever been prepared me for Varanasi. It's pollution is gripping, its crowds seem intensely worse than either Delhi or Mumbai.
It's a bizarre contradiction – spiritual, exciting but absolutely filthy. I can't wait to go back!