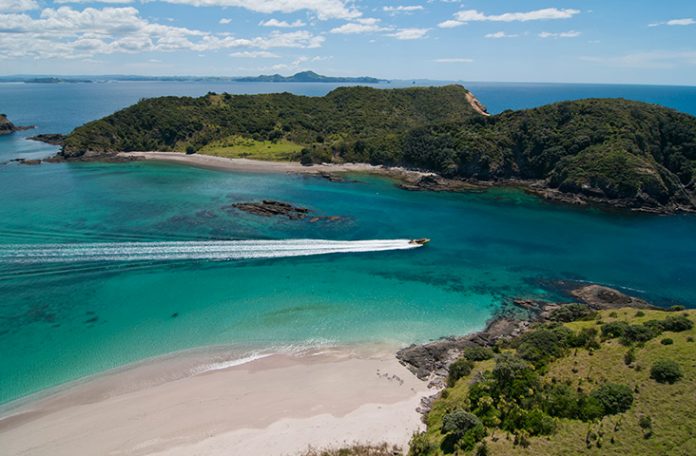 Updated: November 2018
The Bay of Islands has been a favourite holiday spot for generations of Kiwi families.  At its heart, lies the picturesque seaside village of Paihia, which offers a relaxed pace for locals and tourists alike.
During summer, visitors use it as a base to explore the area's enchanting 144 islands and experience its rich history.
Needing to wind-down from a hectic Christmas, I organised a short get-away at the Club Paihia timeshare resort, which nestles conveniently in the hills overlooking Paihia's waterfront.
Arriving mid-morning from the scenic 3 hour drive from our home in Auckland, my wife, 13 year old daughter and I excitedly checked in and immediately switched to "adventure mode".  The walk to the wharf takes less than 5 minutes – giving us enough time to discuss the scope of what adventures lay in store for us.
Explore Bay Of Island's Discover The Bay Adventure
We dart from one tour operator's office to another.  Won over by Explore's friendly staff, we quickly book the last 3 seats available on Discover the Bay for an afternoon's adrenalin rush.
We hastily make our way over to the berth, where Darren, the boat's skipper greets us. His hornet coloured rigid-hulled inflatable looks all set to put us through our paces with speeds up to 70 knots per hour.
He promised us that afternoon sea swells would ensure that passengers on the bow would experience a bumpy and wet ride.  Cerys responded like any 13 year old at a theme-park – she nestled into one of the available seats at the front
"C'mon Mum, it'll be fun" was not what Karen wanted to hear as she nervously strapped herself in next to Cerys and I.
Our adventure begins with Darren keeping to the compulsory 5 knots per hour cruising limit as we leave the safety of wharf behind.  200 metres later, and with engines fully revved, we bounce up and down on the ocean.
Nervous laughs and groans rang out everywhere.  To my left, Cerys sported a grin from ear to ear.  Karen was not so happy!
En route to the Hole-In-The-Rock ("Motukokako"), we briefly stop at Cook's Cove on Roberton Island.  Captain Cook first anchored here in 1769 during his first circumnavigation of New Zealand and a bronze plaque commemorates his visit.
The island also has a darker side.  In 1839, a young Maori became the first person to be hanged under New Zealand Law for killing the entire Roberton family after falling in love with their daughter and cultural differences preventing him from pursuing his love.
Darren edges us inside Cathedral Cave to reveal a giant sea cave, with 40 metre walls, where Maori warriors used to practice their haka ("war chants") in the Cave's 360 degree acoustic surrounds.  For a moment, we keep their tradition alive as we tested the capacity of our own lungs!
Hole in the Rock
The Hole in the Rock has been carved out over centuries by wind and the ocean and is another exquisite piece of Mother Nature's architecture.  We cruise excitedly through it – like threading cotton through the eye of a needle.
Explore NZ promised us an exhilarating afternoon of fun and adventure on the ocean and we were not disappointed.  The early morning drive from Auckland and the afternoon's sea air ensured the 3 of us slept soundly this evening.
Wakas, Dolphins and Tranquility
Waitangi's Treaty Grounds holds a very special place in New Zealand history and is regarded as a national gathering place to be shared by all New Zealanders.
The Treaty of Waitangi (New Zealand's founding document) was signed on February 6 1840 between Great Britain and many Maori Chiefs.
As we enter the treaty grounds on our 2nd day in the Bay of Islands, we feel a sense of pride.  The grounds are immaculately manicured and the impressive 35 metre-long Ngatokimatawhaorua waka (Maori ceremonial war canoe) takes pride of place on the oceanfront.
Te Whare Runanga is a meeting house built to commemorate the 1940 Treaty Centenary Celebrations and is symbol of Maori involvement in signing the Treaty.  We remove our shoes and explore its exquisite carvings, depicting Maori mythology and history.
Discover the Bay Cruise
Dolphin Discovery V pulls out of the wharf a little after 13:30.  It's a purpose built boat and our home for 4 hours as we cruise around looking for dolphins and witnessing some incredible scenery.
The skipper and his crew run through a safety briefing and we nestle into our seats with hot coffee and muffins.
30 minutes into our cruise, and we've already experienced coves with charming names such as Twin Lagoon; Good-fellows Bay and Honeymoon Bay.  Then we spot our first bottle-nose dolphin; then another.
Soon we're surrounded by dolphins playing in the boat's bow waves.  It's easy to understand why our fellow passengers and us are fascinated by them.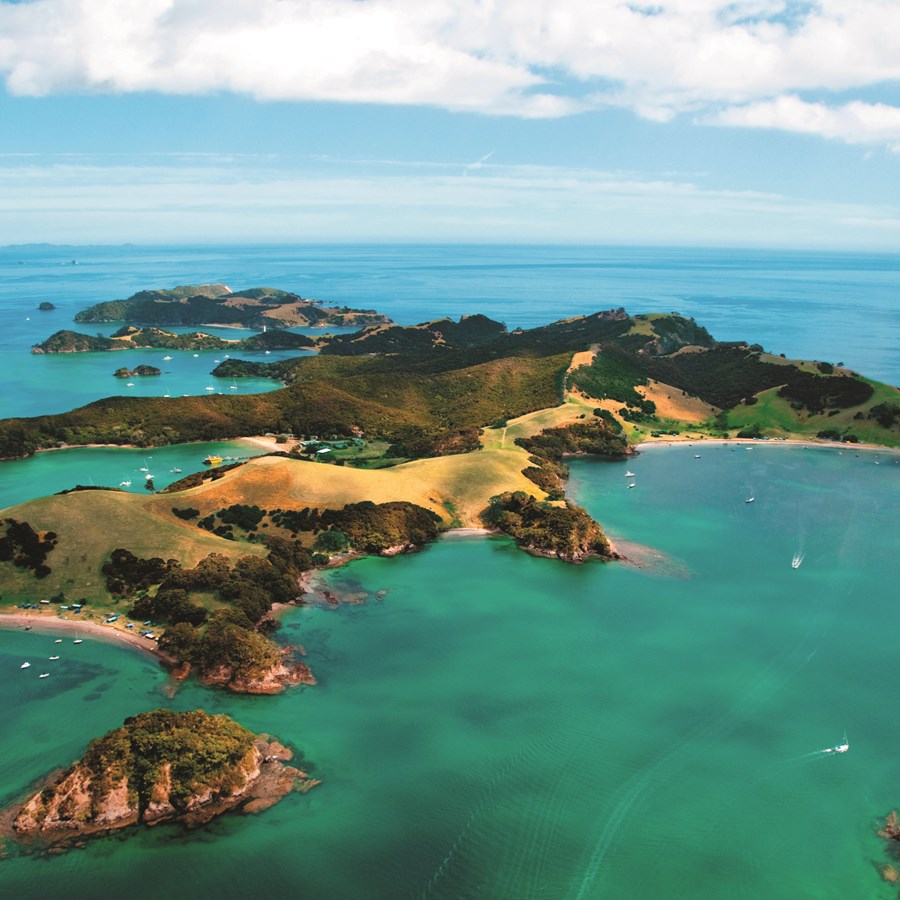 Urupukapuka Island is beautiful.  The largest of the Bay Of Island's 144 islands, it is steeped in Maori & European history, where visitors also discover wonderful beaches, walks and opportunities to snorkel & kayak in crystal clear waters.
It's not surprising that a wedding party group has gathered in Otehei Bay to celebrate the special day of friends and family.
Our brief stop allows us enough time to enjoy the fine white sand between our toes and a drink overlooking the stunning bay.
We zig-zag our way around a few smaller yachts moored for the evening.  Sting-rays resembling large black diamond kites glide effortlessly in the shallow waters.  Dolphin Discovery V meanders her way slowly back to Paihia and we reflect on a wonderful afternoon.
Paihia is a great option for those looking to explore this beautiful region.  Its sub-tropical climate and location makes it a perfect starting point for exploring the Bay of Islands and gaining an insight into Maori culture.
Take a journey with Explore and soak up its scattered islands or cross an item off your bucket list by swimming with dolphins.  If you're looking for a way to surprise someone special, Paihia is the perfect place!