Updated October 2021
Wow, wow and triple wow.  That sums up today.
It was Rhys' 17th Birthday today and we would be hard pressed to top this.  I can't remember what I did for my 17th!
We arrived at the Taj Mahal at about 05:45.  Yes, I know what you're thinking – how cruel I am for getting Rhys up so early!  We were eighth in the queue (admission was at 06:00) and I primed Rhys with military precision.  The last time I went to the Taj was on a very (and I mean very) busy Sunday afternoon two years ago.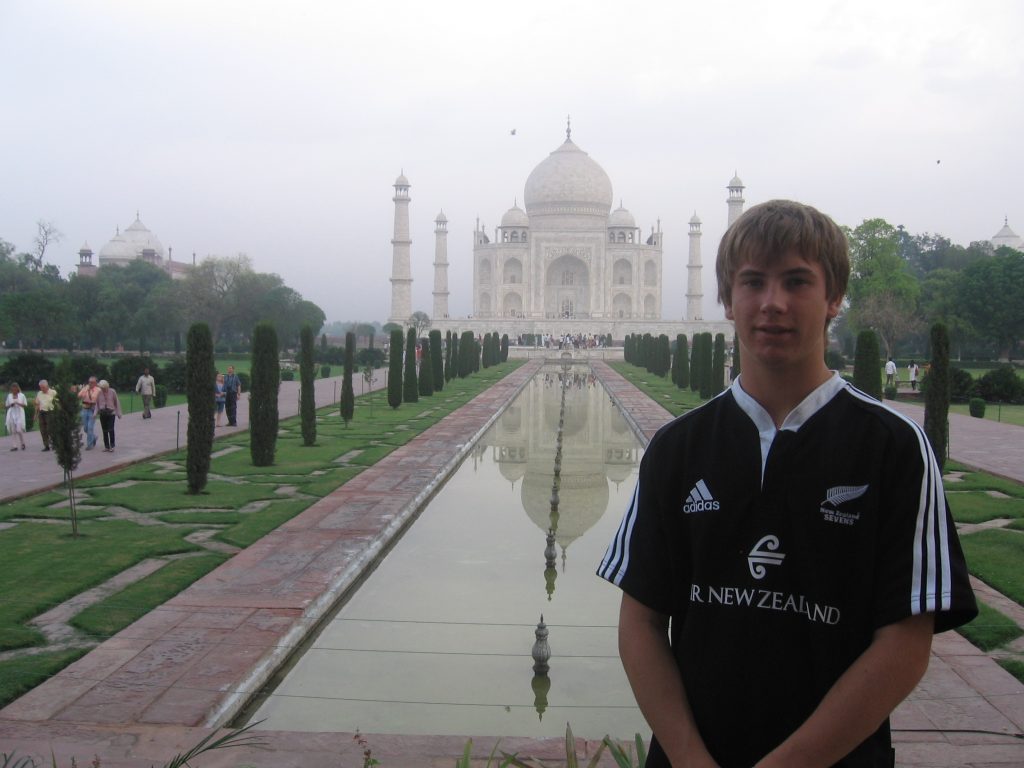 Racing through the gates, we secured prime position in front of the Taj – not one single soul impeded our view.  If there's one recommendation I could give you – get there early, even if you have to crawl there.
I think I have mentioned it already! Wow, wow, wow.  The Taj Mahal (even on the second time) is truly memorable and stunningly beautiful.  I won't undermine its beauty with my feeble attempt with adjectives!
Rhys and I were so engrossed in the Taj Mahal (who wouldn't be?) that we'd overlooked the time difference (it was already 12:30 in New Zealand and Karen and Cerys [my daughter] were waiting to wish Rhys a Happy Birthday).
Rhys pulled out his Birthday cards and read them aloud as we sat and gazed at the world's most famous monument of love.  Of course, the words in his cards are private.  But I freely admit to shedding a tear or two today.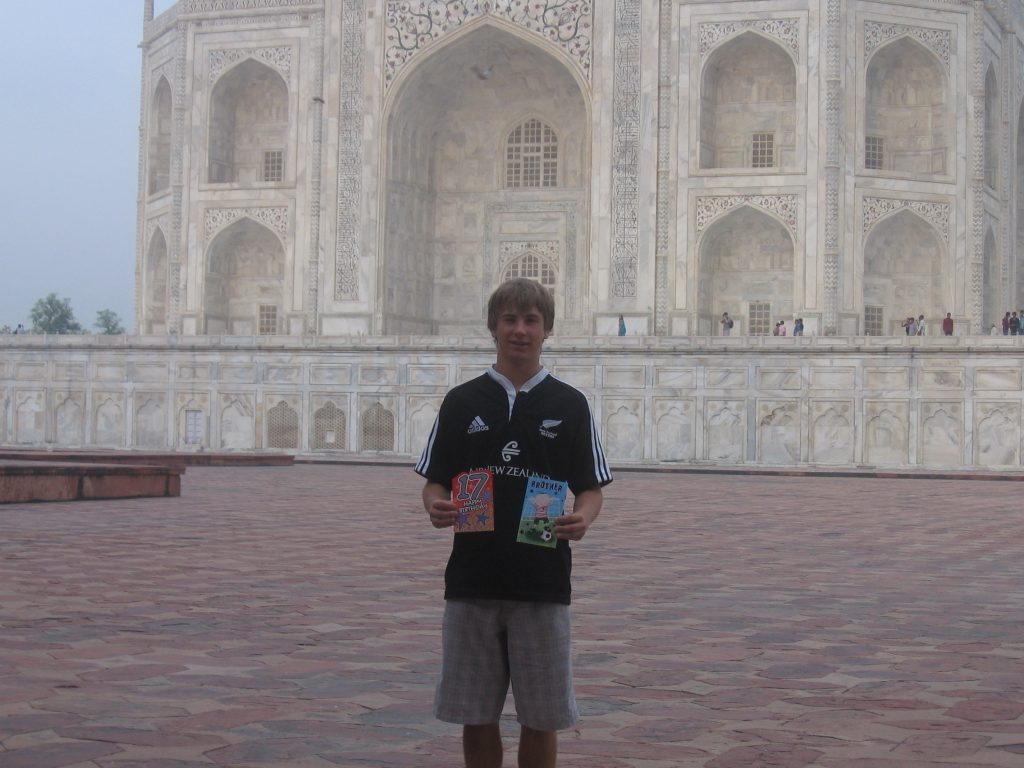 We both agreed how difficult it was to drag ourselves away but we still had much to see today.  We returned to the hotel and scoffed down as much breakfast as we could (I'm sure Rhys would win an Olympic Gold Medal for eating so much food in one sitting) and then "'phoned home" for a string of "Happy Birthdays".
This afternoon, we went to the "ghost city" of Fatehpur Sikri.  Nestled on the outskirts of Agra it's one of Agra's three world heritage sites.  I'm glad that I read a little about the place before we arrived.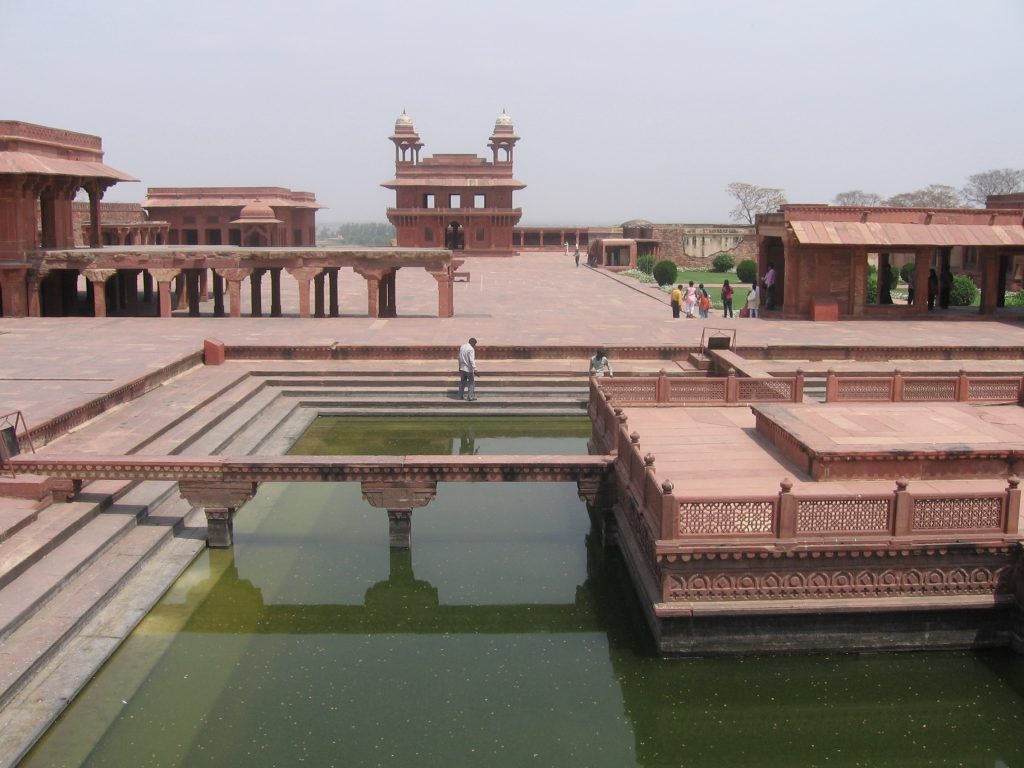 "I'm not a guide, I work here" is the stock phrase and I will admit to using some very "choice" language after a while.  In fact one "guide" said "you don't have to get angry with me" to me.  But Fatehpur Sikri is well worth the visit and we easily spent 2 hours here – just take a deep breath and ignore the hawkers.
This afternoon, we tried our hardest to top this morning – as if.  The "Baby Taj" at Itmad-Ud-Daulah. Which is such a beautiful monument that if it was located in any other city, it would be given top rankings.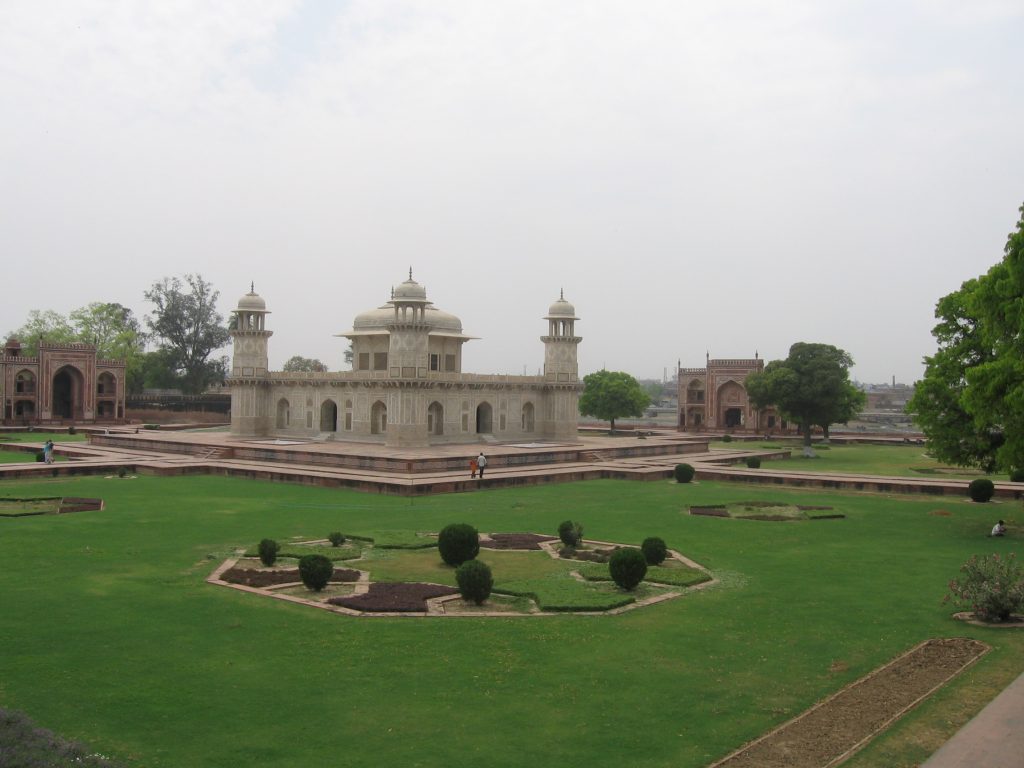 After another battle with Agra's fly squadron this afternoon, we gave up any chance to sit by the pool and returned to our room, confident that we had a day to remember.
I wasn't sure how we'd top today off.  So you can imagine how surprised we were when Sandeep and Nikieta knocked on our door and asked if we wanted to go to dinner.  They had traveled down from Delhi to celebrate Rhys' Birthday!
After a superb Mughal dinner in the Jaypee Palace's restaurant, Nikieta had a surprise for Rhys – a Birthday cake!  And as Rhys cut the cake, in true fashion. Nikieta rammed Rhys' face in his cake!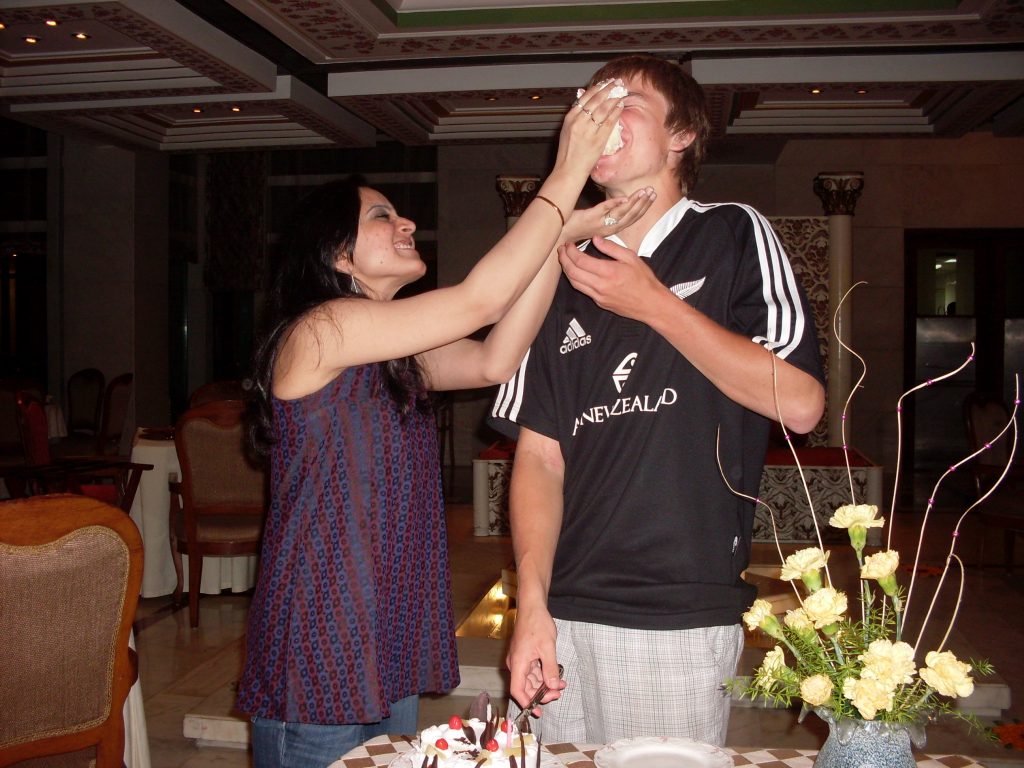 After a few Tequila shots (it was Rhys' Birthday after all!), we said our goodbyes, safe in the knowledge that we have found 2 new life long friends and had celebrated Rhys' 17th Birthday in true style!  But tomorrow we were going to "Jungle Book" country to see tigers.