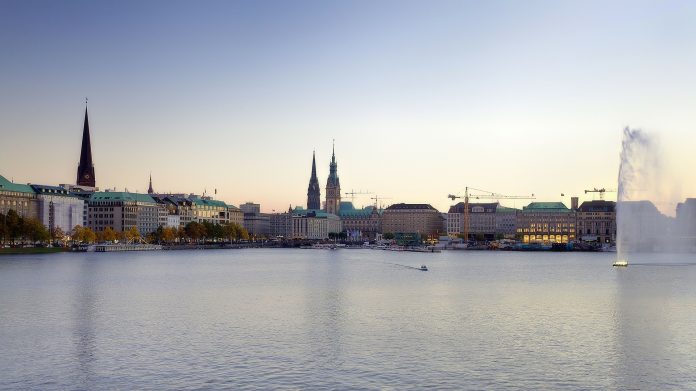 Hamburg, nestled northern of Germany, is proud to call itself a "Free and Hanseatic City". According to one recent survey, it's one of the world's least stressful cities.
It doesn't receive as many tourists as other German cities, such as Berlin and Munich. It does, however, have much to offer.
It seems a lifetime ago since I commuted from the UK to Hamburg most weeks for two years. Here are three things not to miss in Hamburg.
ST NIKOLAI MEMORIAL 
Like many cities during the Second World War, Hamburg suffered due to heavy bombing. All of the city's five main churches suffered significant damage. One, St Nikolai, is now a must-see destination on any Hamburg itinerary.
St Nikolai is relatively unique. Rather than being reconstructed, it has been left to stand in its ruined state as a monument against war.
There's a museum which commemorates the causes, and unfortunate consequences the war had on Hamburg's people both then and now.
After visiting the impressive display, climb seventy-six metres in the high-speed lift to the observation deck. You'll be rewarded with stunning panoramic views over Hamburg.
Key points to note when visiting St Nikolai Memorial
> Opening Hours: 10:00 to 18:00 every day (During October to April it closes at 17:00 every day)
> Admission: Adults: €5 and Children (6 to 17 years) €3
> Location: Willy-Brandt-Straße 60
> Website: www.mahnmal-st-nikolai.de
STERNSCHANZE HAMBURG
Life never stops in the swanky and vibrant Sternschanze neighbourhood. With a lively atmosphere, and a wide assortment of restaurants, cafes and bars, you won't stay hungry or thirsty for long!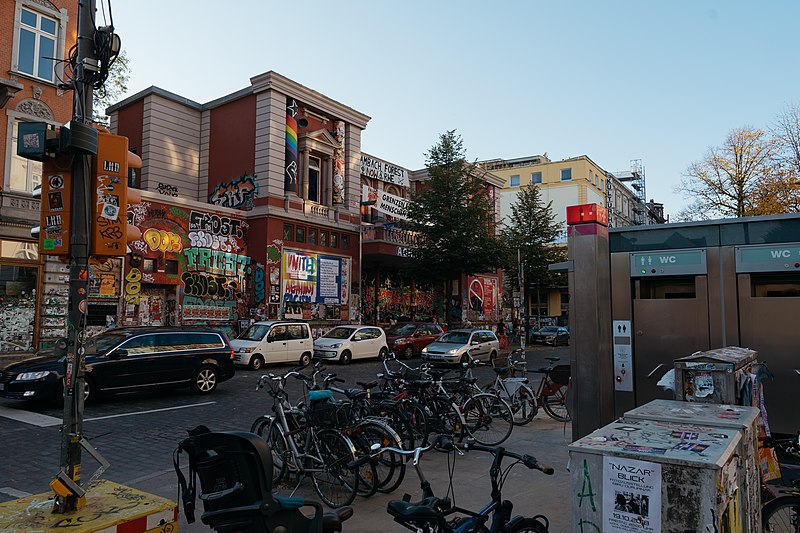 This is where the locals prefer, gladly leaving the hordes of tourists to flock to the infamous Reeperbahn. The prices are lower than in other parts of the city. Its alternative vibe is also home to small boutiques and second-hand shops. Don't leave Hamburg without hanging out in Sternschanze at least once!
SPEICHERSTADT HAMBURG
Speicherstadt is the world's largest warehouse complex. In 2015, it was added to UNESCO's World Heritage List.
Often labelled, the Venice of the North, the warehouse district is famous for its red-brick buildings and canals. It reminds me a little of Birmingham's Brindley Place canals.
Speicherstadt Walking Map – Image courtesy of Google Maps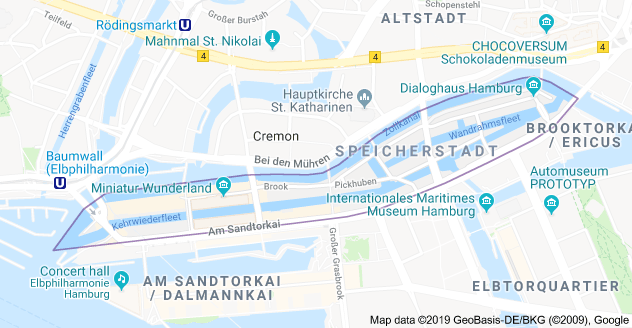 Strolling through Speicherstadt, its attractions are easily accessible. Miniatur Wunderland, housing the world's largest model railway, is easily accessible by foot, as is Hamburg Dungeon, a live-action museum detailing a dark and gruesome side to Hamburg's history.
Other museums include the Speicherstadt Museum, the Deutsches Zollmuseum and Spicy's Gewürzmuseum. The area also boasts the Elbphilharmonie with its impressive glass facade and wave-like rooftop.