Singapore, the Lion City, can boast many superlatives: safest, cleanest, greenest.  It introduced the world's first night-safari park, is home to Asia's largest bird park, and has the world's biggest rooftop infinity pool.
Many people visit Singapore for either a one or two nights' stop-over to other destinations.  Some choose to "do" it simply to tick-off one more destination on their bucket-list. Singapore rocks – and deserves more than a brief sojourn.
For me, Singapore is special.  I have such a strong connection with her.  I was born there! I'm fiercely proud of that fact.  It's easily one of my favourite places to explore in Asia.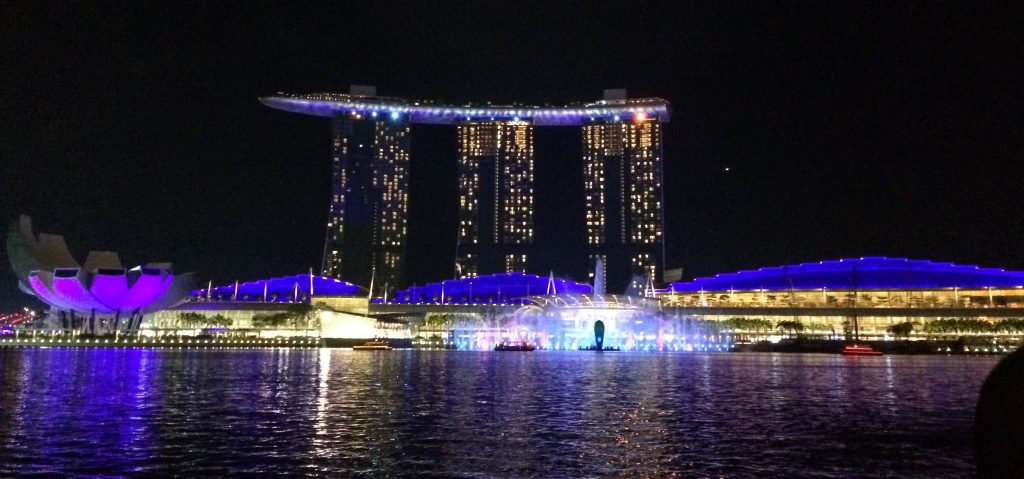 Over the years, Singapore has shed some of its stuffy nature and become a much more fun and vibrant city.  You'll discover temples of all religions, exquisite gardens, world-class entertainment venues, globally acclaimed shopping, museums and art galleries.
I've written this Singapore travel guide to help you plan your trip.  In it I'll cover areas like the weather, language, money, safety, laws, food and public transport.  
WHEN TO GO TO SINGAPORE
It's always a great time to visit Singapore!  Singapore sits just one degree from the equator (approximately one hundred and eleven kilometres) which means it's hot and humid all year around…reaaaaally hot and humid!  
Oh, and its tropical weather provides more than a little regular rainfall!
Temperatures rarely change much from day to day.  The only reprieve from the heat is ducking in and out of air-conditioned malls, its highly impressive metro system, and food-courts and restaurants!  
The rest of the time you'll be grateful for overcast days and the clock-work like afternoon downpour.
Bring sunscreen and always carry a small umbrella.  Dress to stay cool in Singapore. But dress in clothes that dry quickly, unless you want to walk around in clothes saturated from the rain – or even worse your own sweat!    
I often see visitors wearing transparent rain-coats.  They look more like fish you bring home from fairgrounds in plastic bags, rather than adventure seekers.
I'm sure they're just as wet inside from their own sweat as they would be standing under a gutter shedding its rainfall.
WHAT NOT TO DO IN SINGAPORE
Singapore is globally recognised as having a very low crime rate.  Your personal safety is unlikely to be compromised at night or as you stroll through the back-streets.  It's typical to witness locals reserve a table by depositing their wallets or purses on them while they choose their food.  
I've never seen anyone's stolen yet. May be there'll be a time in the future but I can't seem to admire Singapore's honest culture.  
But beware – Singapore loves law!  Break them at your peril. Chewing gum or eating or drinking on public transport is illegal.  
You'll be refused entry on public transport or in hotels if you're carrying the infamous Durian.  The fruit divides opinion. It's smell resembles grandfather's two week old socks but it's considered a super-fruit, full of fibre, iron and vitamin C.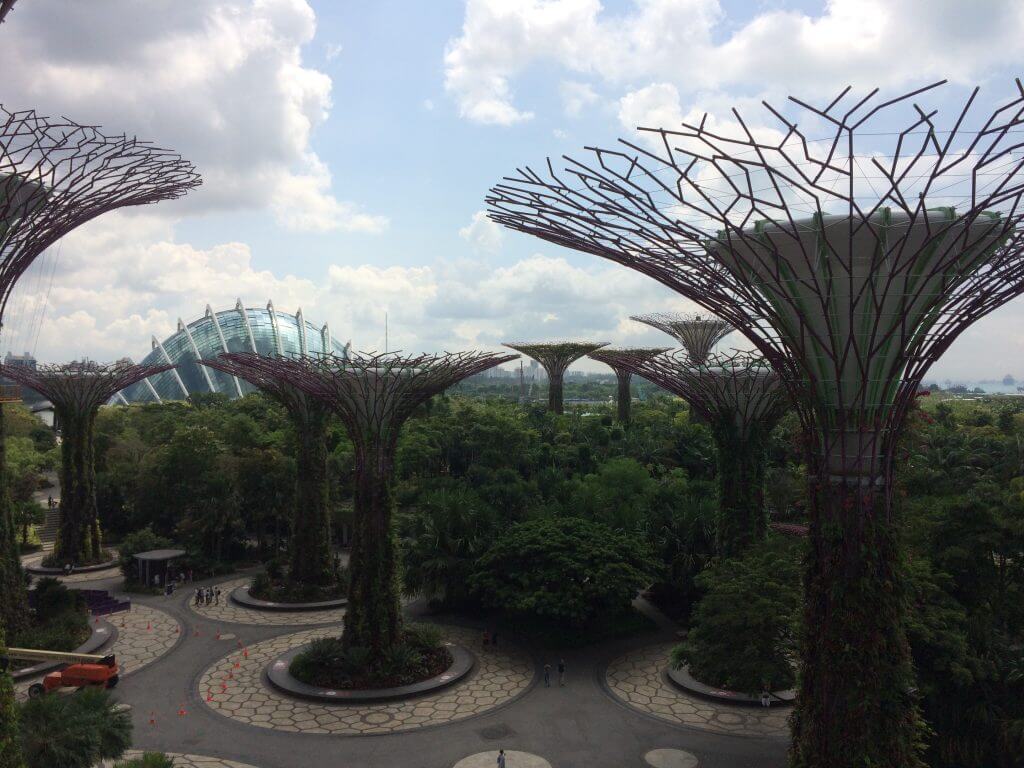 There's a reason Singapore is among the cleanest places on earth. Littering of any type (including spitting) carries a S$1,000 fine.  
Other fines are handed out for not flushing the loo in public toilets, smoking outside of designated areas, jaywalking, graffiti, feeding pigeons, singing obscene songs.  The list goes on.
You'll definitely risk more than a fine if you're involved in drugs.  Capital punishment is enforced for drug offences. Foreign visitors do get executed for drug offences in this part of the world!
WHAT TO EAT IN SINGAPORE
So, how do people eat in one of the world's most affluent cities?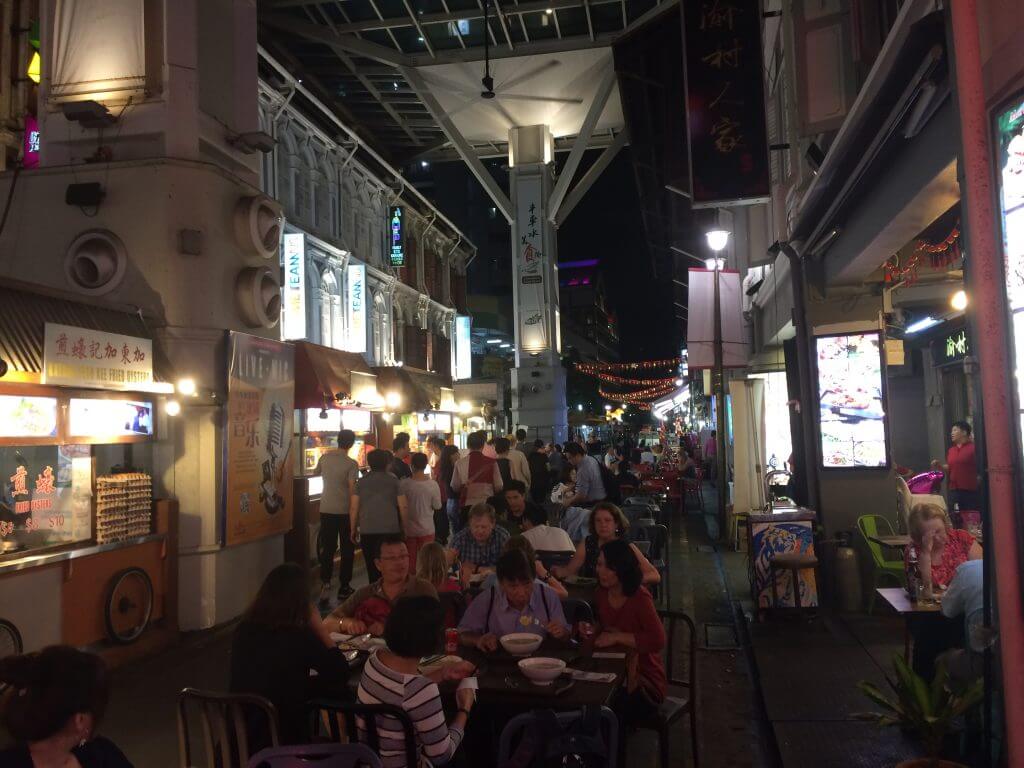 With such a rich and multicultural history, Singapore food is a feast for the taste buds as well as the eyes.  She will never leave you feeling hungry.
While spending S$200 per person in swanky restaurants won't be hard to find, you'll have no trouble eat like royalty on less S$10 per person.
Excellent Indian food is easy to find and is very reasonably priced in Little India.  The Arab Quarter offers a different proposition altogether. Eat in one its Syrian, Turkish or Lebanese restaurants while locals are called to evening prayer at Masjid Sultan Mosque.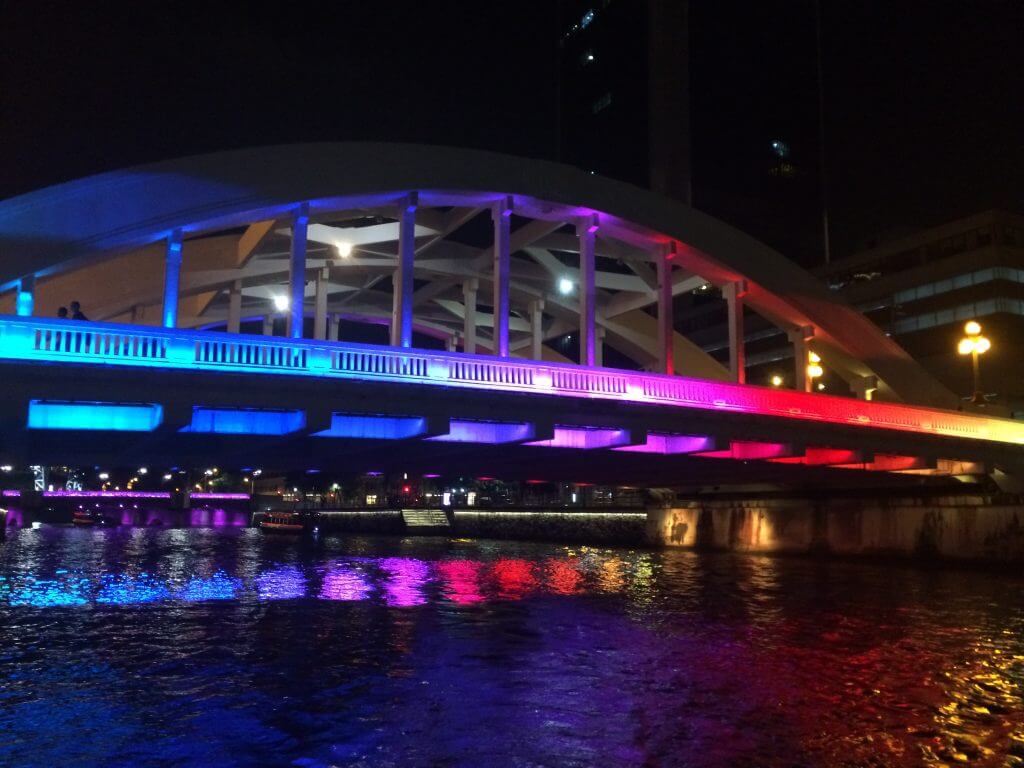 Clarke Quay, lively and expensive, is an enormous riverside nightlife hot-spot popular with tourists.  Enjoy a Tiger Beer in one of its many bars before dining at one of its upmarket restaurants.
My favourite places to eat in Singapore are at the hawker centres (food courts).  An indispensable pillar in Singaporean society they offer countless choices of cuisine.
These down-to-earth foodie paradises conjure up local dishes, such as Fried Kway Teow, Laksa, Chilli Crab and my personal favourite, Satay. The food is always excellent, despite ridiculously cheap prices (S$2.60 to S$6.00).
HOW TO GET AROUND SINGAPORE
Getting around Singapore is ridiculously easy and is fast and relatively cheap.
>  I prefer the highly efficient Mass Rapid Transit (MRT).  It's often the fastest way to zip around.  Many of the city's main tourist spots are within easy walking distance from an MRT station.  
Expect to pay S$4 for a single-use trip, although I recommend you buy a Singapore Tourist Pass (STP) for S$10 which will give you one full day's unlimited travel.  If you're staying longer, buy a two-day pass for S$16, or three-day one for for S$20.
>  Taxis are comfortable and convenient.  I use them as an alternative to reach places outside of the city centre that are less accessible by the MRT or buses.  Taxis are metered. Surcharges, up to fifty percent, apply if you're hiring one between midnight and 06:00.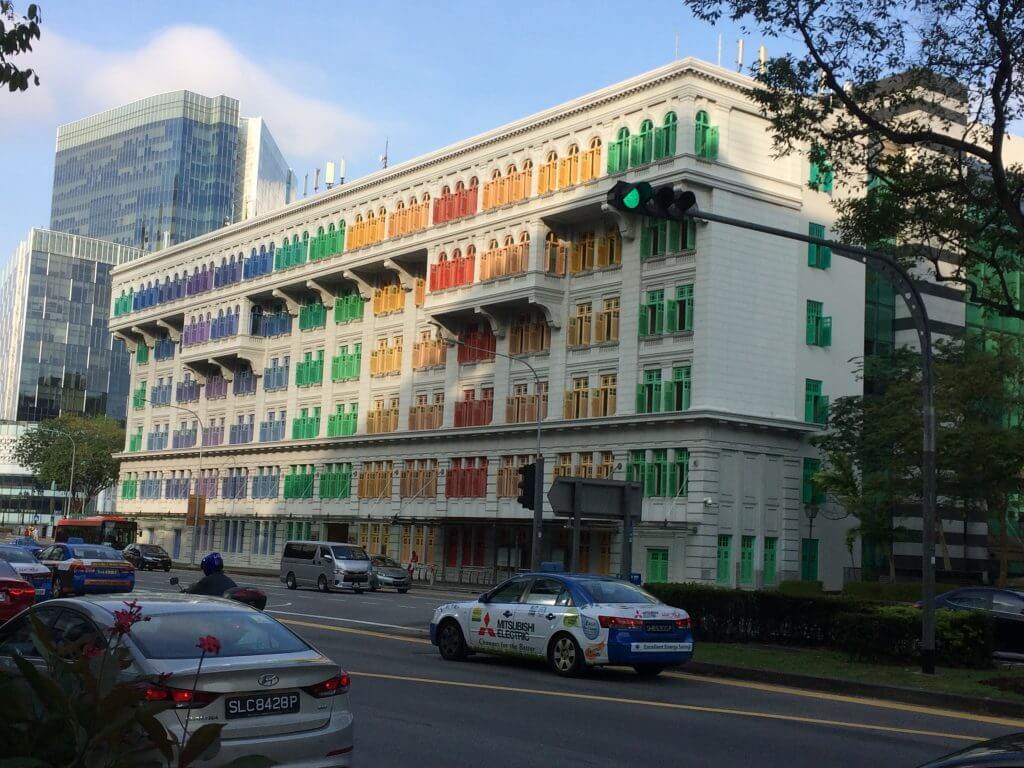 >  Singapore's extensive public buses are efficient and cover much of Singapore.  They are cheaper than the MRT or taxis and often follow more scenic routes.  You can use your STP or pay in cash. Single trips start at S$1.40.
>  Trishaws similar to rickshaws aren't as popular in Singapore nowadays, but you'll see them along most of the popular tourist routes.  The only licensed operator appointed by the Singapore Tourism Board, Trishaw Uncle, offers rides starting from S$49 for 30 minutes.

CHANGING MONEY IN SINGAPORE
For most things, Singapore is very modern.  However, Singaporeans still favour cash transactions.  
Hungry Singaporeans, clutching their wallets or holding a fistful of cash or coins, queue up for food.  Food vendors gratefully grab their money with a smile, and fumble in plastic containers or open drawers to gather change.  
Scenes such as these are frequent in Singapore's hawker centres. Fortunately most of the major stores and taxis accept credit cards.
Bring your ATM card with you.  Singapore's ATMs will give you better exchange rates than the foreign exchange counters at the airport or in Orchard Road's shopping district.
Don't forget to advise your bank you're travelling to avoid it blocking your cards.
SINGAPORE'S LANGUAGE
Singapore is proudly multi-lingual.  English, Mandarin, Malay and Tamil are widely spoken, although English is considered its official language.  It'll be difficult to find someone who doesn't speak English.

Singaporeans seem to have invented a fifth language…Singlish!  They drop in a few Mandarin words every now and then when they speak English.  
Don't be surprised to hear "tapao" ("takeaway", as in "I'm going to tapao lunch from the restaurant") or "chope" ("reserve something", as in "please chope a seat for me").  
Yes, the Lion City is hot and humid, ultra-modern and lined with skyscrapers, and it has futuristic mega shopping malls.  But allow Singapore to unveil her rich cultural heritage, reflected in traditional temples and shrines.
Experience street food like nowhere else on earth and share warm and friendly smiles with locals.  Singapore, without a doubt, requires more than a one or two night stop-over.