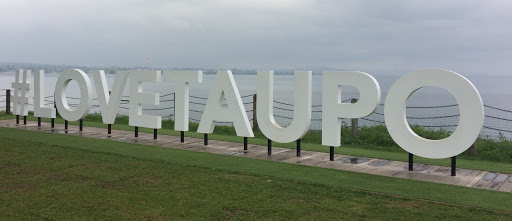 There's so much to see and do in and around Taupō. Where do you begin? How much time do you need to visit Taupō?

To really experience Taupō you should plan for a minimum of three days. Of course, you could spend less time, but you'll not do it justice if you rush your visit. Taupō is not a place to sleep. It should be explored at full throttle.

This three day itinerary highlights some of my favourites I've visited during a trip last month. I hope it helps you organise your visit so you can see as much as your schedule permits!
Welcome to Taupō!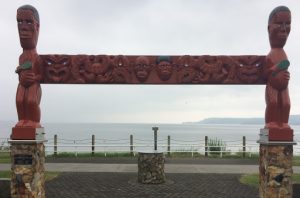 Being outdoors among nature is embedded into most Kiwis' lifestyle and identity. New Zealand's dramatic Central North Island entices visitors of all ages and fitness levels.
Taupō's diverse landscape boasts volcanic wonders, thermal valleys, lakes and world renowned fishing spots.
Taupō's Geothermal History
Lake Taupō, actually sits in the crater (caldera) of a volcano which began erupting 300,000 years ago! The crater was created from a collapse during the Oruanui volcanic eruption 27,000 years ago.  
Scientists have remarked that the eruption was the world's most violent eruption and covered most of New Zealand's  Central North Island.
Lake Taupō's current shape was formed after further eruptions approximately 1,840 years ago in 180 AD. It has been noted that the after effects were felt in Rome and parts of China. Inhabitants recorded seeing dramatic red skies, thought to be ash.
Experience Taupō's geothermal history for yourself.  Its natural hot pools and springs are tell tale signs of magma chambers that sit beneath its seemingly serene lake.
Fast Facts
Covering approximately 616km², Lake Taupō is the same size as Singapore, and is New Zealand's and Oceania's largest lake. Its deepest point is 186 metres and is 33 km wide and 46 km long.
Taupō Itinerary: Day 1
Explore Breathtaking Mountains of Ice and Fire
Take a walk back in time to somewhere unique. Some of New Zealand's purest natural beauty is found at Tongariro National Park. New Zealand is in the Pacific Ring of Fire and Mount Ruapehu, Tongariro, and Ngauruhoe are a trio of active volcanoes in the area.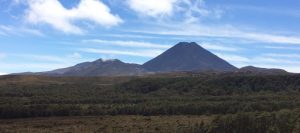 Tongariro National Park is accredited as only one of a handful with dual World Heritage Status. Recognised for its natural and cultural values it covers approximately 80,000 hectares.
It's New Zealand's oldest national park and its landscapes ranges from tussock lands, mountain beech forests and wetlands.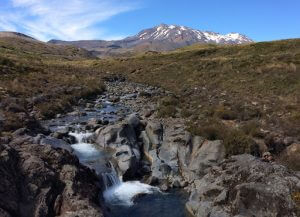 Active volcano craters, natural springs, and valleys filled with jagged lava flows can also be found in the park, along with many of the filming sites for the Lord of the Rings trilogy.
If you're not keen on a challenging walk, or are pressed for time, shorter walks are available.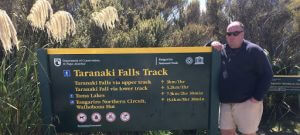 You'll arrive to a landscape packed with ancient forests, active volcanoes, sacred mountains, soothing rivers, and thundering waterfalls.
The 19.4 kilometres Tongariro Alpine Crossing is a place of extremes and surprises. A landscape with stark glacial contrasts and amazing views at every turn – brilliant blue lakes, glacial valleys, thermal steaming and active craters.
Despite its excellent skiing opportunities in winter, more visitors arrive in summer to take advantage of one of the world's best mountain hiking trails.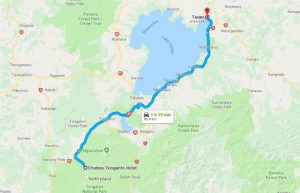 Early Evening: Soak in Natural Hot Springs
Thanks to Taupō's geothermal activity, many natural hot pools have been created around the area.
I'd always known about Taupō DeBretts Spa Resort but had always found reasons not to go. This year I decided to stop making feeble excuses and discover why it's received so many positive comments and awards.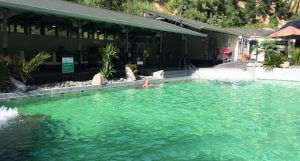 It didn't take me long to work out why. After hiking around Taupō's attractions for two days, my weary legs needed some pampering.  
Two inviting mineral pools, warmed to 38 and 40 degrees celsius, soon did the trick. I recommend Taupō DeBretts Spa Resort for the perfect spot to relax after a long day.
Website: https://www.taupodebretts.co.nz/hot-pools
Hours: 08:30 to 21:30 daily.
Admission Fee: NZ$22 (Adults) and NZ$11 to 15 (Children)
Location: 76 Napier Taupō Road, SH5, Taupō
Taupō Itinerary: Day 2

 
Morning: Experience The Ultimate Squeeze
They say that "fear is temporary, but achievement is permanent." Start ticking off your bucket list with a two and half hours' adrenaline rush on "The Squeeze" with New Zealand Riverjet, just twenty five minutes' drive from Taupō.
Your journey starts with a jet boat ride through Tutukau Gorge enjoying the amazing scenery.  There are no visible houses for miles – only pure New Zealand bush, thermal geysers and springs.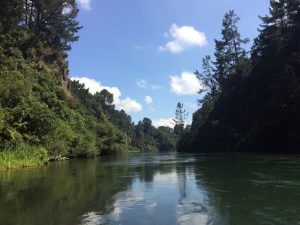 Discover why local Māori tribes fought ferociously to retain or win control over this part of the Waikato River.Stare up at 50 metre high rock walls in the gorge. Marvel at the caves, partially hidden by hanging ferns,  that Māori used to bury their elders.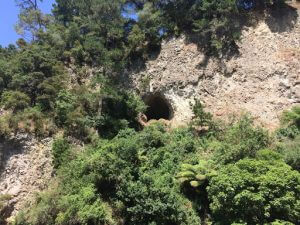 Who wouldn't want to bathe under a natural hot-spring waterfall? But to gain the honour of standing under only one of the world's two natural hot-spring waterfalls, you'll need to conquer "The Squeeze".
It's truly a unique experience. Hop out of the jetboat into shin-deep warm water. Shuffle your way slowly towards the narrow gap that appears between the cliffs.  
Your challenge awaits you and you'll soon discover why "The Squeeze" is so-called! You'll need to bend and contort your body to squeeze through narrow rock passages and scramble over boulders. This is no place for a beer-belly!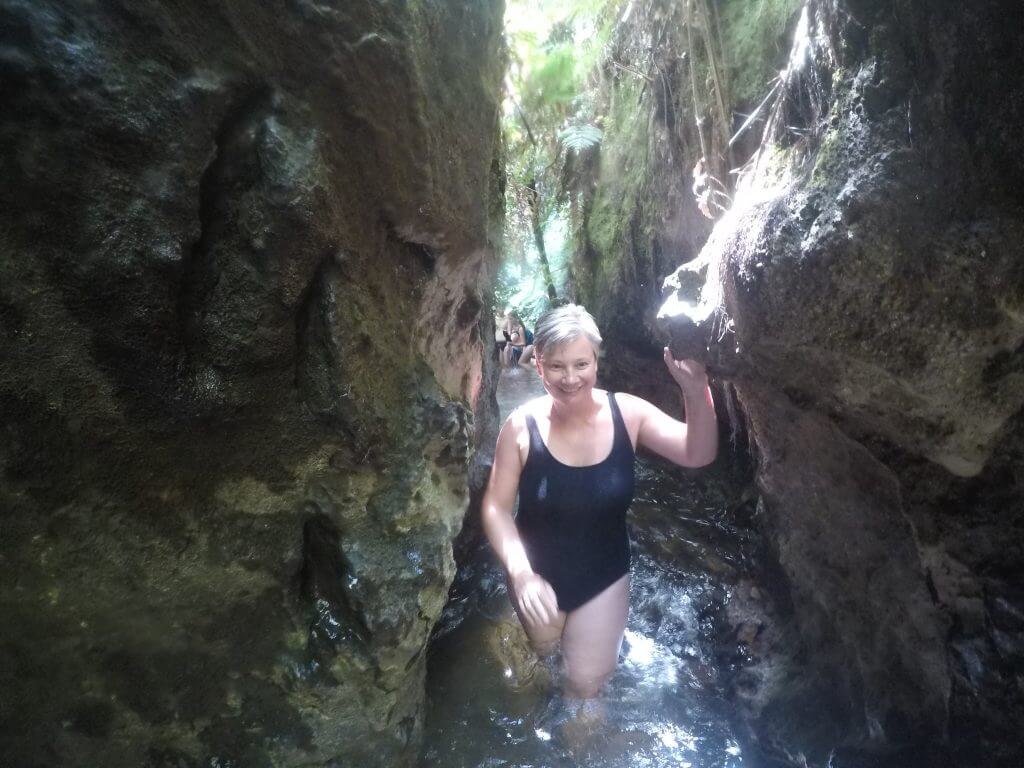 Your courage and tenacity will be well rewarded.
Emerging in stunning native New Zealand bush, it's time to immerse yourself in warm water heated by natural hot springs.
Two thermally heated waterfalls gently cascade down into a pool offering a tranquil and unique experience. Sit behind the waterfall and soak up its invigorating warm spray.
The Squeeze is undoubtedly the highlight of the journey. However, New Zealand Riverjet, don't let the thrills stop there.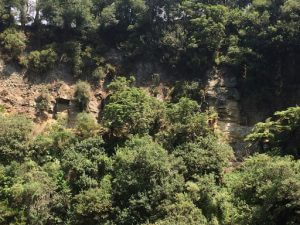 Now, it's time to crank up the adrenaline gauge and experience some real jet boat horsepower! Weaving from one river bank to the other, at full speed, the jet boat propels close to fallen trees, brushes past marshes avoiding many other obstacles.
And of course, no jet boat experience would be complete with one or two 360°spins! Or in our case, seven. New Zealand Riverjet specialise in providing a range of exhilarating jet boating experiences.   
Website: https://www.riverjet.co.nz
Trip Times: 11:00 and 14:00 daily.
Booking Fee: NZ$169 (Adults) and NZ$89 (Children)
Location: Corner of State Highway 5 and Tutukau Road
Afternoon: Walk With The Dinosaurs
Orakei Korako, ("Place of Adorning") is a stunning hidden geothermal valley, thirty minutes north of Taupō.
There's no need for a map to find Orakei Korako. Wind the car or van's windows down. When the wind is blowing in the right direction, you'll smell sulphur before you see the signpost!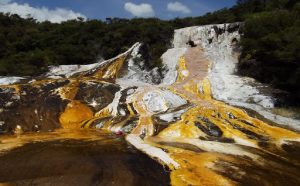 Step back in time as the park's twenty three active geysers make up their own mind when they'll erupt!  It's little wonder why the BBC used the park as a backdrop for its popular TV series "Walking with Dinosaurs".    
If such fame wasn't enough, it also boasts one of only two known caves on the planet situated in a geothermal area.  Ruatapu Cave ("Sacred Hole") gradually descends 36 metres to a hot pool called Waiwhakaata ("Pool of Mirrors").
Access to it is now prohibited, although a viewing platform provides a safe area to see the cave.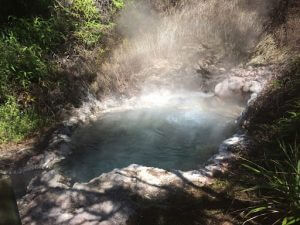 Orakei Korako is an active volcanic arena. Silica terraces, with hues of unimaginable colours stained by minerals in the hot geysers and springs, adorn every corner.  
It's a musical stage setting with simmering hot springs, rhythmic geysers, snorting fumaroles, and gurgling mud pools.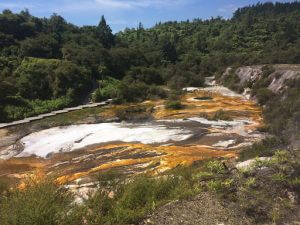 Geothermal formations have been given exotic titles, such as, Emerald Terrace, Soda Fountain, Diamond Geyser, Map of Africa, Cascade Terrace and Terracettes, Hochstetter's Pool, and Golden Fleece Terrace.
Key Points To Note When Visiting
Website: https://www.orakeikorako.co.nz
Hours: 08:00 to 16:30 daily.
Admission Fee: NZ$39 (Adults) and NZ$15 (Children)
Location: 494 Orakeikorako Road, Taupō 3083
Early Evening: Hot Water Beach
Although I've visited Taupō many times, I'd always overlooked Hot Water Beach until last week. This is strange considering how accessible the beach is. How water springs are scattered all over the beach and along the path.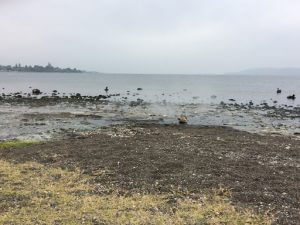 The springs' water is scalding hot as it exits but becomes pleasantly warm as it trickles into the lake. The area is a little scruffy but it's still fun to dip your feet in lovely warm water.

Taupō Itinerary: Day 3
Morning: Māori Rock Carvings
Towering fourteen metres above the water at Mine Bay, the Māori rock carvings, are one of Taupō's most popular attractions.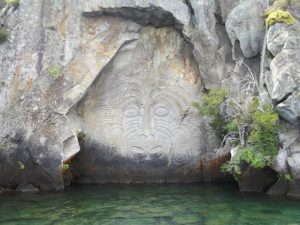 Hidden among rocky cliffs and reached only by boat, kayak or helicopter, local artists spent four years hand carving them.
Chris Jolly Outdoors and Ernest Kemp both offer affordable several scenic cruises daily across Lake Taupō with plenty of time to photograph the carvings.   
Early Afternoon: Visit Huka Falls
Imagine filling an Olympic swimming pool in eleven seconds.
It's no wonder that Huka Falls is New Zealand's most visited and most photographed natural attraction.  The Waikato River, one hundred metres wide upstream, narrows significantly as water is forced through a fifteen metre wide carved gorge.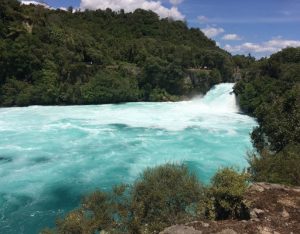 220,000 litres plummet every second to form rapids and an eleven metres' high thundering waterfall.
The sheer volume of water is an exhilarating sight. And it's free to watch from viewing platforms.
Late Afternoon: Otumuheke Stream
The first choice for a swim in hot pools for most visitors would be DeBrett's Spa Resort.But in Taupō's Spa Thermal Park, steaming hot water gushes from Otumuheke Stream. Dip your toes in the naturally heated rock pools where the hot water merges with the cooler Waikato River.
Water levels and temperatures vary depending on rainfall, season and the River's level. When I was there this week, the water level was lower than usual.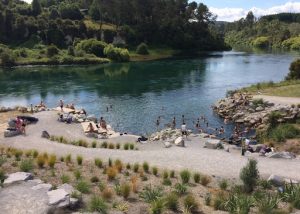 It's a great spot to relax. If you become too hot, just drift down the Waikato River to cool down! But as with all waterways, take extreme care – especially if you're not a strong swimmer.  

Otumuheke Stream is open every day and has free entry. They can become over-crowded.
Conclusion
Spending a few days in Taupō is an awesome experience. It's bursting at the seams with natural attractions and adventure.  
It has it all…stunning scenery, beautiful lakefront, mountains, a thermal wonderland, unique jet boat adventures, and much more.  
What are you waiting for? All you need to do is decide what you'll do first.
Click here if you want to see more of Taupō in a short video I prepared on Youtube.