Updated: November 2018
After Shock-Pinball, Jaws.  Sounds like a list of action movies, right?  Well, they're the gateway to some action, but just part of the movie that's Challenge Rafting on the Shotover River in Queenstown, New Zealand.
When you join Challenge Rafting for a little white-water adventure, expect some thrills, chills, and maybe some spills…and expect it to be challenging.  On the other hand, it's absolutely as much fun as a human can have wearing, well, neoprene.
The first thing is to get fitted out correctly.  The key lesson here: The water is cold and the rocks are hard!  Your paddling guru will help you get trussed up in a wet-suit, helmet and flotation vest, and pass out wooden paddles.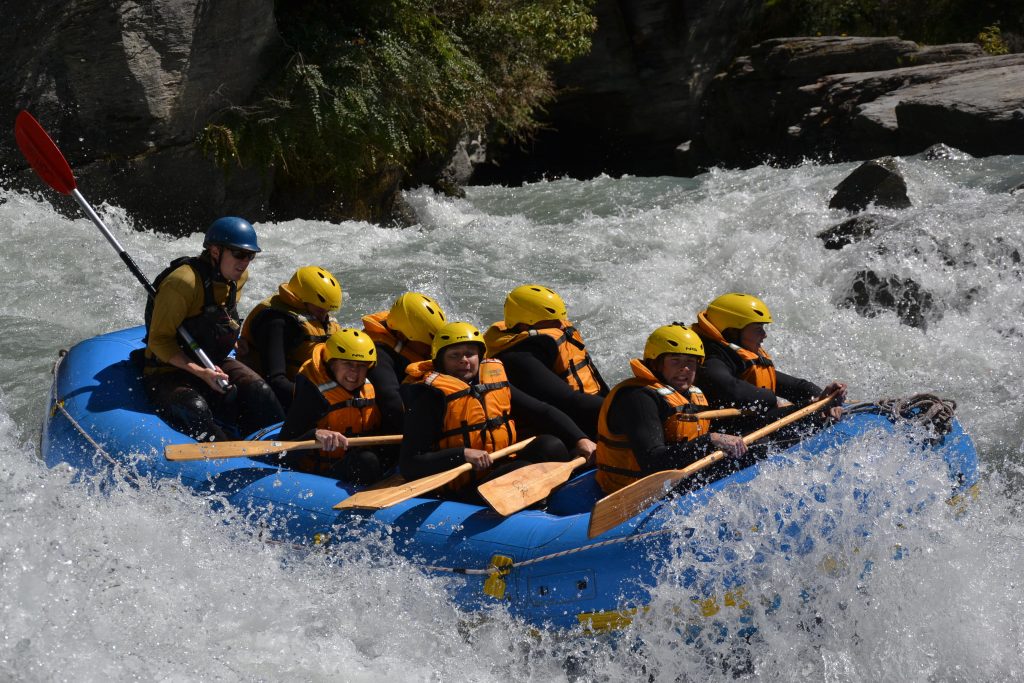 Despite looking ready to either battle amphibious aliens, or possible star in a Japanese game show, good gear definitely improves the odds of everyone returning home with all the body parts with which they started the day.
The Journey to The Shotover
Getting to the Shotover River is an undertaking in itself.   The coach has to pull a trailer loaded with the inflated rafts up a skinny, single lane, track with precipitous drop-offs that has the nerve to call itself a road.
To give you an idea of what it's like, Skipper's Canyon Road is one of two places in all of New Zealand where rental car insurance isn't honoured!
Originally constructed during the gold rush days of the 1800s, it's now a favourite sightseeing trip…if you have a four-wheel drive vehicle…and a friend with another four-wheel drive vehicle, in case you get stuck.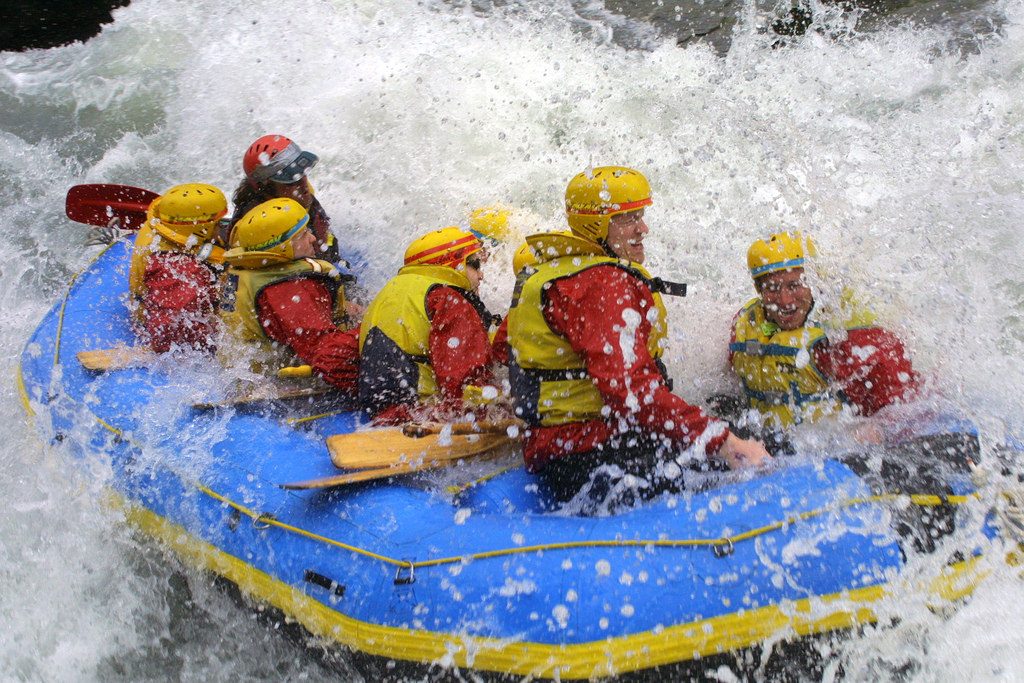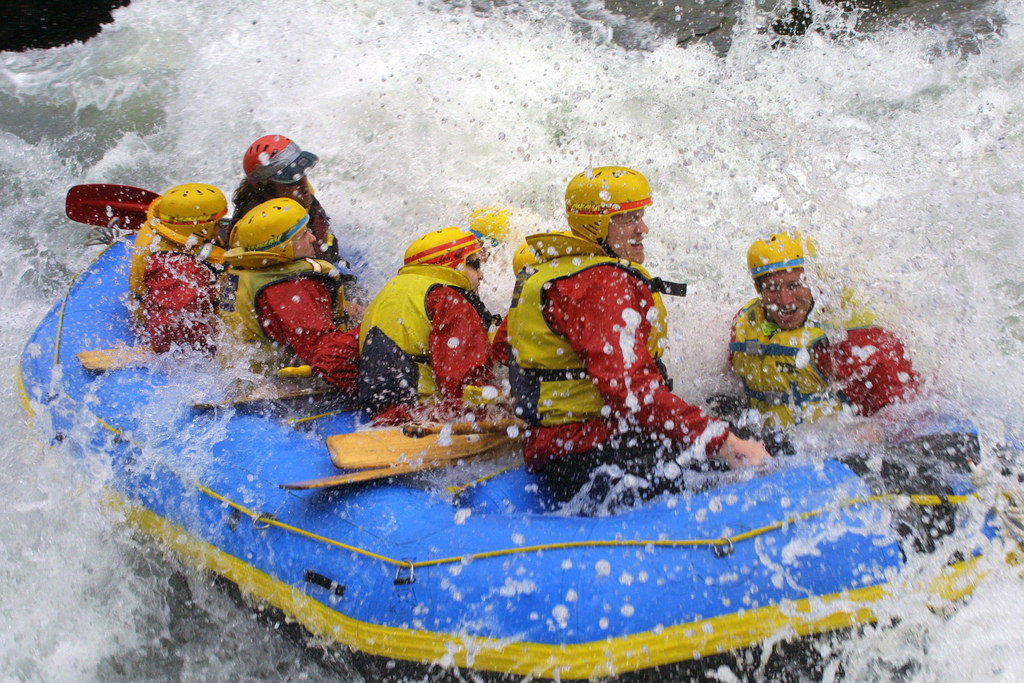 The trip up the gorge serves with you up an early stunning view river's beauty, as it undulates up the canyon like a glistening, turquoise snake—but it also sends your heart pumping as you get a preview of what is waiting down below.
All those sections of the river that look like pretty cotton puffs from the road up above are actually rapids waiting to put in the 'spin cycle.'
There is rafting, and then there is rafting. The Shotover River is serious white-water, and you have to remember that rapids can be extremely powerful and unpredictable.  White-water is graded into five classes designated by Roman numerals and recognised internationally.
The Shotover is full of class III and IV rapids, and even one that is rated class V.  Class III rapids are considered difficult, Class IV are considered very difficult with long rapids, high waves, irregular and dangerous rocks, and boiling eddies…and the word that crops up most frequently when describing Class V rapids is violent.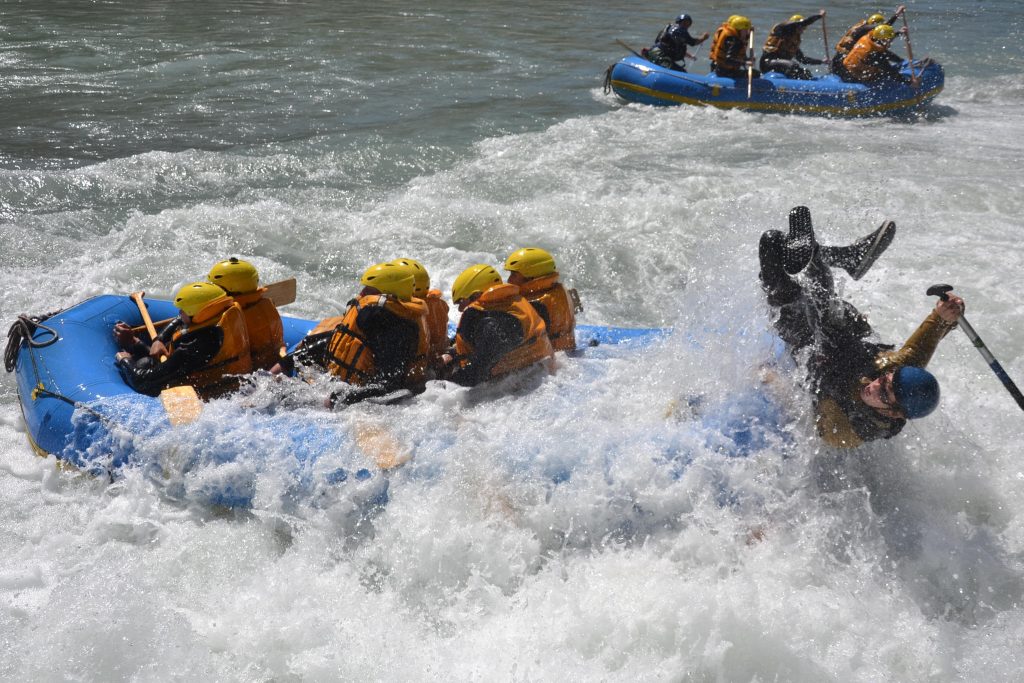 So, since white-water can, well, kill you, it's important to get some training under your belt. Upon arriving at the rafting meeting point, a place called Deep Creek, your raft guide will instruct you on paddling technique and terminology.
He or she will also hammer in the most important lesson: stay in the raft!  In the raft: good!  Out of the raft: uh, not so good.  But you'll also learn what to do just in case someone does bounce out.
The Rapids are Calling!
The Shotover eases you into things, a little light paddling, and then you have four, Class III rapids: Red Rocks, Stoney's, Rock Garden and Boulder Rapids.
The names of rapids are usually very descriptive of either what you are seeing or what the experience of going through the rapids is like.  So you can imagine that Red Rocks has red rocks, and Boulder Rapids is created by a series of boulders.
This first half of the trip is a great warm-up.  It's an opportunity to hone technique, as the guide calls commands from the rear of the raft.  There are also sections of more peaceful paddling where you can just take in the spectacular scenery.
The second half of the trip has two major chunks of non-stop action, with a section in between where you can catch a much-needed breath.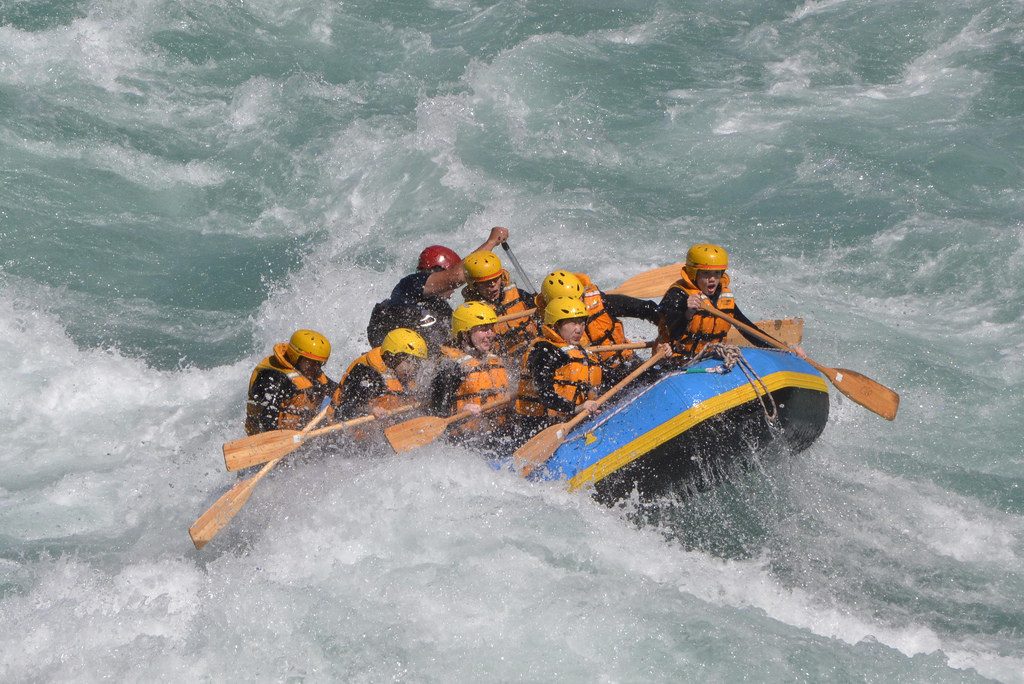 The Mother Rapids (which one can only guess was named such because it will make you scream for your mummy) consists of no less than SIX Class IV rapids named Miners, Squeeze, Anvil, Toilet, Oh Shit! and Pinball.
Then comes Jaws and Sequel, followed by the mother of all rapids on the Shotover, or should I say, the Mother-in-Law of all rapids?
The Mother-in-Law rapid, rated class IV-V, involves a series of swirling, stomach-churning, chutes and drops requiring precision teamwork, some hard paddling, and a bit of good luck.
When a raft pops out at the end, with its occupants fully intact, and most importantly in the raft, you're likely to hear squealing worthy of thirteen year-old girls at a BTS concert.
One last rapid, a crazy, fun, trip through the 170 metre-long Oxenbridge Tunnel, and you reach the take-out, most likely wearing a Cheshire-cat sized grin.
Then, it's time for a quick shower, a snack, or maybe a complimentary sauna—all easily available at the end of the trip.  And for those who aren't total adrenaline junkies, Challenge Rafting offers new rafters trips on the spectacularly beautiful, but more sedate, Kawarau River.
It's possibly one of the most enjoyable activities you can undertake with your clothes on!