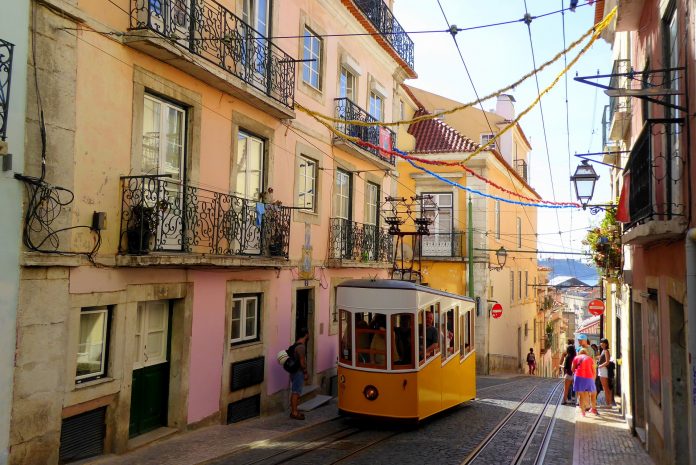 What's the Allure?
Although considered to be a fairly young capital city by European standards, Madrid has proudly held its prestigious position in Spain since the mid 16th century. Since its inception in 1561, this classic gem has harboured a plethora of breathtaking palaces, churches, parks, monuments and monasteries. Today, Madrid easily maintains its status as one of the most sophisticated capitals in the world, enjoying an air of aristocratic distinction in terms of culture, gastronomy and leisure activities.
That said, this fabulous city can also be one of startling yet pleasurable contradictions as evidenced by its infamous nightlife and unpretentious tapas bar scene.
What to See…What to Do?
A good place to start your discovery of Madrid is at the bustling heart of the city: Puerta del Sol(quite literally actually as Sol is considered to be the exact centre of not only the city, but the meeting point for all of Spain's roads as well). This is dramatically displayed with a written sign on the ground reading "kilometre 0" located in the square. Stores, inexpensive fast food and street entertainers are in abundance all around.
Day or Night, Sol is an excellent meeting place, either under the huge neon "Tio Pepe" sign or next to the emblematic statue "El Oso y el Madroño" (the Bear & the Strawberry Tree).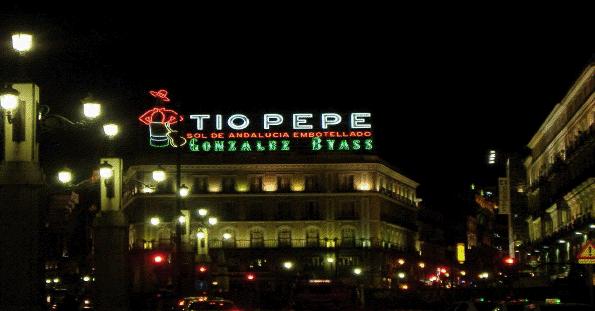 Travel in any direction from Sol and you are sure to stumble onto something of interest. Westward you will find the breathtaking Palacio Real (Royal Palace) sitting in perfect regal tranquillity on the elegant Plaza de Oriente Square. This architectural marvel is the largest palace in Europe featuring 2,800 rooms and a banquet table for 140 of your closest friends. It would seem however to be a bit too small for the current king, who lives in a less grandiose castle outside of Madrid. To the Southwest, you will happen upon the Plaza Major with its adjacent old town (La Latina) area. This rather large square has served the citizens well over the years as a marketplace, festival grounds and even a bullfighting ring. Today it is packed with office buildings, a tourist office and many overpriced cafés that should be considered only if you absolutely need to take a short coffee break and people watch.
However, you would do far better venturing around the old town where you can find some amusing shops, traditional fare restaurants, historic streets, and tapas bars.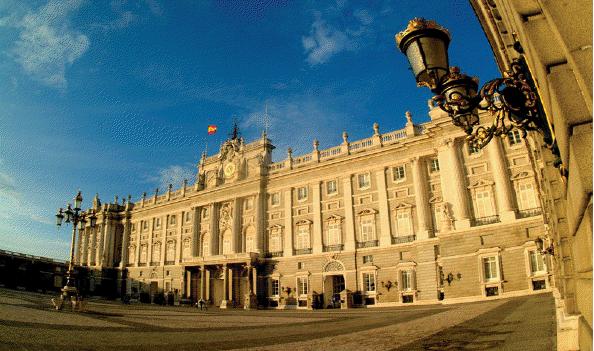 PALACIO ROYAL- THE ROYAL PALACE
If you opt to continue eastward, you will arrive at the world renowned Prado Museum, proudly housing some of the most impressive 12th to 19th century artwork. It is the most internationally recognized of the three distinguished and neighbouring museums known as the "golden triangle of art" which also includes the Reina Sofia (housing Picasso's timeless "Guernica") and theThyssen-Bornemisza, proclaiming one of the biggest private art collections in the world. This of course is not to say that the Prado is the best of the three, as that determination depends purely on a matter of personal taste in art.
By deciding to take another of the eastside streets from Sol, you will eventually end up passing thePlaza de Cibeles, the Puerta de Alcalá and finally enter the glorious Retiro Park. This absolutely stunning landmark features lovely statues, amazing monuments and a lake so peaceful, you'll think that is where its full name came from, Parque del Buen Retiro (Park of the Pleasant Retreat). Finally, any of the northbound shopping streets will guide you straight intoGran Via, the busiest main street which was built in the 1900's and fashioned after New York City's Broadway.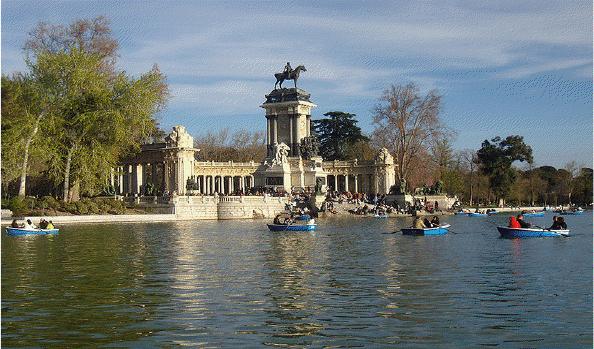 PARQUE DEL BUEN RETRO IN THE SPRINGTIME
Once you are done exploring the monuments of this marvellous city you may want to take in an activity typical to Spain. Yes, I am talking about bullfighting. Although not for everyone, this often graphic "sport" still attracts the locals (Madrileños) and curious foreign onlookers in droves. The main ring in Madrid, Las Ventas, features fights every Sunday at 7pm from March through October. The best time to come, however, is from May to June during the infamous 20-day San Isidro festival.
Another traditional activity is to go and watch Flamenco dancing and Madrid is an ideal place to do this. Although the city is full of lesser quality tourist "tablaos" (flamenco dance halls), if you find yourself to be the only non-local in the room, you have probably stumbled onto someplace authentic. Two notable tablaos include La Soleá, a well established venue featuring impromptuperformances, and Corral de la Morería, a more upscale establishment known for having the most famous performers in the business.
Madrid nightlife features bars and clubs aplenty, catering to all walks of life, every budget, and usually up until to the wee early hours of the morning. It is no secret that Madrid comes alive after dark and stays jumping well past 6am. Where you end up going depends largely on your personal taste in music and atmosphere.
If you prefer laidback urban cool, venture into the Cava Baja area of the old town for sherry and maybe some good jazz, or if you are so inclined, the young, alternative hipsters can be found inMalasaña or if upscale partying is what you seek, it can be had in the affluent Salamancaneighbourhood. Locals do not tend to stay in one place for long, however, so if you like to change your scenery, Madrid nightlife will take you wherever you are willing to go.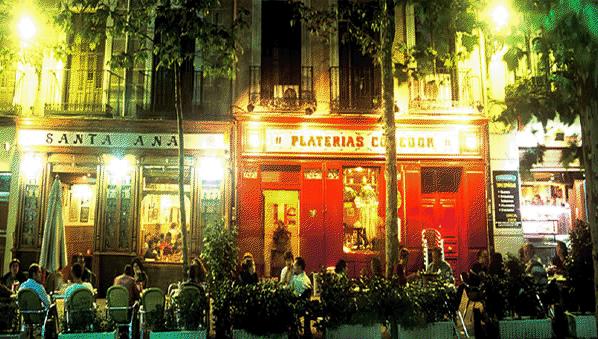 NIGHTLIFE IN MADRID
Shopping is another favourite passion of the locals and Madrid has plenty to offer the eager consumer. From clothes and accessories (leather goods are highly recommended) to delectable food, jewellery and decorations, you can find it all here. If your visit includes a Sunday, don't miss the bargains found at El Rastro, Madrid's bohemian flea market found in the immigrant community of Lavapiés.
The recently refurbished Mercado de San Miguel, one of the oldest covered markets in Madrid, offers fresh food, including cheese, fruit and fish which can be purchased alongside books and wine. Its proximity to the Plaza Mayor has made this marketplace a convenient hangout for natives and tourists alike. Puerta del Sol offers the typical mid-range clothing stores, Gran Via a mix of smart boutiques and tacky tourist shops and Salamanca features the ultra trendy Serranoand Goya streets where all the international luxury brands can be found.
Where to Stay
As one could expect, there are many accommodation options available, ranging in price from about 35 USD for a modest hostel to well over 500 USD a night for a stunning master suite in an impressive 5-star hotel. As you now know, most of the interesting tourist sites are found in the centre of the city, in and around the neighbourhoods of Plaza del Sol, Huertas, and Plaza Mayor.
If you enjoy exploring the city on foot, then you would be wise to look for a hotel in the aforementioned areas as you can easily find anything from hostels or "pensiones" (small rooms in private homes) to the most opulent upscale establishments there. Keep in mind, unsurprisingly, that these areas are always bustling with noise and activity. Thus, if you prefer a little peace and quiet at least during the day (face it, Madrid is lively just about anywhere by night) consider staying in trendy neighbourhoods like Chueca. Here you can find inexpensive but clean hotels, like the comfortable Chueca Pension, offering contemporary, safe rooms starting at about 50USD.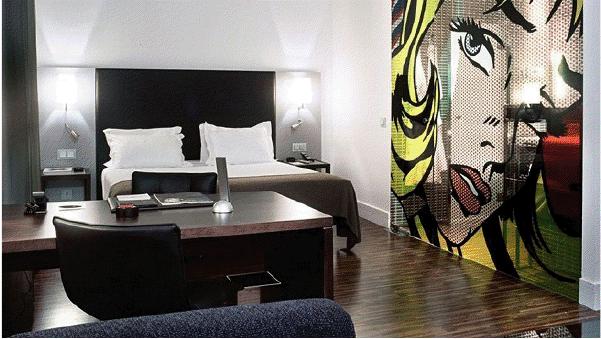 SUITE AT THE PALACIO DEL RETIRO HOTEL
If you have a bit more to spend, the regal neighbourhood of Salamanca offers stunning upscale alternatives such as the Adler, a gorgeous 5-star boutique hotel that mixes classic charm with all of the modern amenities. A room at this quaint establishment will set you back at least a cool 350 USD a night. If absolute tranquillity is what you are looking for, a night at the luxuriousPalacio del Retiro, a former palace facing the picturesque Retiro park, will do very nicely indeed.
For those travellers looking for something in between, one would be remiss not to mention theHotel Suite 33, a paradox of sorts, small yet spacious, classic surroundings yet with a fresh, modern décor. And it is surprisingly quiet for the area in which it is located; right on busy Gran Via.
Where to Eat
The locals take great pleasure in leisurely enjoying their meals as is clearly seen during their notorious 2 hour lunch time meals often followed by an afternoon nap (siesta). Why not attempt to follow suit and do as the natives do one weekend day? Start with breakfast around 8am followed by a coffee break around 10am.
Then have a light snack or aperitif around 1pm, followed by lunch at 3pm; take your glorious siesta, wake up refreshed for your second snack around 6pm and top it all off with a dinner starting around 10pm, after which of course you will hit the bars and then the clubs. If you are not out until at least 4am, then you are probably missing out on all of the fun.
Although not considered to have the best food in Spain, especially when compared to Catalonia and the Basque region, the Castillian cuisine of this area still has much to offer. The cuisine relies heavily on meat (both roasted and cured), heavy stews (cocidos) as well as a wide assortment of tapas. In the morning, treat yourself to some porras, which are a thicker version of the popular churros which Madrilenos eat with their coffee or hot chocolate throughout cafés in the city.
For lunch and dinner, a wide selection of culinary options is at your disposal, but for short stays it is widely recommended that you try the local fare. To enjoy the most typical Castillian flavour, you must try the cochinillo (roast suckling pig) or cordero (roasted lamb) both succulently served with potatoes, accompanying salads and red wine.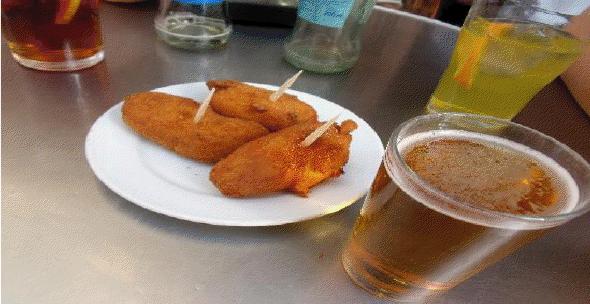 BACALO CROQUETAS WITH BEER
A restaurant where you can try these local delicacies is Asador de Aranda, a chain of Castillian eateries, each with its own special personality. If tapas at very exceptional prices are what you crave, then Casa Labra is sure to delight. This tiny local institution boasts the best bacalo croquetas (fried cod rolls) in town. Try these and an assortment of other tapas, topped off with acoronita beer and the locals will surely mistake you for one of their own.
If seeking a place that uses fresh ingredients in a minimalistic environment, then you can't beatLa Finca de Susana, both in terms of quality and price, centrally located in Sol. For those willing to pay the price for distinction and scenery, Café Oriente is a place you cannot afford to miss, located directly across from the royal palace. Spend the day people-watching as you sit in the lush garden, enjoying great food. A special gourmet night out could take place at Abraham Garcia's Viridiana, offering a whimsical menu of delightful high-end cuisine. If you are lucky, you will meet the man himself, as he loves to greet his guests personally.