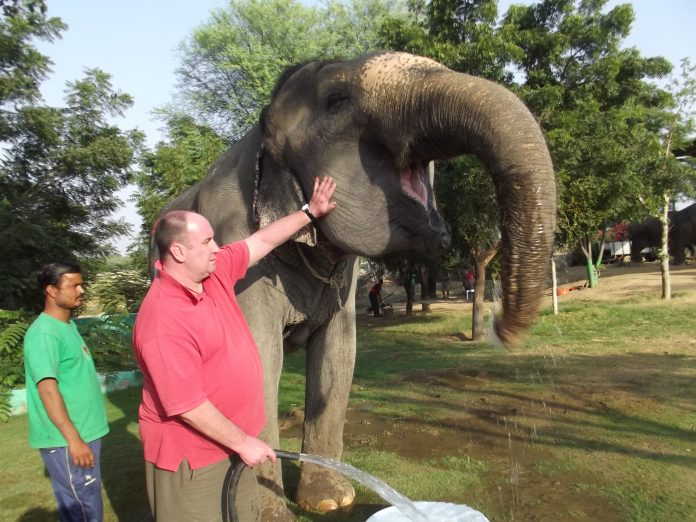 I'll confess that I am neither overly fond of domestic pets or an animal activist. But that doesn't mean that I'll support animal cruelty or suffering.
Quite the opposite. I'll further admit that I went to a bullfight in Madrid many years ago and have also ridden elephants, twice, up the windy steep cobbled streets to Jaipur's Amber Fort.
However, as the years have passed, I now embrace a much more humane and ethical stance to the way animals are treated.
I read about Elefantastic on TripAdvisor and researched its website and its approach to elephant welfare. A short drive from Jaipur, Elefantastic is a sanctuary. I eagerly contact Rahul Choudhary, its founder, who promises an intimate and unique experience with his "family".
This seems too good an opportunity to resist.
Six years ago, Rahul gave up plying his trade as a mahout. Every morning he cajoled his elephant to haul enthusiastic tourists up and down the same cobbled streets that I once had.
Instead he transformed his passion for the world's largest land animals into opening a sanctuary to care for sick and ill-treated elephants. Many were rescued from circuses.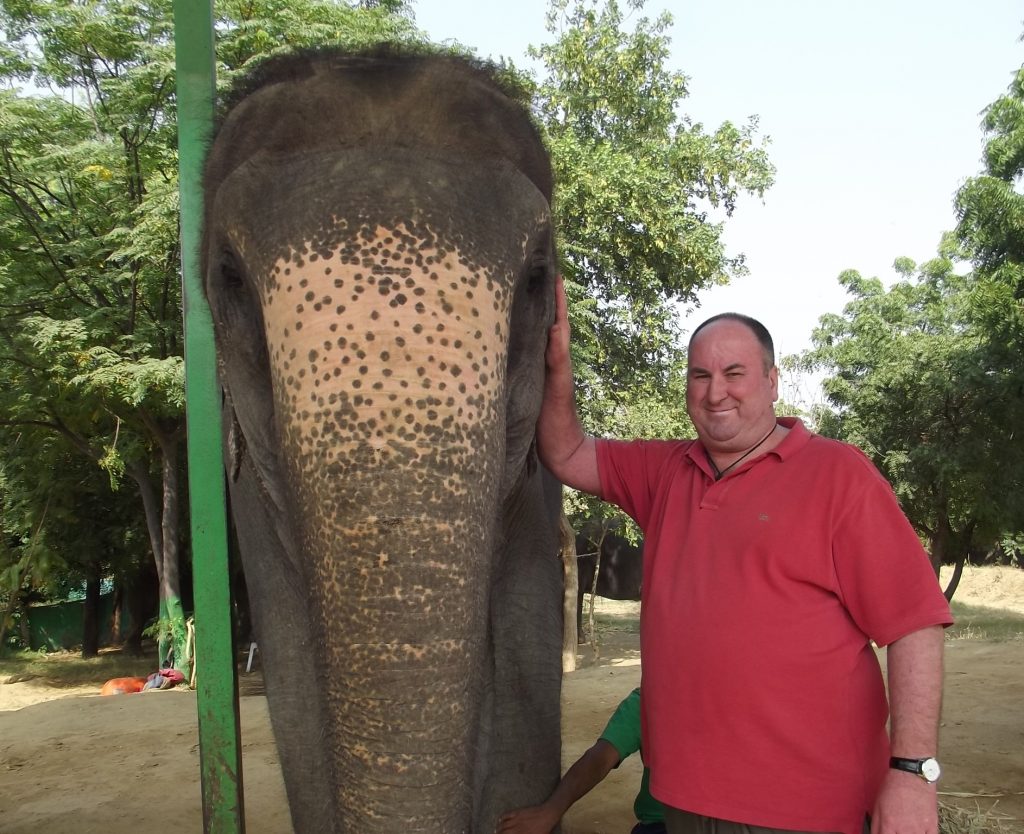 Gaining Sampa's Trust
I begin the afternoon by being introduced to Sampa, a forty-six year-old matriarch, weighing in at more than four tonnes, and her mahout, Imran.
Cautious at first, I'm unsure what to expect. Imran assures me that Sampa likes to be stroked around her eyes, cheeks and trunk. Nervously, I shuffle closer, make eye contact, and begin to gain her trust.
I needn't have worried. It's amazing how calm and gentle she is. Imran rolls and folds small bundles of food parcels of sugar cane wrapped in grass.
My job couldn't be simpler – I simply ask Sampa to ley (take her food) and dur (eat) and continue massaging her! She playfully nudges me gently with her trunk to remind me what my duty is!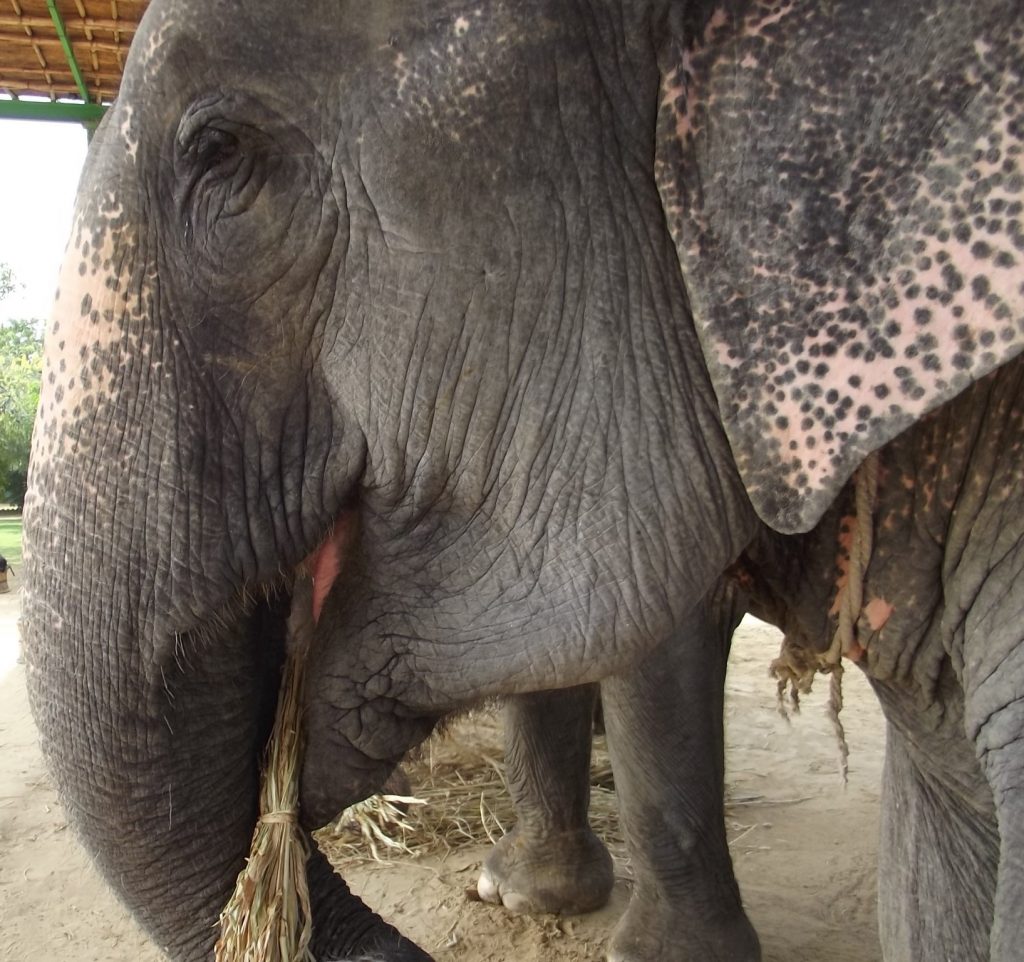 Do you know that 36 commands are often used to communicate with elephants? Sampa devours up to 200 kgs every day and enjoys a diet of sugar-cane, corn, millet, alfafa, bananas, coconuts, and of course, chapatis!
Don't Give Up The Day Job!
I'm certainly no Picasso or Rembrandt. I ashamedly struggle to draw a stickman and it's no surprise that no-one ever wants to partner me at Pictionary!
So, I am more than a little nervous when Imran enquires if I'd like to use Sampa's huge torso as the canvas for my masterpiece! Using natural, organic, and completely safe paints, I endeavour to express some form of artistic talent.
Apart from my obvious lack of colour coordination and with the heavy touch of a black-smith, I am at some disadvantage – people in Rajasthan have been decorating elephants for centuries.
Alas, it is obvious that my handiwork is not going to win any awards. I fail to even draw the Hindu symbol of prosperity and good luck, the swastika, properly and I've been visiting India for ten years! I make a mental note to delete every trace of evidence of my efforts.
It's pretty sweet to hand-wash an elephant!
I'm sure everyone is as curious as me as to what I had drawn! To avoid further humiliation, I swiftly pamper Sampa with a much-needed drink and scrub-down. An elephant can devour 150 litres of water every day in summer – and 80 in winter.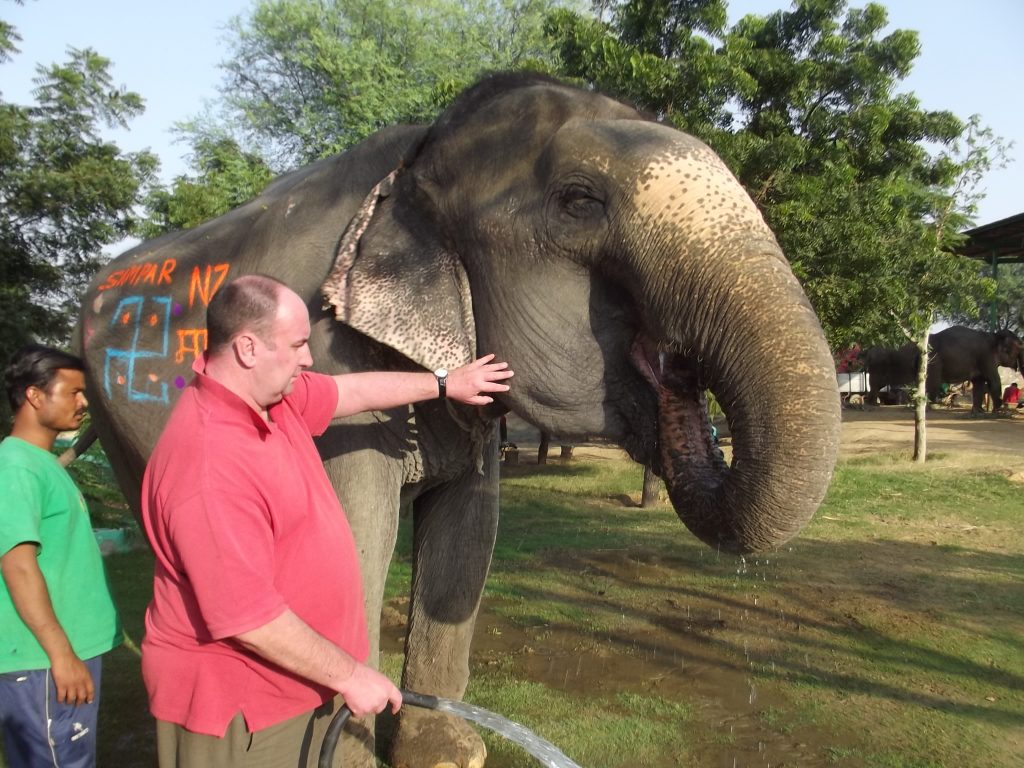 Sampa signals her intention and waves her trunk. I satisfy her thirst by squirting water into her dangling appendage's soft and nimble pink lips
Recent restrictions imposed by Elefantastic's vet prohibits guests from fully bathing the elephants during the colder winter months – further evidence that Rahul and his team are focused on their elephants' welfare.
I sought an "a-ha" moment and to be educated. I searched for a genuine sanctuary that offered me an opportunity to interact with elephants in a humane environment.
By the end of my visit, I have succeeded. I vow never to ride another elephant again or promote any "attraction" that promotes cruelty to these wonderful creatures.
I encourage you to support Rahul and his team. Elefantastic is the perfect name for such an incredible and intimate experience. I'm sure discussions will persist whether such places truly balance elephants' needs with those of excited tourists and the mahouts and their families.
Many elephants are mistreated and forced to work in the growing tourism industry. At Elefantastic I witnessed no hooks, spikes, shackles, chains or mistreatment.
Instead I observed a team dedicated to these remarkable animals' welfare and protection. To discover more about Elefantastic, visit its website.