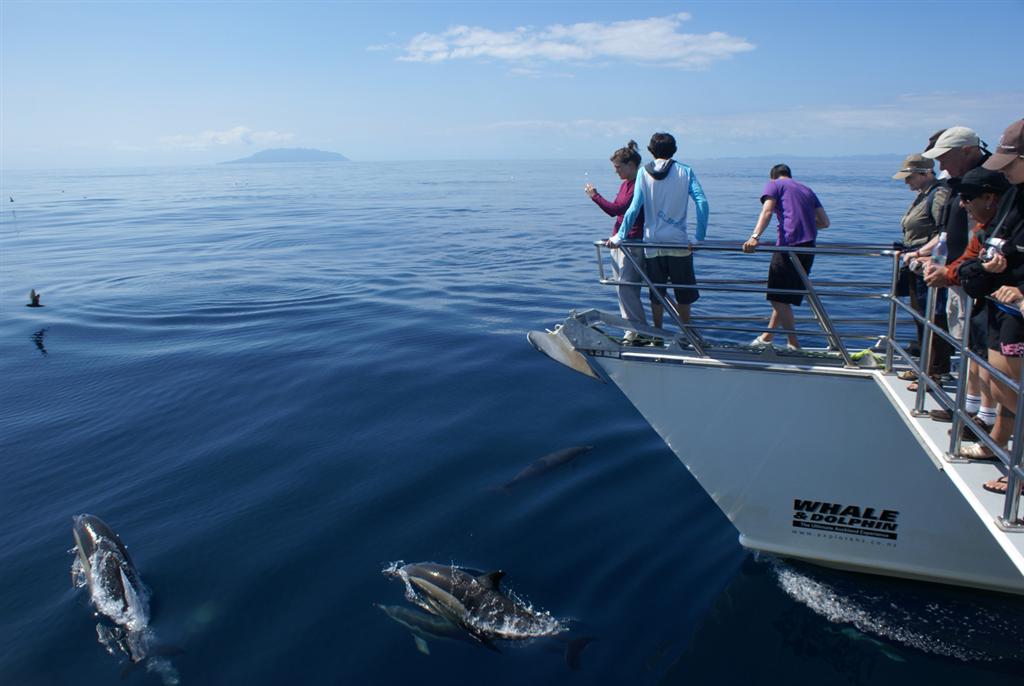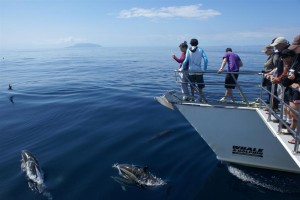 I will admit that, since I was a freckle faced child, I've been fascinated with the grace and beauty of dolphins.  Ancient Greeks recognised their beauty and killing one was considered sacrilegious and punishable by death – they were called "hieros ichthys" or "sacred fish".
And so, exploiting a rare window of opportunity of "father and daughter" time, Auckland's Whale & Dolphin Safari would now host 2 more adventure seekers for the afternoon.  Somehow Cerys' seemingly never ending school holiday programme of: window-shopping, boogie-boarding on Auckland's sun-kissed beaches and "chillaxing" with her friends would have to wait another 24 hours!
Auckland's Waitemata Harbour & Hauraki Gulf Marine Park are world renowned for being a "yachtie's" and "boatie's" playground.  But, for many, they have a much broader appeal.  The crystal clear, calm, waters are home to a diverse marine environment, where dolphins and whales are spotted all year round.  Due to abundant food rich waters, dolphins and whales have occupied New Zealand's ocean supermarkets for many centuries – long before Auckland was inhabited by the indigenous Maori people.
With a typical azure-blue Auckland January sky, interrupted only by scatterings of ribbons of cotton wool clouds, and brilliant sunshine forecasted, we applied a generous layer of sunscreen.
Andy, our Skipper for the day, delivered a short but comprehensive safety briefing interspersed with typical Kiwi humour and gently slid the throttle forward.  Slowly winding out of the Viaduct Basin, and the hustle and bustle of downtown Auckland, Andy edged the boat into the Hauraki Gulf Marine Park's sparkling waters.  It wasn't difficult to notice Cerys' hair softly fluttering in the gentle north-westerly breeze, revealing a healthy glow that most Kiwi school children sport midway through their extended school summer break.
The "Dolphin Explorer" is a sleek, purpose built, luxury 20m high speed catamaran offering comfortable seating on its spacious upper and lower decks as well as limited catering and toilets.  But it's more than just an excuse to spend time viewing dolphins.  Dolphin Explorer plays an important role in marine research.  It provides hands-on experience and opportunities for marine students and graduates (most have either a Masters Degree or PhD) to collect essential data about Auckland's marine environment to help research and protect the marine population.
Cruising out past the iconic Rangitoto Island and popular Waiheke Island, it was obvious that Andy and his crew were passionate about their work.  They were walking A-Z encyclopaedias on marine life and its conservation and it wasn't hard to imagine that Auckland's marine life was in safe hands.
It wasn't long before an athletic looking middle aged woman gesticulated and pointed with the enthusiasm of someone a quarter of her age.  A concert of "ooohs" and aaahs" echoed around the boat as the first battleship grey coloured Common Dolphin was spotted frolicking in the boat's bow waves.  Fellow aquatic adventurers, including a family from Argentina, 2 back-packers called Tomas and Maria who hailed from Germany & Uruguay respectively, several Europeans and scores of New Zealand families with small children quickly stir into camera clicking frenzy.
In a rush of fatherly excitement (and a tinge of paternal frustration), I convince Cerys that life wouldn't end if she didn't immediately return her friend's text message!  I need not have worried.  As I fumbled with my 4 year old Canon Powershot, she converts her credit card sized instant messaging communication accessory to camera function with lightening speed and clicks away – capturing "Flipper's" silk like body as "he" resurfaced.  I barely caught his shadow and felt as deflated as a 3 day old party balloon!
And then, in chorus like precision, 3 more appeared from nowhere and playfully joined the orchestra.  There's such a tangible feeling of joy watching a school of dolphins perform for its audience.
To our starboard, almost close enough to hand feed, we observe other dolphins feeding.  With tight military precision, they form tight knit circles around schools of fish and drive their prey to the surface where they compete with voracious Australasian Gannets for the spoils of an all you can eat ocean buffet.
As The Dolphin Explorer Team continues to carefully survey the area, everyone scans the same area as if our lives depended upon it awaiting the moment when more of these highly intelligent animals surface.  We didn't have to wait long.
Auckland's Whale & Safari confidently state that dolphins are seen on 90% of the trips.  As the afternoon progresses, we've became "hawk-like" and much better at spotting torpedo shaped dolphins propelling towards us.  Whilst dolphins are the "main attraction", we also see Little Blue Penguins, Cormorants and scores of other sea birds.  The Skipper also confirms a sighting of a solitary Hammerhead Shark.
The brochure also says that whales are spotted on 75% of the trips.  Bryde's Whales & Orcas (which are actually members of the dolphin family) are regularly spotted gracing this maritime playground.  I wondered – would we be lucky enough to see one?
Andy enthusiastically bellows "Whale spume (spray from their blowholes) spotted 100 metres to our starboard" over the boat's tannoy system.  And with this, everyone carefully scans the ocean's surface with the knowledge that our eyesight (although inferior to our feathered accomplices) was more accustomed to spotting our "prey".
As whales often submerge for up to 30 minutes at a time, we all pray that we'd not missed this powerful, yet humble, creature.   We wait for another cloud of bubbles or another spray and eagerly wait for the whale to surface again.  And there it was…a whoosh of air and water blasting skywards and the sea seemed to suddenly part as a walnut brown shadow gracefully emerged about 75 metres in front of us.  The Bryde's Whale (pronounced "Brooders") curves its back and within seconds dives and slides majestically back into the calm turquoise ocean.
We didn't expect to see it again.  But with another unmistakeable spume, it appears again, momentarily, before disappearing silently back to the depths.  No "spy-hopping", "lob-tailing" or "flipper slapping" like its bigger cousins, but impressive, nonetheless.
When I read in their brochure that "Dreams can come true" I thought that it sounded a little cliché for an old cynic like me.  But as we pulled back into Auckland's Viaduct Basin, with the imposing Sky Tower in the background, the scores of restaurants & bars' terraces were already full with patrons, soaking up the late afternoon sun.  But I am sure that for those of us who had experienced an afternoon with the monarchs of the ocean, the excursion was a truly memorable, possibly a once in a lifetime, experience.  For Cerys and me, we're proud to call Auckland our home and to share it with such majestic creatures.