I recently took a short break from Singapore' heat and strolled over to its iconic landmark – the leafy Gardens by the Bay.
Probably among the first things that springs to many visitors' minds when visiting Singapore are: sipping Singapore Sling at Raffles Hotel, the never-ending skyscrapers, shopping arcades and wandering along its river.
After opening in June 2012, Gardens by the Bay is now one of Singapore's most visited and most often-photographed attractions. Eight million visitors annually are rewarded with panoramic views of Singapore's skyline.
Occupying two hundred and fifty acres of reclaimed land on Singapore's waterfront, Gardens by the Bay is made up of three waterfront gardens: Bay South, Bay Central and Bay East.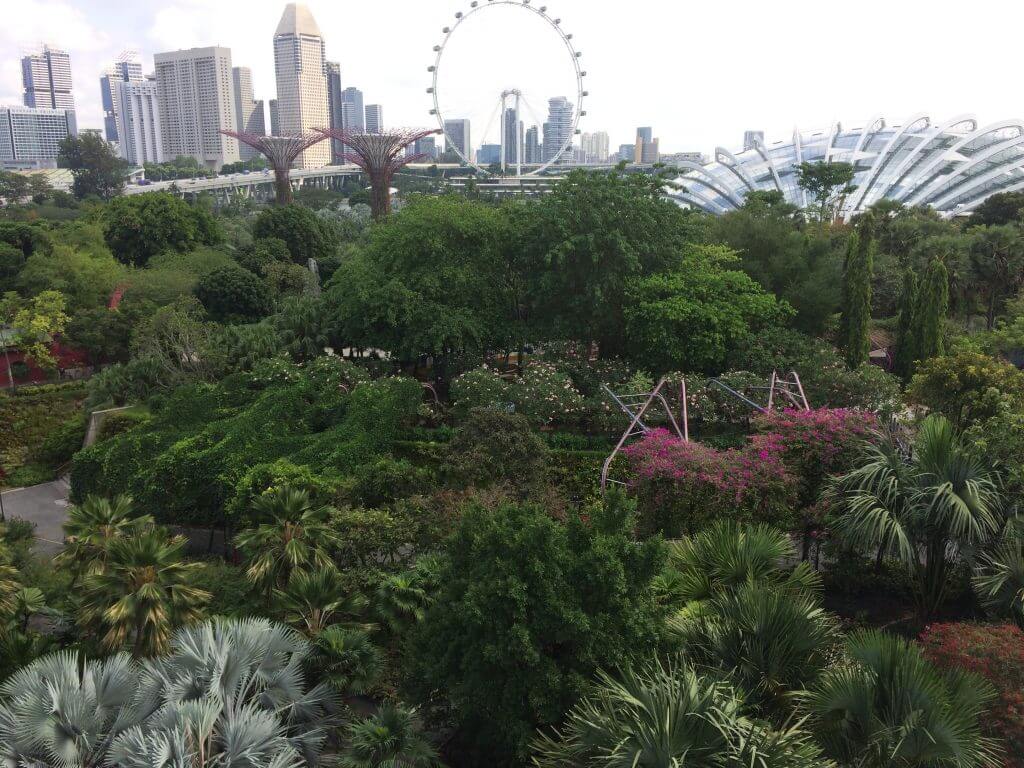 The largest of the three gardens, Bay South Garden, sprawls one hundred and thirty-three acres. It's designed to showcase Singapore's highly acclaimed tropical horticulture and garden artistry and draws inspiration from the country's national flower, the orchid.
Gardens by the Bay is a key project in Singapore's ambitious plans to transform itself from being a "Garden City" to a "City in a Garden".
It's whimsical, futuristic feel will instantly capture your attention and entice you to lose yourself in its magic. You will weave in-between the supertrees on the Skywalk.
Walking around the grounds is free, although a small admission fee is charged to visit to its two climate-controlled greenhouses or walk amongst the supertrees.
The Gardens By The Bay Attractions
Supertree Grove
Imagine you've just stepped onto an alien planet or the blockbuster Avatar film set. A mesmerising twelve tree-like vertical gardens, towering between twenty five and fifty metres (that's nearly eighteen storeys!) and adorned with 150,000 plants, dominate the skyline.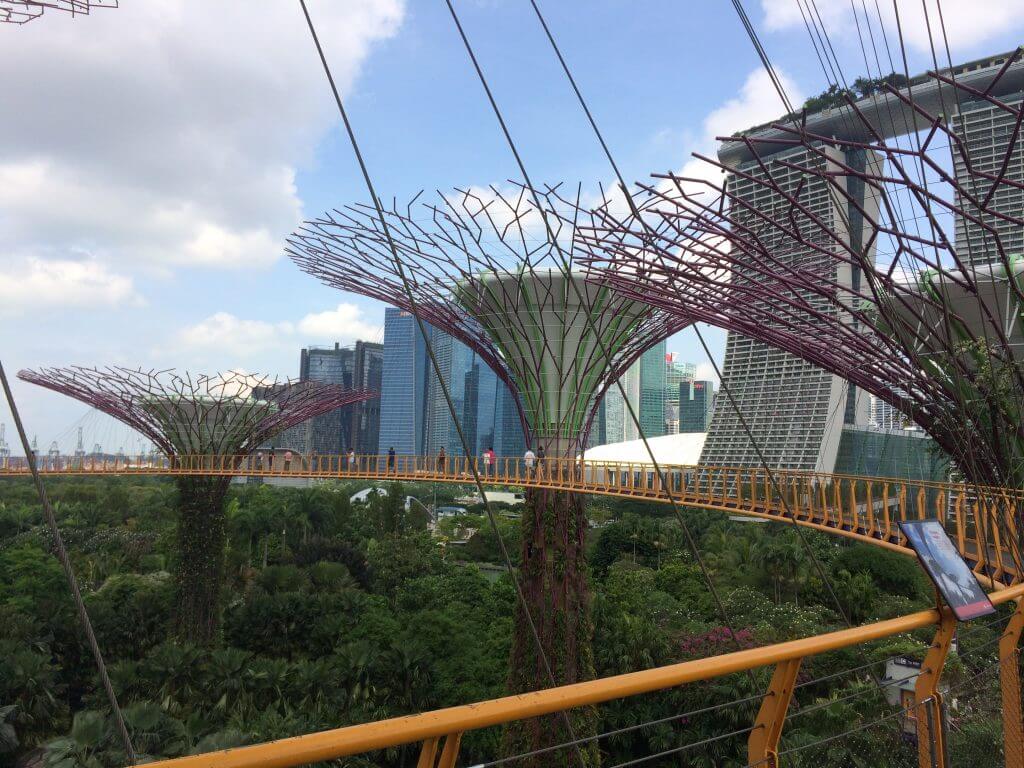 For a bird's eye view, take the lift to the OCBC Skyway. Suspended twenty-two metres above terra firma, it offers 360 degree views from its 128 metres walkway.
Six more structures can be found near Dragonfly Lake and Arrival Square.
Impressively, eleven of the eighteen supertrees harvest solar energy.
If you have time to stick around, stay for Garden Rhapsody during the evening. The supertrees illuminate the night sky with lighting and media projections that dance from tree to tree.
The Flower Dome
The larger of two conservatories, Gardens by the Bay houses the world's largest glass greenhouse – The Flower Dome. Popular exhibitions including "Orchid Extravaganza" and "Tulipmania" are testimony to a world or perpetual spring.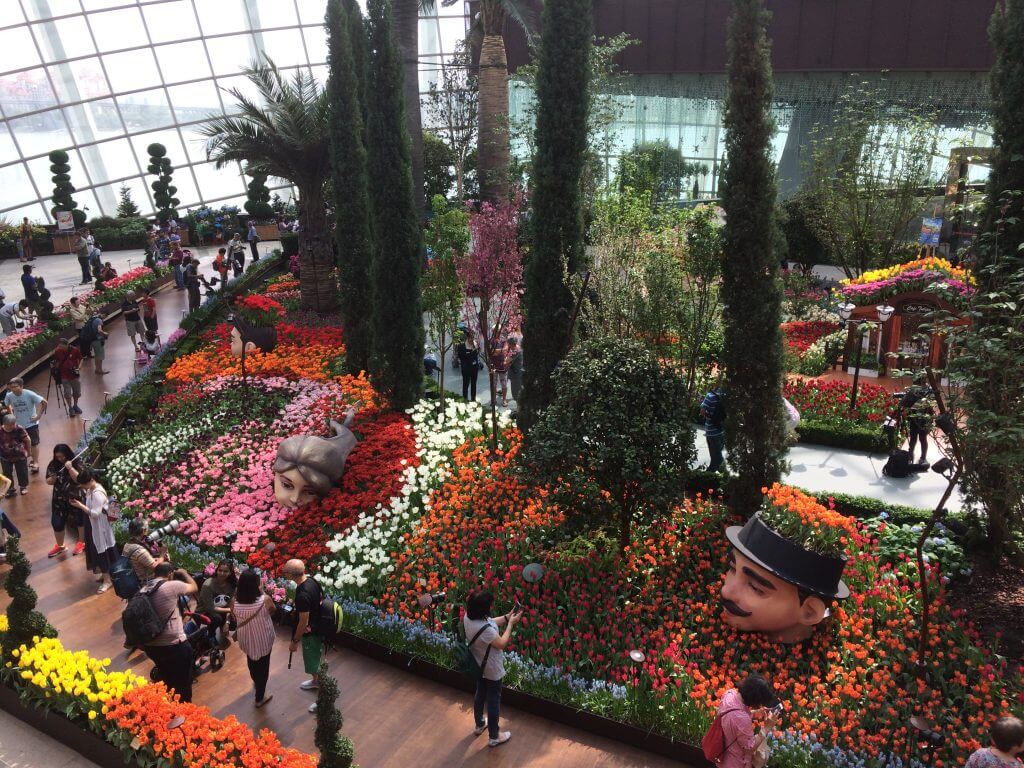 Plants from Australia, South America, South Africa, Southern Europe and California thrive in The Flower Dome's subtropical, semi-arid, climate.
Changing floral displays and an endless list of species from five different continents reflect different themes and seasons.
Canary Island Date Palms, King Sugar Bush, Monkey Puzzle Tree and Kangaroo Paw are just some of the exotic species on show.
The Cloud Forest
Slightly smaller than the Flower Dome, The Cloud Forest imitates the moody damp atmosphere of tropical mountain regions and boasts more than 72,000 plants!
Ambling through the Cloud Forest, you'll discover more about how our planet's ecosystem works. Singapore is proud to call itself the "Garden City" and it's not hard to see why it strives to become the planet's greenest city.
Centrepiece is the 42 metre "Cloud Mountain" and the world's tallest indoor waterfall (at 35 metres). Conquer the mountain and marvel at the waterfall or walk among Singapore's very own Cloud Forest.
As stunning outside as it is on the inside, and from below as it is from above. You can embark on an expedition through the mist on the surreal circular Cloud Walk.
Outdoor Gardens
Explore the various outdoor gardens that Gardens By The Bay offers. Treat the little-ones in the Children's Garden or simply amble peacefully in the other gardens to discover more about the different plants!
Heritage Gardens
A group of four themed gardens, the Heritage Gardens offers an insight into how Singapore's culture and plants are linked.
Chinese, Malayan, Indian and Colonial-themed gardens teach you the rich history of Singapore's three main ethnic groups. It's a great place to pay homage to the culture of Singapore whilst you visit this magnificent country.
Serene Garden
Just a short stroll away from the popular Supertree Grove is the calm and peaceful Serene Garden. Inspired by the minimalist concepts of Japan's zen gardens it offers scenic views of Singapore's beautiful skyline.
Sun Pavilion
Stroll through the Sun Pavilion's desert-like landscapes. With over one-thousand desert plants, including Mexican Cacti, African Euphorbias, Turk's Cap and Brain Cactus, the Sun transports you into a dynamic dryland.
Far East Organisation Garden for Children
Designed for the young ones, Fish Fountain and Rainforest Tree House provides the perfect aquatic playground for children up to twelve.
Gardens by the Bay are Singapore's lungs. There's so much to learn, discover, admire, and experience there. Regardless of whether you have a passion for horticulture and gardening, it has something for everyone.
I bought e-tickets to Gardens by the Bay and OCBC Skyway in advance. Not only did I save some money but also avoided the hordes of people queuing to pay on arrival.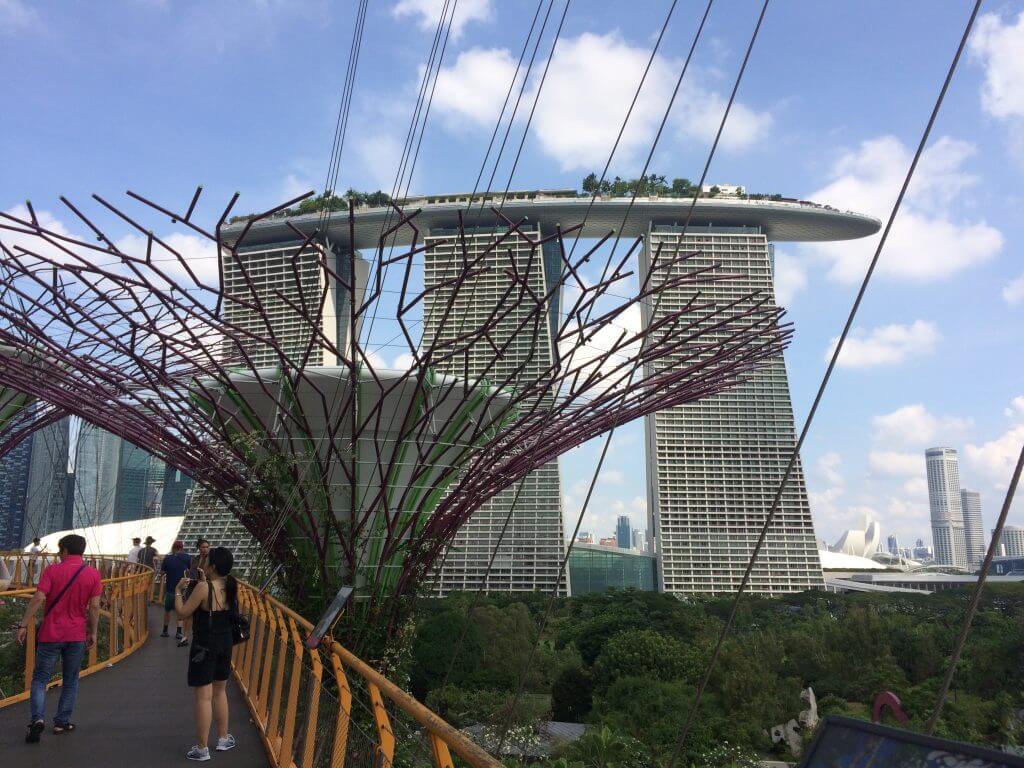 Whatever the case, a trip to Gardens by the Bay is a must-do. It will enrich your visit to Singapore. It truly is a unique and wonderful place to see. And although I have tried my best, no words can describe its true magic. Or prepare you for such a surrealistic encounter.  Check out my other recent article Singapore Travel Guide: An Insider's Introduction.
Insider Tips
> Peak hours are from 16:00 to 19:00 daily and longer waiting time may be expected. Peak hours are from 5.00pm – 8.30pm for OCBC Skyway and visitors are restricted to fifteen minutes' entry.
> Children's Garden is closed on Mondays.
Key points to note when visiting
> Opening Hours: 09:00 to 21:00 every day for Flower Dome, Cloud Forest and OCBC Skyway. 10:00 to 19:00 for Children's Garden.
> Admission: Adults: S$28 for combined Flower Dome and Cloud Forest entry and S$8 for OCBC Skyway. Children (3-12 years old) S$15 for combined Flower Dome and Cloud Forest entry and S$5 for OCBC. Children's Garden and Outdoor Gardens are free.
How To Get There: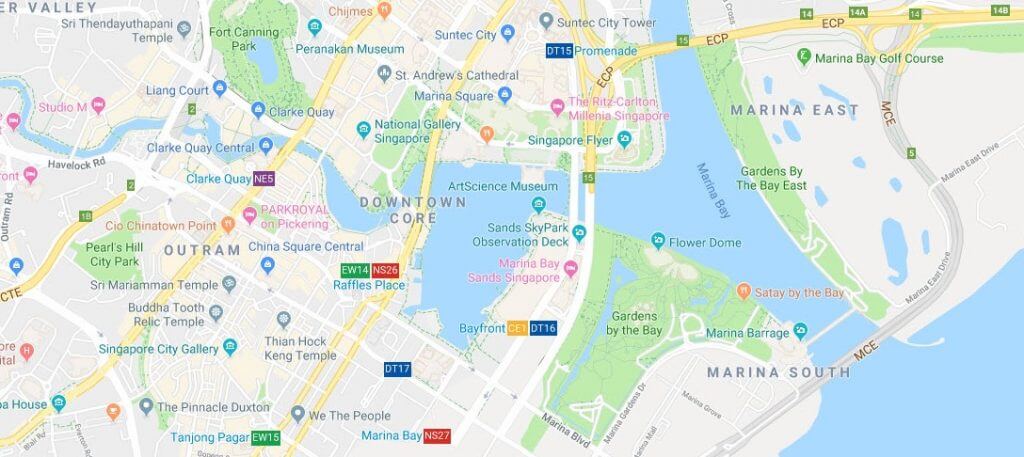 > From Bayfront MRT (CE1/DT16), use Exit B and use the underground link-way before crossing either Meadow or Dragonfly Bridges to the park.
> From Tanjong Pagar MRT (EW15), use Exit C and walk to the bus stop 03223 (outside of International Plaza). Take bus 400 until you reach bus stop 03371 on Marina Gardens Drive.
> From Marina Bay Sands Hotel, use the overhead bridge or walk through underground walk via Bayfront MRT.
> Website: https://www.gardensbythebay.com.sg