Introduction
India is well-known for its numerous religions, countless gods and goddesses, rituals, and many myths. Would it surprise you that it has a rat temple? No, I'm not kidding. It has!
It's estimated more than 25,000 "holy" rats call one temple in West Rajasthan, "home".
Karni Mata Temple, near Bikaner, is an extraordinary and popular tourist attraction.
The temple's resident rats are so revered and sacred that they are treated as celebrities. Some say that they have it so good they never leave the temple's grounds.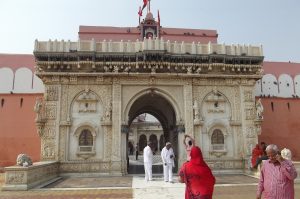 I first visited the Karni Mata Temple in 2013, and again in 2017. Initially, I wasn't sure what to expect. I'd researched the place and became fascinated as I discovered more.
This time I persuaded my wife, Karen, to accompany me. In this article, I'll reveal some of her reactions during our recent trip last month 2022. I'll briefly discuss some of Karni Mata's history. I'll also share some tips to help you "enjoy" this bizarre and unique temple.
CAUTION: This article includes many rat images.
If you're squeamish, ask someone to read it to you instead!
Arriving At The Temple
Before we arrive, Karen is already regretting her decision to accompany me. She's severely grossed out by thoughts of hundreds of rats swarming over her toes!
We arrive and we're directed to a shoe counter just outside the car park to hand in our shoes.
Karen is already freaking out. But, like many temples in India, it's mandatory to remove your shoes. We'll need to walk around barefoot or in socks. Most people enter barefoot. I'd briefed Karen several weeks in advance.
She sensibly chose the sock option. I'm not proud – so did I! I prayed she wouldn't trample and squash one of her new friends!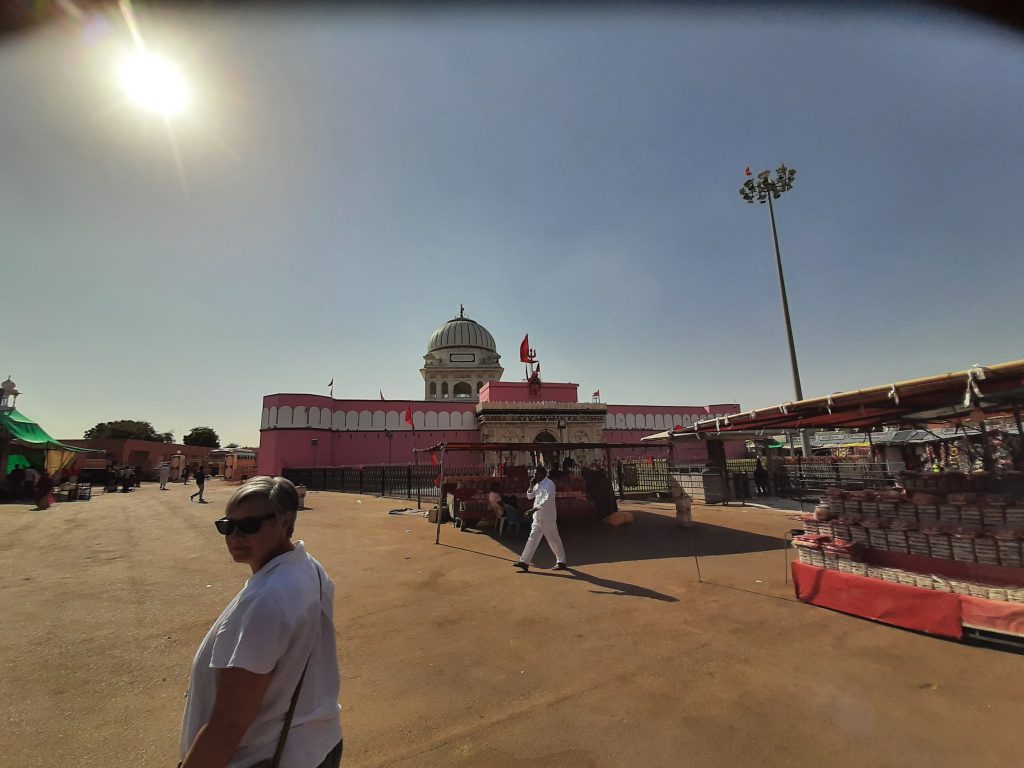 INSIDER TIP: Take an old pair of socks and be prepared to toss them away!
The Legend Of Karni Mata
Karni Mata Temple is the world's only temple dedicated to rats. It's a Hindu temple, dedicated to Karni Mata, a fourteenth-century sage. She was also called the "Miracle Goddess" and Shri Karniji Maharaj and is believed to have lived for 150 years! She was a fearless Hindu warrior and is worshipped by her followers as Durga's (a warrior goddess) incarnation.
Visitors from around the world pray to the Goddess and pay homage to the temple's rats. Masses of Hindu devotees believe if they pay homage to Karni Mata, she will grant all their wishes.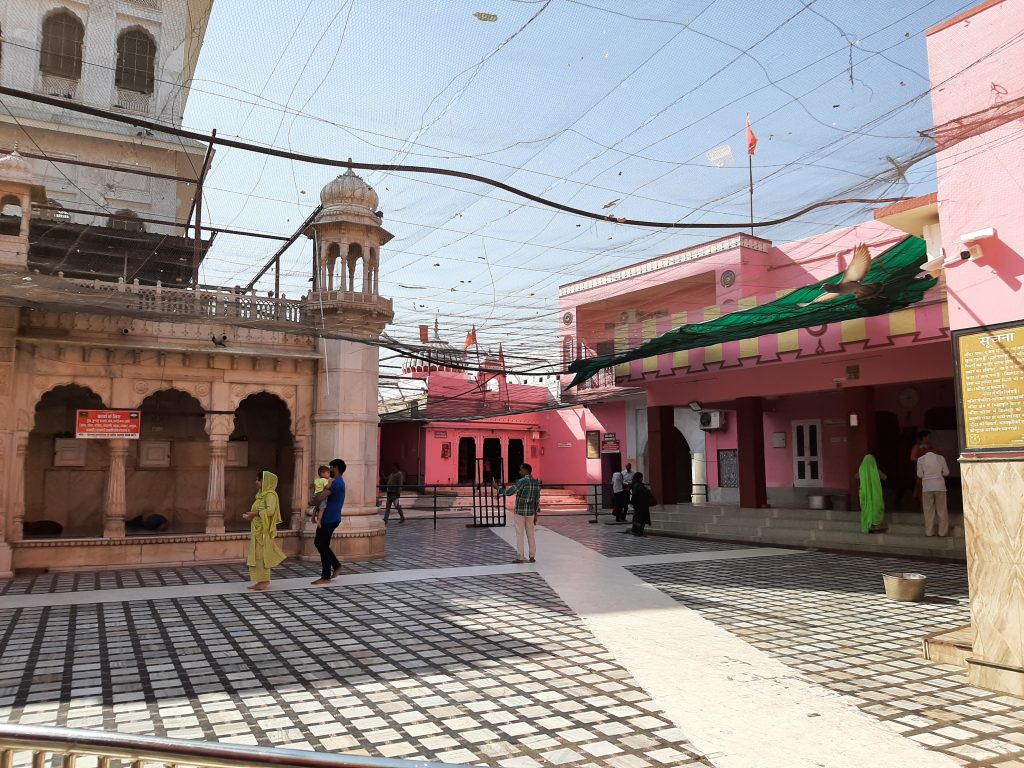 Folklore says her nephew (some say stepson), Laxman, drowned while drinking from a local pond.  Karni Mata was so distraught that she implored Yama ("God of Death") to resuscitate him.  Initially, Yama refused but later relented under the condition he was reincarnated as a rat. 
Similar fates await all Karni Mata's male offspring and Charan caste.  Devotees believe the rats ("Kabbas") are reincarnated relatives of her family.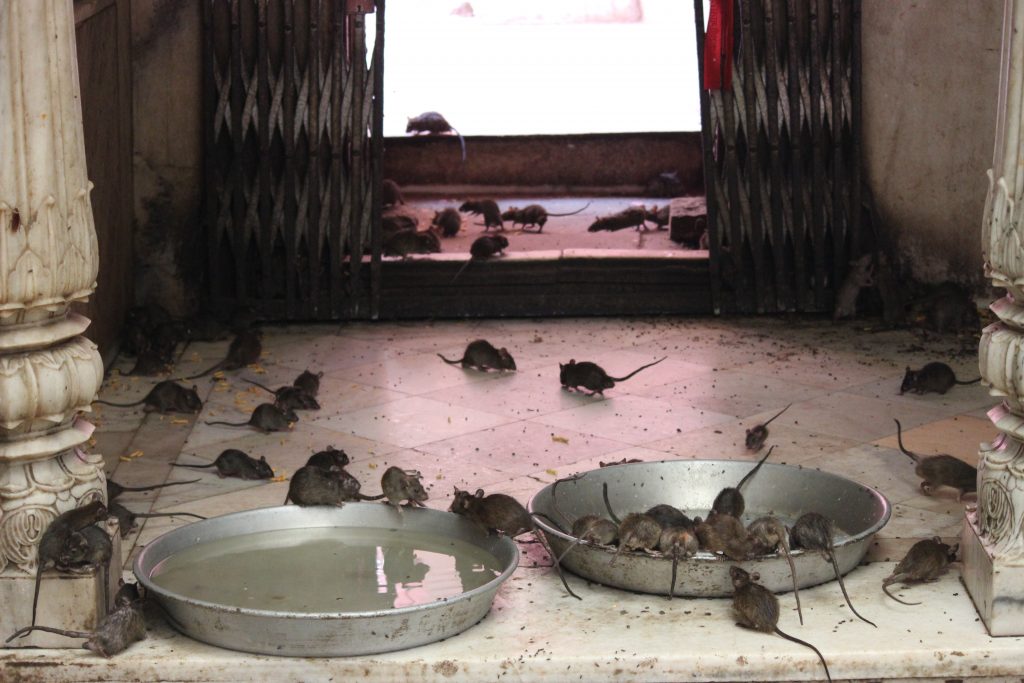 Charan Caste 
The Charan people devote their lives to serving the rats.  They believe the rats are a form of Goddess Karni Mata.  They believe they are her descendants.  The Charan believe so strongly in reincarnation, that they never treat the rats as mere rodents.
They believe these little furry animals are their ancestors reborn as rats.  They believe that when they die, they'll be reborn as rats and vice-versa.  When a rat dies it's reborn as a human.  That might seem absurd to many western cultures but many people in India believe in reincarnation.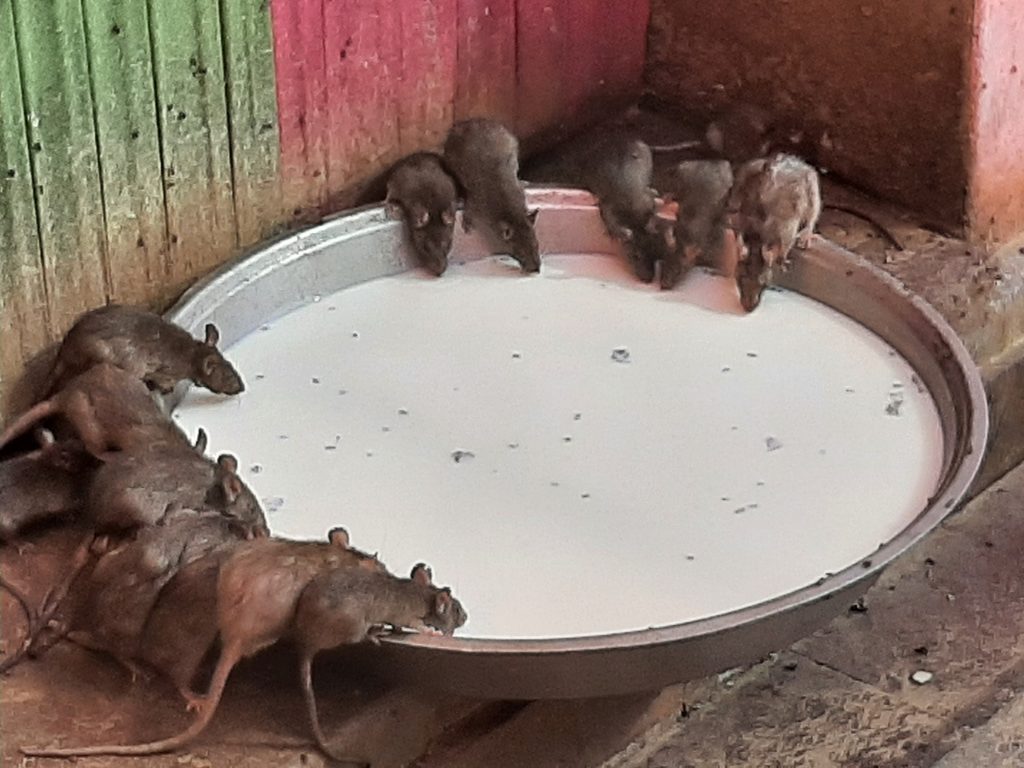 The Charan, and the resident priest's main priorities are to look after the rats.  They eat, drink and sleep with them.  They call the rats "kabbas" ("little children") and feed them first before they eat their own meals.  The Charan believe it's a sign of good fortune if the rats eat with them.  
The rats are the family's official tasters.  They even lick plates clean.  It's an act which would close any restaurant in the West.  
Within The Temple
Once inside, I sense Karen's nervous excitement.  I'm sure she wants the experience to be over quickly.  She's not looking forward to seeing the rats.  I'm not scared of rats unless they're big and hanging around dirty and smelly rubbish mountains! 
Immediately we enter the temple, we see the first group of rats scurrying around.  My first thought was that these very small, cute, rats aren't that scary.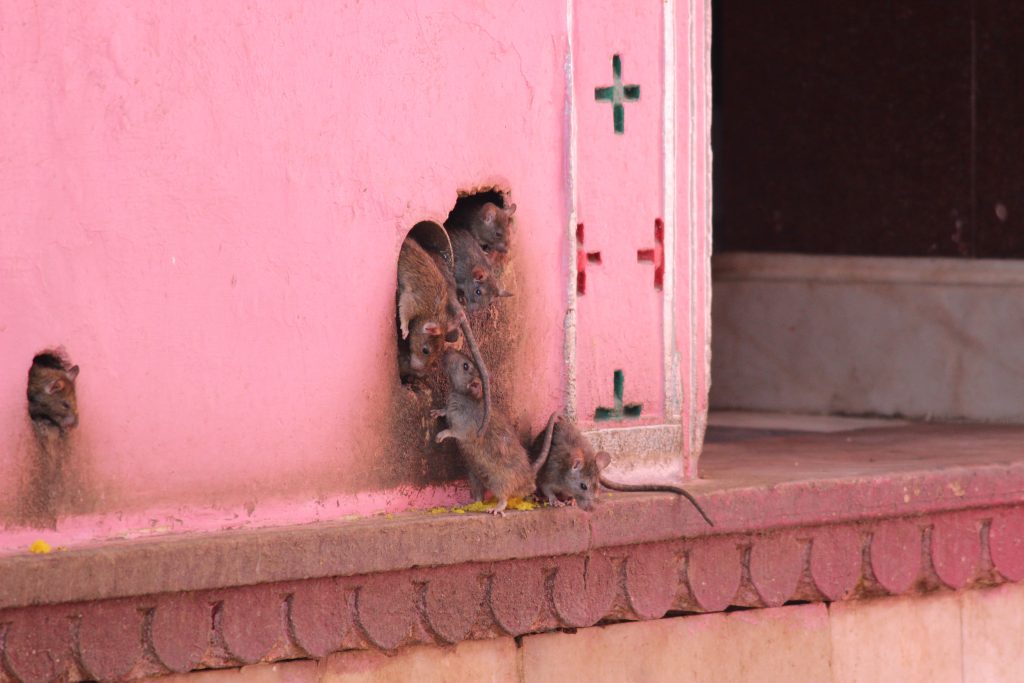 Then a rat ran across Karen's foot.  She jumped and skipped and bellowed like a little girl.  She freaked out.  I freaked out because she freaked out.  Well, that's the story I'm sticking to!
Rats scurry rampant in the temple's courtyards.  They pour out of wall crevices, scurry around every corner, tumble downstairs, crawl along gates, etc.  You get the picture! 
"Oh my god" and "just look at them all" were just some of the less "colourful" expletives Karen used to describe her thoughts.
The temple smelled really bad.  It was disgusting.  Karen wretched.  I wretched.  Everywhere we looked we saw (and nearly stood in) rat and pigeon urine and excrement.
INSIDER TIP: Carry anti-bacterial gel with you if you touch the walls or a rat while you're here.
I convinced Karen to stay a while longer.  If we're "lucky" we'll see a white rat.  It's rare to spot a white rat amongst thousands of black rats.  The Chalan believe a white rat is Karni Mata herself.
I've not been lucky on my two previous trips.  Or have I been?  
Allegedly, the temple has never experienced disease or plague.  For many, it's the opposite.  Many devotees who are ill go to the temple to become healed!  Outside the temple, mention rats and many people fear the risks of disease which rats carry.  Rats don't need to bite us to infect us.  They carry many different types of diseases and illnesses.  
Conclusion 
No one forced me to go.  I admit that I'd still prefer to see hundreds of other species of animals.  I still think rats are at the dirty and smelly end of the spectrum.  But being surrounded by so many of them wasn't so bad.
Karni Mata Temple is a unique and spiritual place with a great vibe.  It's one of the most interesting, and without doubt, one of the dirtiest temples I've ever been to. 
Karni Mata Temple is safe.  Its four-legged inhabitants won't bite.  They already eat more than enough.  Their bellies are stuffed with the temple's pilgrims' offerings throughout the day!
I'm sure I'll go back for a fourth visit one day!  If you're still unsure, I urge you to visit at least once.  To be honest, you'll only need 20 to 30 minutes.  But you can always leave after a few minutes and say you've something totally bizarre!  
Best Time To Visit Karni Mata
Try to arrive as early as possible in the morning.  The light is good for taking photos and you'll see many rats.  The rats are also active at the end of the afternoon. 
During the day the rats aren't usually hungry.  It's also hot and most of them seek shade in their burrows.  There won't be so many of them scurrying about on the temple's floors.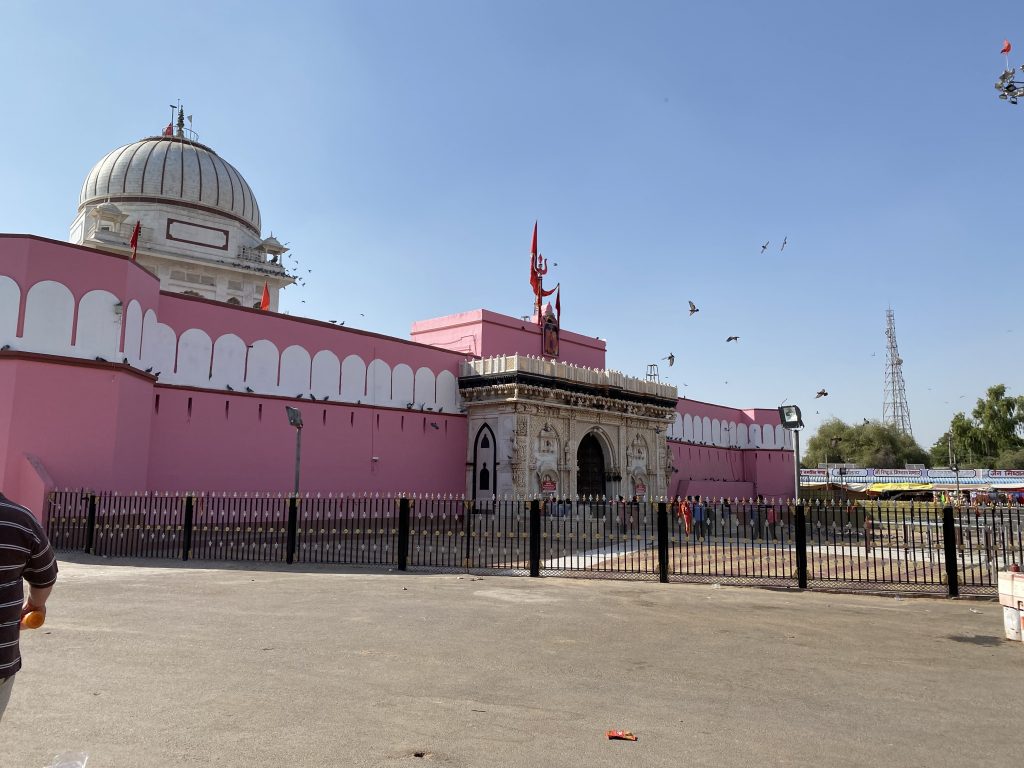 During sunrise and evenings, countless rats will be scurrying around.  You'll need to tip-toe your way around as the little rodents occupy most of the floor space.  
To be honest, even on my third visit, it was overwhelming.  When the sun sets, and it becomes cooler, many pilgrims will visit Karni Mata Temple.  It'll be more crowded, with long queues!
Location
Karni Mata Temple is in Deshnok, 30kms (a 45-minutes' drive) from Bikaner.  Fortunately, the NH62 is easy to navigate and is a one-way road between the two locations.  So you shouldn't become lost!  
The temple is located on NH 89, 30 kilometres to the south of Bikaner. It's easily reached by cheap buses and trains from Bikaner and Jodhpur, or by taxis from most places throughout Rajasthan.
Karni Mata Opening Times
The temple opens between 04:00 and 22:00 every day.  At 04:00, Charan priests lead the day's first aarti.  I've never experienced one.  I'm tucked up in bed at that unearthly hour!
Entry is FREE but you'll need to pay ₹70 to use your camera or video.  Allow yourself an hour to wander and explore Karni Mata Temple.  Unless you're Karen who lasted ten minutes!
How To Get To Karni Mata Temple
Private Car (45 Minutes): From Bikaner, it will take you around 45 minutes to drive the 30kms there. There is limited free parking outside the temple.
Train to Karni Mata Temple (45 Minutes): Several trains leave Bikaner and stop at Deshnok.  You'll have to walk approximately 400 metres to the temple.  Tickets cost around ₹635 each way for a 2nd class, with air-conditioning.  
Book at: https://indiarailinfo.com   
Buses to Karni Mata Temple (60 Minutes): Buses leave from Bikaner's main bus stand frequently and offer a cheap option.  A one-way ticket costs ₹37.  
Book at: https://rsrtconline.rajasthan.gov.in
Taxis to Karni Mata Temple: A return journey from Bikaner to Karni Mata Temple is approximately ₹2,800.  Negotiate a fixed price beforehand and how long your taxi driver will wait for you. 
More Resources On India
Check out my video from my recent visit to Karni Mata Temple. Feeling hungry? Hop over to my article on Rajasthani street foods.