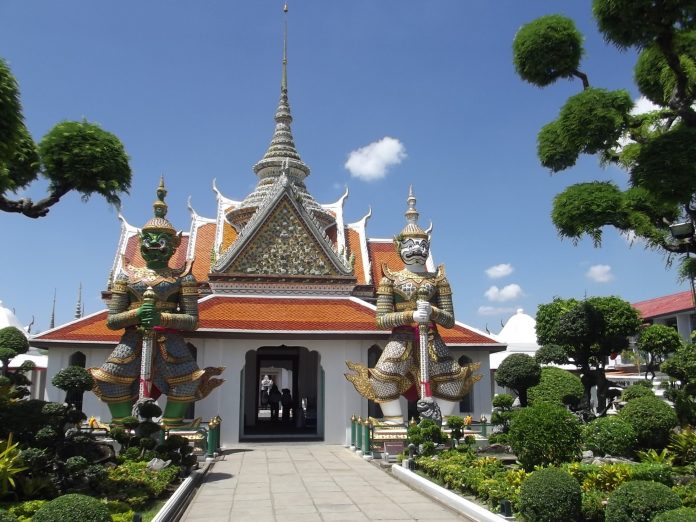 I recently spent two days, as a stop-over, in Bangkok. I won't say it's one of my favourite cities I've ever visited. But it's certainly not the worst either.
In my opinion, it's not over-flowing with tourist attractions. But, with a little planning, and by ignoring the tourist ghettos you'll discover its hidden secrets.
Introduction
Bangkok, Thailand's capital, is the beating heart that drives this South-East Asian country. Apart from the warm smiles that Thai people are famous for, it'll delight, surprise, and probably super-charge your senses!
It'll be near impossible to mention anything about Thailand without some reference to its food. Combining a perfect mix of spice, salt, sweet and sour, Thai meals are hard to resist.
I don't know why, but Bangkok's street food tastes infinitely better than anything I have tasted in its restaurants. You'll discover hundreds of food-stall vendors eager to entice you to satisfy your taste-buds.
For the equivalent of a couple of dollars worth of Thai Baht, you'll have no trouble finding a dish to suit your palate.
Bangkok rarely sleeps. It's full of contradictions. The city's wealthiest drive their newest and flashiest cards with purpose up Sukhumvit Road, apparently Thailand's longest road.
Meanwhile the adjoining "sois" (sub-streets) house the less fortunate in shacks that cost less than the cars that drive close by.
You'll instantly notice, and quite possibly question why, high-end retail outlets, restaurants and "Traditional" Thai massages compete for prime position. You'll also find pollution, rubbish, scammers, fake goods and touts. Those characteristics aren't confined to Bangkok.
Dig deeper into the city's soul and it'll cast its spell on you.
Culture
Most Thais are Buddhists. The head is sacred and the lower half of the body, especially the feet, is considered dirty. You'll insult a Thai if you point your toes towards them when sitting down, especially in temples.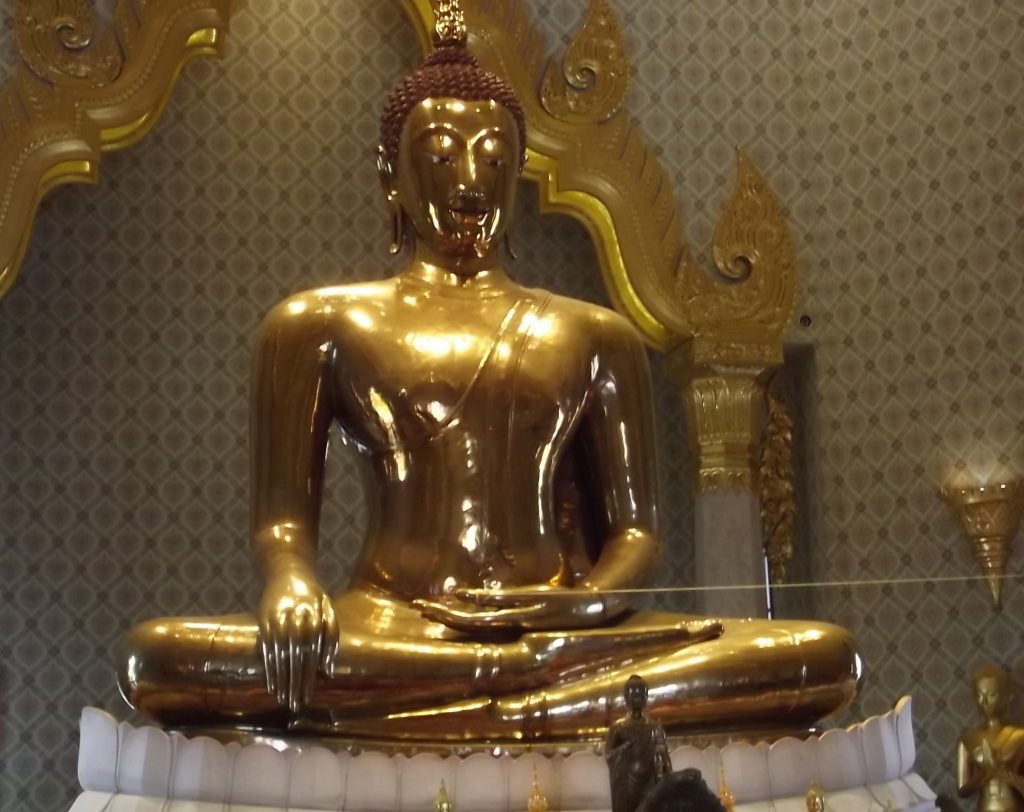 Did you know that Thai people wash clothes they wear on their upper body separately from the ones they wear on their lower body?
Conservative dress standards are expected throughout Thailand, although Bangkok is more liberal. Wearing t-shirts and shorts is generally acceptable in Bangkok, unless visiting its temples.
You must dress modestly if you're entering a temple and cover your shoulders and knees. For a few Bhat, you can hire sarongs during your visit.
When to Visit Bangkok
Bangkok's weather is influenced by a tropical monsoon climate. It has three main seasons, although annual temperatures range from 32 to 35 degrees during the day and 22 to 26 degrees at night.
The hottest time is from March to June and its rainy period covers July to October. The best time to visit Bangkok is when it's drier and slightly cooler between November and February.
What To Visit in Bangkok
If you're a Bangkok newbie, let me highlight some of the must-sees, with a sprinkle of a few of my own travel tips to help make your visit a success!
These are some of my favourite places to visit:
Wat Pho (Temple of the Reclining Buddha)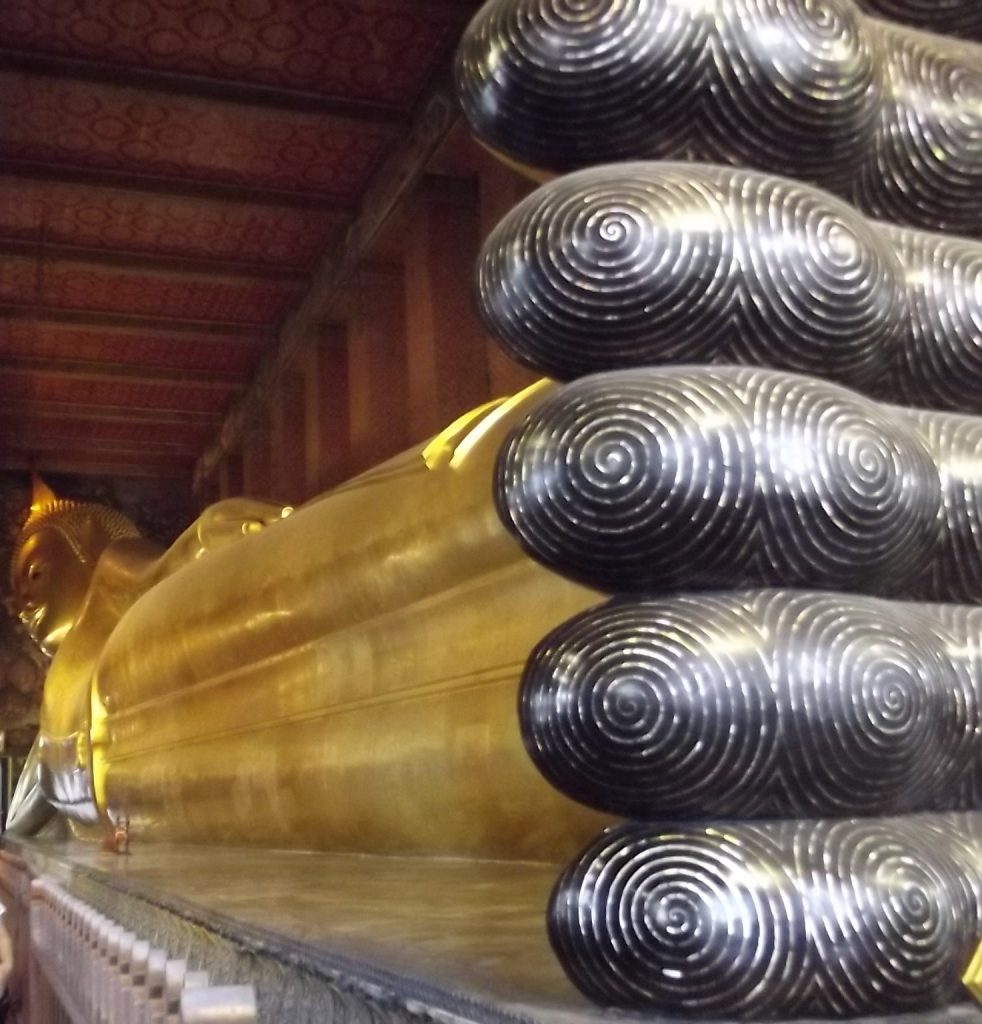 At 46 metres long, 15 metres high, and covered in gold-leaf the highlight is the giant Reclining Buddha. His feet, at 5 metres long, are adorned in mother-of- pearl, and exquisitely carved.
Wat Pho is also famous for its government-sponsored medical and massage school. Treat yourself to a traditional foot massage for an hour for 420 baht.
Key points to note when visiting Wat Pho.
Clothing revealing knees or bare shoulders is strictly forbidden.
Photography is allowed in all areas within the complex.
Wat Pho gets very busy, so aim to arrive early in the morning.
Hours: 08:00 to 18:30 daily. The massage centre closes at 17:00.
Admission Fee: 100 baht.
Location: Maharat Road
Wat Arun (The Temple of Dawn)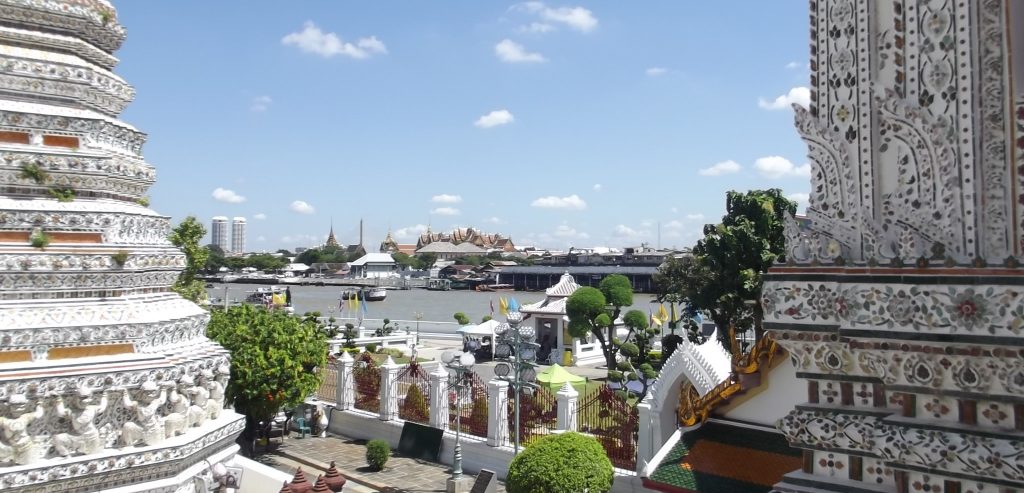 Wat Arun sits majestically on the bank of Chao Phraya River, opposite the Grand Palace. Visitors will be well rewarded with stunning views of the Grand Palace and Wat Pho on the opposite side of the river.
Key points to note when visiting Wat Arun.
Respectful attire is compulsory, as it's a functioning Buddhist temple. Clothing revealing knees or bare shoulders is strictly forbidden.
Photography is allowed in all areas within the complex.
Steps leading to the main pagoda are steep and care should be taken.
Hours: 08:00 to 17:30 daily.
Admission Fee: 50 baht.
Location: Maharat Road
The Grand Palace and Wat Prakeaw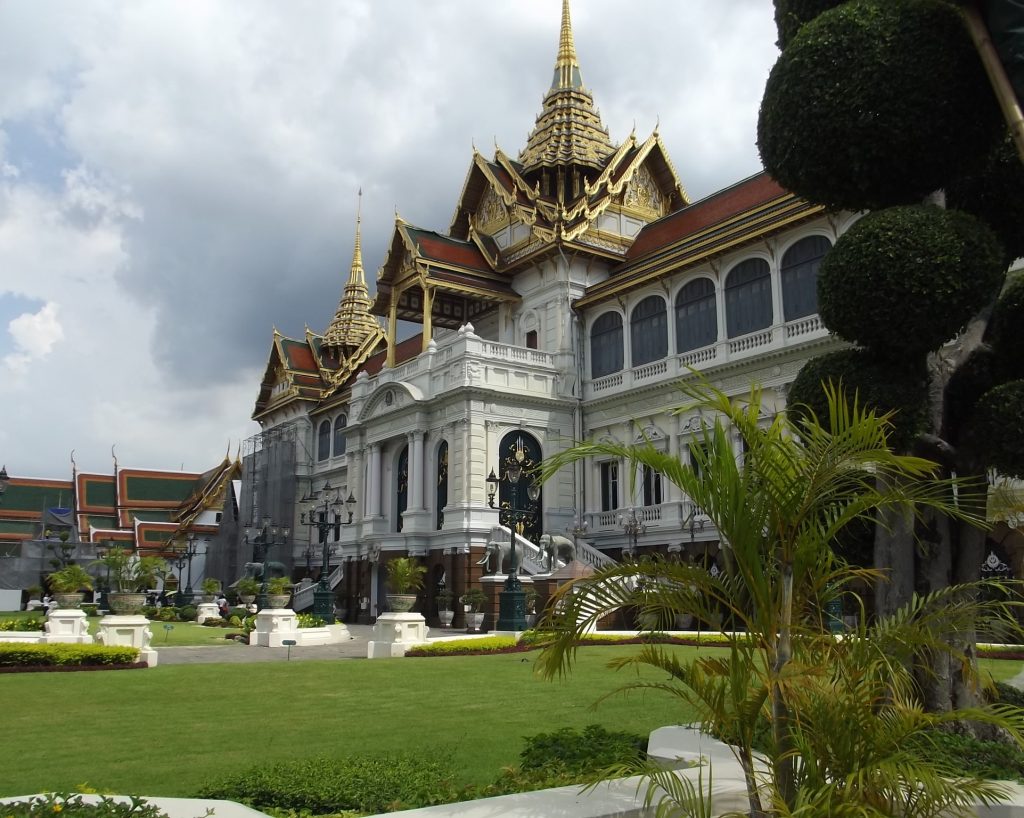 Built in 1782, Thailand's Royal Palace has been the official residence of the kings ever since. However, the current king doesn't actually reside there now; it's reserved for ceremonies.
Wat Prah Kaew (The Emerald Buddha) is the main attraction. The 15th-century Buddha is made from a single piece of jade and adorned with diamonds and gold. His robes are changed three times a year and only by the king himself.
Key points to note when visiting The Grand Palace and Wat Prah Kaew
Clothing revealing knees or bare shoulders is strictly forbidden.
Photography is allowed in all areas within the complex.
Scammers and rickshaw drivers will tell you the Grand Palace is closed and try to take you to a shop instead. Ignore them!
Hours: 08:30 to 17:30 daily.
Admission Fee: 500 baht.
Location: Na Phra Lan Road