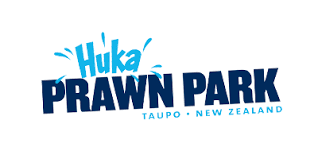 Our mission was simple.  I would lead a small task force of seafood lovers and infiltrate Huka Prawn Park to snatch as many prawns as we could in 3 hours and return to base.
Codenamed "Operation Huka Prawn Park Hunt" we knew the risks.  We'd strike deep into the world's only geo-thermal prawn park and use all of our stealth and patience to snatch our "targets" under the watchful eyes of scores of families and visitors.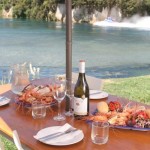 Intelligence informed us that the prawn population was huge in both size and number and occupied 6 hectares.
"We believe that there are up to a quarter of a million Macrobrachium Rosenbergii in the area and they're causing mayhem" our Commanding Officer, Sue Currie, announced.
"We've seen large numbers of parents with their children congregating in the area between 09:30 & 17:00 every day, except on Christmas Day" she added.  "And they all seem to be having way too much fun".
We were keen to get the job done.  Rachel greeted us and briefed us on what to expect from our adversaries.  She shared her knowledge of the park's layout and our amphibious foes' lifecycle and breeding habits.
"Giant Malaysian River Prawns grow rapidly and are ready to harvest at 8 months" she advised.  "We also know that they are very fond of ox heart" she added as she encouraged us to hand feed some baby prawns in the Nursery & Hatchery.
"You'll need to remain calm and patient as they are known to hide under rocks and at the bottom of the pools" she added.
Knowing that we may be in for a long haul, we applied sunscreen, hats and sunglasses and then grabbed our weapons – bamboo canes with line and hooks.  With watches synchronised at 13:30, we descended on the park.
Rachel had briefed us well.  She'd told us to expect distractions and obstacles.  Our first task was to feed the Trout to keep them from alerting anyone.  The Treasure Hunt was a breeze and we successfully negotiated the Bush Walk by hugging the Waikato River's water's edge.
"So far, so good" my daughter whispered to my wife.  The Adventure Walkway would be a challenge.  Would "The Gauntlet" cause our undoing, I pondered.  And was the Water Piano & Water Compass a trap?
We weren't weary but the covered Geothermal Foot Baths provided a welcome opportunity to stop for reconnaissance.
Children were shouting excitedly, so we knew we were close.
Our rods slipped silently into the water.  Patience would be imperative.
"I've caught one" shrieks Cerys sporting a smile that only a 13 year old trying to upstage their parents can have.  This is going to be easier than I thought, I told myself.  I was wrong.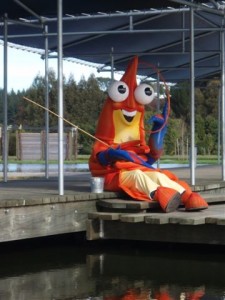 Our solitary captive, who Cerys named Percy the Prawn, refused to reveal where other prawns were hiding.  I respected that and was willing to release him.
Too late!  Cerys had other thoughts – she'd popped him in the pot and said he tasted delicious!
Percy must have been a lone rebel as our attempt to capture other renegades was futile.  With our mission aborted, we returned to base with empty stomachs.
We discovered that we weren't the only task force sent out today.  A battalion of children were proudly parading bucketfuls of their captives.  Overcoming our shattered pride, we headed straight to the park's restaurant.
"We may have lost this encounter, but we have won the day" I thought.  We may not have given the residing prawn population a run for their money but we did have several hours of fun as a family.  Huka Prawn Park's prawns haven't seen the last of me yet!  Rest In Peace Percy!