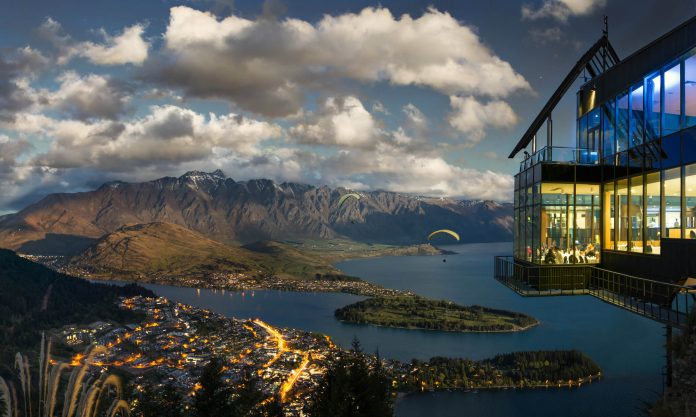 What could be more appealing than sipping cocktails or "fine-dining" on a roof-top bar or restaurant that has the most amazing killer views?  Whether you're perched, eagle like, above a neon-lit city; absorbing 360 degree views; soaking up panoramic views of sun-kissed coastlines; or experiencing a sun set over ancient ruins, some bars & restaurants leave a indelible image long after the ice cubes have melted and the credit card statements have arrived home.
Here are 10 of my favourite roof-top bars & restaurants.  For one reason or another, all of them have left a life long impression on me.
Skyline Restaurant, Queenstown, New Zealand
Queenstown, on New Zealand's South Island, is often labelled as the Southern Hemisphere's adventure capital.  And no trip to Queenstown could ever be complete without taking the heart-pounding 730 metres Gondola ride to the Skyline Complex.
Work up a healthy appetite as your metabolism works over time as you thunder around death-defying bends on the 800m track in a specially designed Luge. I have to admit that the food is not amongst the greatest I've ever had.  But the restaurant's views over-looking Lake Wakatipu, steeped in Maori legend, & Queenstown's Remarkables Mountain range more than make up for it.  These post-card views corner ensure that it remains a firm favourite in our family.
Second Sin, Delhi
Second Sin
Think of Delhi and you probably imagine noise, hustle & bustle.  I recently visited Delhi with my son, Rhys, and our hosts from UOR Travels had planned a surprise for his pending Birthday.  Led out onto the restaurant's newly refurbished roof top Kebab Terrace, we'd been given exclusive use before its official opening one week later.
The terrace boasts a very surprisingly relaxed setting and views over the entire city.  As chefs prepare the most succulent chicken kebabs with delicate Indian spices you'll ever taste, Second Sin offers a peaceful haven away from Delhi's constant sprawling populace.
Dionysos Zonars, Athens
Dionysos Zonars
I was lucky enough to work in Athens a few years ago and still hold fond memories of this ancient city.  There are of course many restaurants that offer views of the Acropolis.
But Dionysos Zonars combines unobstructed views, great ambience & first class food and an unhurried atmosphere.  Why settle for anything less in the "City of Gods?" Eating traditional Greek Moussaka and sipping some belly-warming Ouzo whilst sitting watch the sun set over the Parthenon is a truly magical experience.
It's not hard to imagine the pride that the ancient Greek gods would have had as they watched over this awesome piece of history.
QDeck, Gold Coast Australia
QDeck
After 43 ear-popping seconds in the lift to reach the Observation Bar on the 77th floor, I was ready for a drink and something to eat to steady my nerves!
At the top of one of the World's tallest residential buildings, The Q1 attracts the shorts & jandals "brigade" as well as the more discerning tourist, happy to pay a premium for a drink with a view. Stepping out of the lift, I was greeted by 360 degree views of Australia's playground.
As the sun sets over the Hinterland and the Gold Coast's theme parks, the network of waterways & multi-million dollar waterfront homes began to sparkle like tinsel-town.  Surfers trying to catch one last "aerial" or "a 360" as the waves break on Surfers Paradise's famous golden beaches probably explains why the golden tanned barman was a little too polite for my liking.
Sky Tower, Auckland, New Zealand
Sky Tower, Auckland
I have included Orbit's revolving restaurant in my top 10, as it's in my home city, Auckland.  Actually it's more than a restaurant.  Reaching a height of 190 metres, it's part of Auckland's iconic Sky Tower – the tallest man-made structure in the Southern Hemisphere.
The Orbit has become a firm favourite with my 12-year-old daughter who has seen it as a "right of passage" to celebrate many of her Birthdays!  With a polite request, reservations can be made to ensure guests are strategically placed to gaze out over Auckland's aquatic playgrounds – the Waitemata Harbour and Hauraki Gulf – and then watch the sun set over the Waitakere Rainforest.
By the time dessert arrives, the restaurant begins its 2nd revolution, the sun disappears, and Auckland transforms into a neon metropolis right before your eyes.  It's not difficult to see why reservations need to be made in advance.
Marina Bay Sands, Singapore
Bay Sands
Singapore will always be a special for me.  I was born there but moved to the UK when I was 3 and have made several visits since. On a recent "stop-over" to India, I was curious what the new cloud-piercing structure was in Singapore's Marina Bay water-front.
The recently opened and aptly named Marina Bay Sands reaches nearly 200 metres and features 3 cascading hotel towers.  One of its "jewels in the crown" is its rooftop – a breath-taking "sky park" with panoramic views of the entire city.  Visitors have no trouble finding a quiet spot to enjoy a drink on one of its many observation decks.
The hotel is a far cry from the days when I sipped (allegedly!) my Dad's Tiger Beer on the Padang in downtown Singapore!
Real Café, Santiago Bernabeu, Madrid
Real Café
I'm sure that some may say that this is an odd choice to be in a top 10.  But as a football aficionado who has worked in Madrid, I can vouch for the fantastic panoramic views that the Real Cafe Santiago Bernabeu boasts.
The Santiago Bernabéu Stadium is home to Real Madrid football club.  On match day 92,000 fans wearing replica white jerseys cheer as their 'madrileno' icons display their skills on an immaculate bowling-green like playing surface 80 metres below.  Whether toasting a Real victory or drowning out the disappointment of defeat against arch-rivals, Barcelona, the bar & restaurant is the perfect place to grab a San Miguel and tapas before and after a game.
Hotel do Chiado Lisbon, Portugal
Hotel do Chiado Lisbon
Lisbon is nothing short of a lovely city.  I have many happy memories of family holidays in Portugal and it's an area that I miss since moving to New Zealand.
One of Lisbon's most reputable rooftop locations is at the Hotel do Chaido, which overlooks the charming & historical capital city.  It boasts outstanding views of Lisbon, Castelo de Sao Jorge & the River Tagus and is an excellent location to "people-watch" or simply enjoy Lisbon's mild all year round climate.
Panoramic Bar, Paris, France
Panoramic Bar
I frequently reminisce about the amazing view of the Eiffel Tower and Sacre Coeur from the office I shared with colleagues in Paris.  I am not a great fan of Paris, per se, but have to admit that its sky-line at night has to be one of the most spectacular in Europe. The Panoramic Bar, on Concorde La Fayette's 34th floor, conjures up unforgettable views of the Eiffel Tower and Parisian nightlife.  And what view would be complete without the unmistakeable Arc de Triumph, which is also visible from the bar?
Panoramic Bar's view will take your breath away the second you set foot inside the bar.  Large floor to ceiling windows frame the city lights in all their splendour.  Relax on leather bar stools and indulge in one of France's ubiquitous offerings – champagne!
Shahpura House , Jaipur,
Shahpura House
Sitting in the courtyard at Shahpura House it's easy to imagine India in her days of Maharajas and Rajputs.  With views of Amber Fort and the surrounding Aravali Hills, the restaurant offers a perfect place to unwind with a bottle of Kingfisher after a busy day of exploring Jaipur.
Hidden in one of Jaipur's affluent residential areas, Shahpura House offers the opportunity to feast on sumptuous Mughal cuisine under candle-lights, stars and soft music.  The well maintained gardens & water fountains mean that no-one is forced to rush off after finishing their meals.
Do you have a personal favourite to share?  I'd love to hear your feedback or for you to share your own experience of a roof top restaurant or bar where spectacular views are always on the menu!