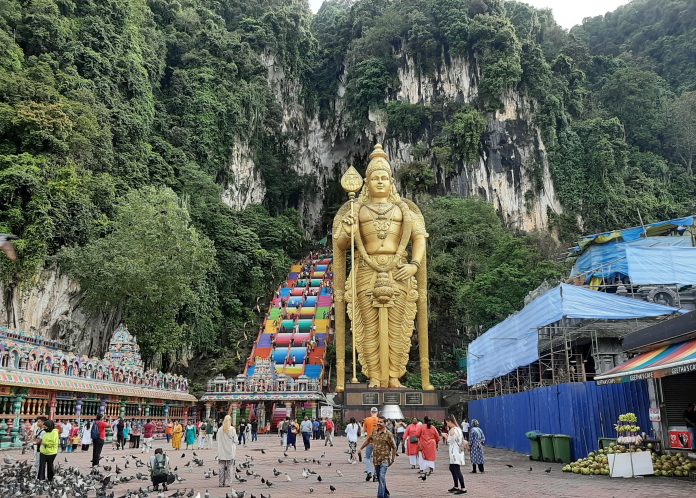 From Skyscrapers to Street Food: Why Kuala Lumpur Offers Something for Everyone
Kuala Lumpur, Malaysia's capital, is vibrant.
It's a bustling city offering visitors a unique blend of modernity and tradition.  It's a melting pot of cultures and boasts a good range of attractions that make it a popular tourist destination.  And many of the best places to visit in Kuala Lumpur are free!!
One of the top reasons to visit KL is its impressive skyline. The Petronas Twin Towers are the city's most iconic landmarks.  They provide visitors with stunning views of the city. They are also home to a shopping mall and an observation deck.
Kuala Lumpur is a shopper's paradise. The city has numerous shopping options, from high-end luxury brands to local markets where visitors can haggle for bargains.
Kuala Lumpur is a food lover's haven, with cuisines to suit all tastes.  Tuck into traditional Malay cuisine or try out the many street food options available throughout the city.
KL has a rich, cultural, heritage. The city has several museums and cultural attractions, including the National Museum and the Islamic Arts Museum.
Overall, KL is ideal if you looking to experience a unique blend of modernity and tradition, with a range of attractions to suit all tastes.
In this article, I highlight some of my best places to visit in Kuala Lumpur.
Day 1
(Morning)
From Caves to Monkeys: Discover the Wonders of Batu Caves
The iconic Batu Caves is probably high on anyone's list of the best places to visit in Kuala Lumpur.
Situated a short drive from the city centre, they combine an incredible cultural and natural experience that you won't want to miss.
The limestone caves and cave temples have been a place of worship for Hindus for over 100 years. The most famous feature is the 140-foot statue of Lord Murugan.  Guarding the entrance to the caves, it's one of the world's tallest statues.
Take deep breaths.  You'll need to climb 272 steps to the main cave, which are adorned with intricate Hindu shrines and statues. The views from the top are impressive and offer a unique perspective of Kuala Lumpur.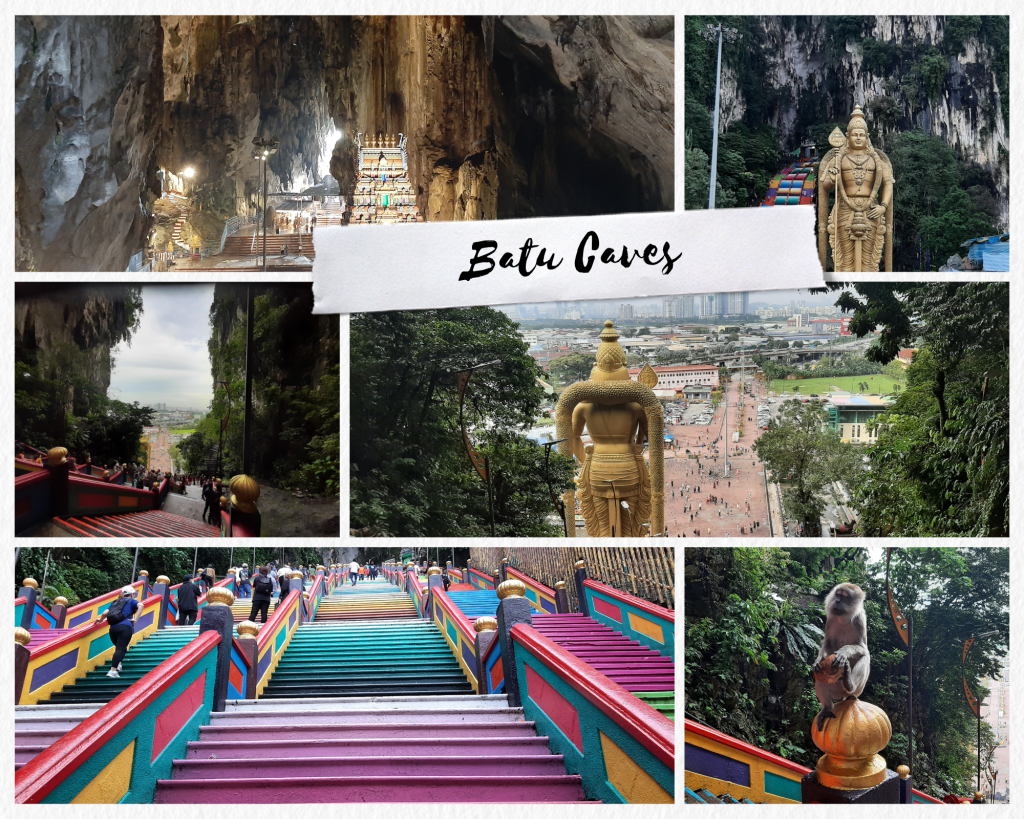 EDITOR'S TIP: Wear comfortable shoes and clothing as the climb can be quite strenuous, and bring some water as it can get quite hot.
Location: Batu Caves, Selangor, 68100
Timings: Temple (Main) Cave Open 6.00am – 9.00pm / Ramayana Cave Open 9.00am – 6.30pm
Dark Cave Open 10.00am – 5.00pm (Weekdays) 10.30am – 5.30pm (Weekends)
Cave Villa 8.30am – 5.30pm (Hourly dance shows begin at 10.30am)
Recommended Duration: 2 hours
Admission: Temple (Main) Cave Free / Ramayana Cave RM5 / Dark Cave Adults RM35, Children (below12) RM25 ~ Cave Villa RM7 (Malaysians), RM15 (Foreigners)
Indulge in Malaysia's National Dish, Nasi Lemak
Nasi lemak is quintessential Malaysian.  The dish has gained worldwide recognition for its unique taste and diverse range of ingredients. In KL, the hub of traditional nasi lemak recipes, it's prepared and served in various styles, reflecting the city's multicultural background.
Typically, nasi lemak comprises fragrant coconut rice, fried anchovies, sliced cucumber, roasted peanuts, and sambal, a spicy sauce made with chili, garlic, and other spices.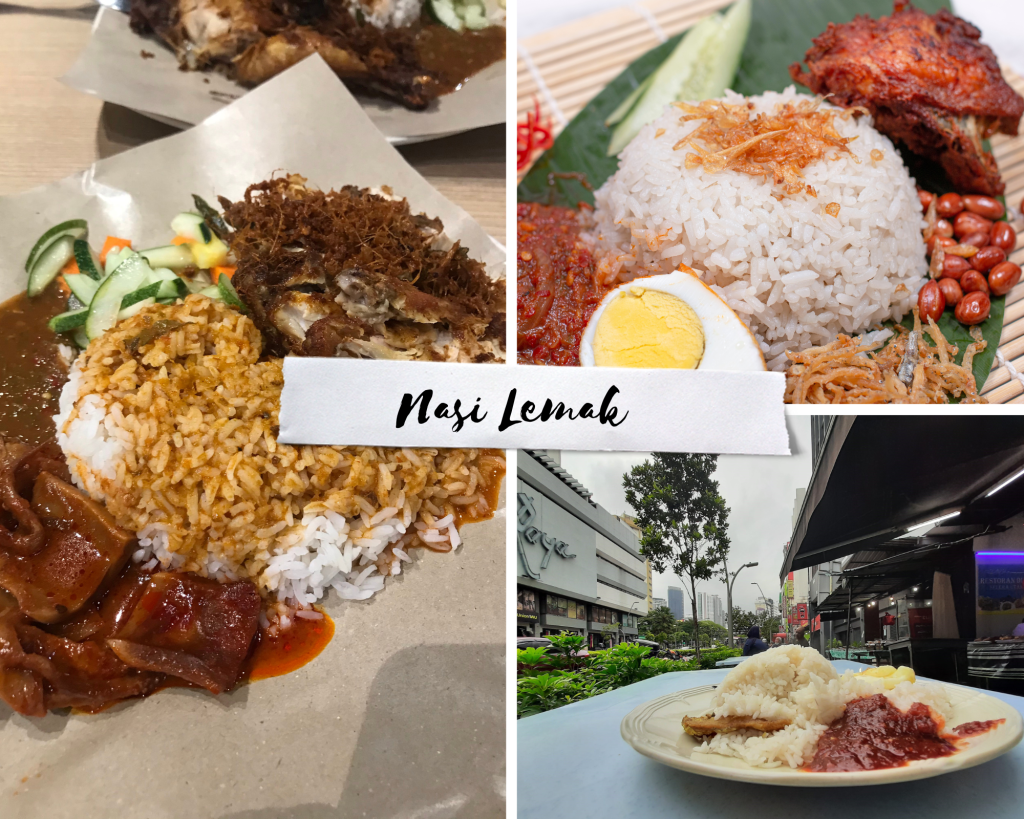 Throughout KL, nasi lemak is not limited to the traditional version.  It's often paired with dishes like fried chicken, beef rendang, or even seafood.
Nasi lemak is a staple breakfast or lunch option for Malaysians. It's readily available in street stalls and restaurants throughout the city.
I can certainly vouch for its popularity.  I ate at least three meals during my 2-day stay!
Don't miss the opportunity to try this savoury delicacy.  Explore the various versions available, whether it be from a roadside stall or a high-end restaurant.
Nasi lemak is undoubtedly one of the must-try foods when visiting the city.  It'll leave you craving for more.
(Afternoon)
Experience the Vibrant Traditions of Kuala Lumpur's Chinatown
KL's vibrant and bustling Chinatown offers a glimpse into the city's Chinese community's rich and diverse culture. The neighbourhood is the place to be if you're looking for authentic Chinese cuisine, traditional crafts, and lively street markets.
Stroll through its streets and sample a variety of delicious street food, from steaming bowls of noodle soup to freshly baked pastries. The area is home to numerous markets and shops.  They sell everything from antiques and souvenirs to handcrafted jewellery and traditional Chinese medicines.
Overall, exploring Chinatown is exciting and enriching.  It opens a window into the rich cultural heritage of Malaysia's Chinese community.
Explore Sri Mahamariamman Temple's Stunning Architecture and Artwork
Strangely, one of the Chinatown's most popular landmarks is Sri Mahamariamman Temple.
Built in the late 19th century, it's dedicated to the Hindu goddess Mariamman, known for her healing powers.
The temple's stunning architecture features South Indian and Dravidian styles, including intricate carvings, colourful paintings, and towering gopurams (entrance towers).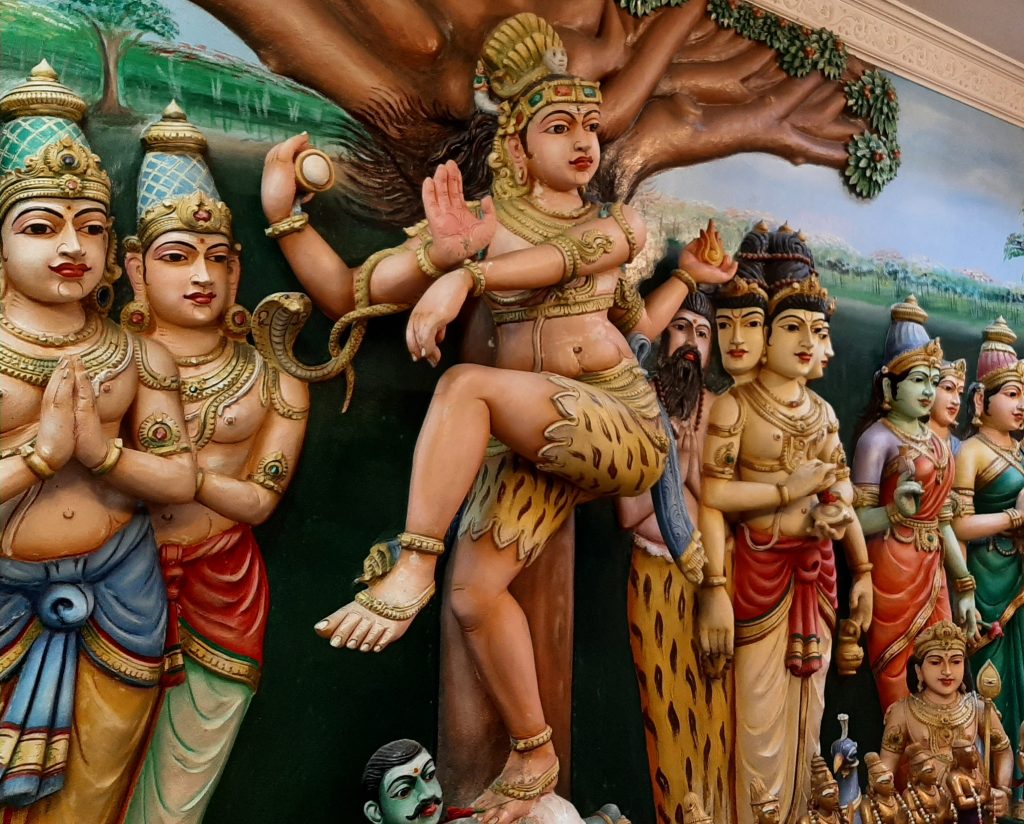 Inside, the main shrine is dedicated to Mariamman, with smaller shrines for other Hindu deities surrounding it. The temple is a popular destination for religious festivals, including Thaipusam, which attracts thousands of devotees every year.
Location: Chinatown at Jalan Tun H S Lee, City Centre, 50000
Timings: Sundays to Thursdays 6:00 am to 1:00 pm and 4:00 pm to 8:00 pm
Fridays 6:00 am to 1:30 pm and 4:00 pm to 9:30 pm / On Saturdays 6:00 am to 1:00 pm and 4:00 pm to 9:00 pm
Note: Timings may differ during the festivals.
Recommended Duration: 1 hour
Admission: Free, although a small fee may be charged for storing your shoes outside the temple. Shoes are not allowed inside the temple.
(Evening)
Experience the Magic of Sunset from the Iconic KL Tower
The sunset view from KL Tower is one of the city's most spectacular sights.  Many visitors will have no doubt ranking its as one of their best places to visit in Kuala Lumpur.
The tower, 421 metres high, offers panoramic view of the city's skyline and the surrounding areas. As the sun sets, the sky becomes into warm hues of orange, pink, and purple.
Enjoy sunset view from the tower's observation deck, which offers unobstructed city views.
Its observation deck is equipped with binoculars.  From there, you'll get a bird's eye view of Petronas Twin Towers, KLCC Park, and Merdeka Square.
Visitors indulge in other activities, including dining at the tower's revolving restaurant, taking a SkyBox ride, or the tower's base-jumping experience.
Location: No. 2 Jalan Punchak Off Jalan P.Ramlee 50250
Timings: 9:00am until 10:00pm (365 days a year)
Recommended Duration: 1 to 2 hours
Admission: RM17.00
Treat Your Taste Buds to a Mouth-watering Dinner in Jalan Alor
Dinner at Jalan Alor is an experience not to be missed for food lovers. Located in the heart of the city, Jalan Alor is a bustling street filled with hawker stalls offering a variety of Malaysian delicacies.
As the sun sets, the street comes alive with colourful lights and the aromas of delicious food wafting through the air. From grilled seafood to steaming hot bowls of noodles, Jalan Alor offers something for every taste bud.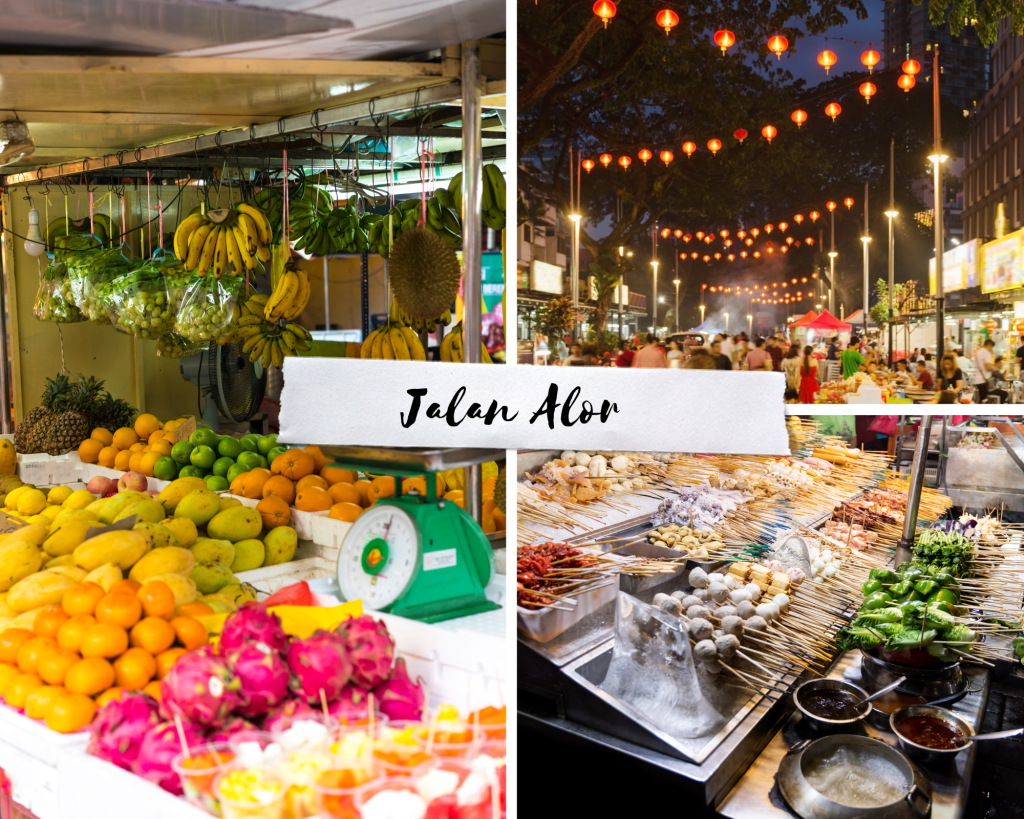 It's atmosphere is lively and vibrant. Locals and tourists alike gather to enjoy the food and soak up its ambiance. Street performers add to its festive mood, providing entertainment while people dine.
With so many options to choose from, it can be overwhelming to decide what to try. Don't worry.  The friendly stall owners are always happy to make recommendations.
Day 2
(Morning)
Up, Up, and Away: Experience the Thrill of Petronas Towers
KL's Petronas Towers are an iconic symbol of modern architecture and engineering. Standing 452 metres tall, they were once the world's tallest buildings and remain a major tourist attraction.
Visitors take tours of the towers and enjoy views of the city's skyline from the observation deck on the 86th floor. The tour includes a brief history of the towers, as well as information on their design and construction.
For an adrenaline rush, the skybridge connects both towers. At 170 metres above ground, it offers a unique and exhilarating perspective of the city.
Suria KLCC shopping mall, located at the base of the towers, houses a wide range of international brands and local boutiques.
Location: Petronas Twin Towers, Kuala Lumpur City Centre, 50088 Kuala Lumpur,
Openings: Tuesday – Sunday and Public Holidays: 10.00am – 6.00pm (Last Admission at 5.30 pm) / Monday: CLOSED
Recommended Duration: 1 to 2 hours
Admission: Malaysians Child 3–12 years old (RM17) Adult (RM35) / Senior Citizen 60+ (RM17/)
Foreigners: Child 3–12 years old (RM50) Adult (RM98) / Senior Citizen 60+ (RM50)
Experience a brunch to remember at VCR, Kuala Lumpur's hidden gem.
VCR, is nestled in the heart of the trendy Bukit Bintang neighbourhood.  The café is  popular for its delicious breakfast offerings and specialty coffee.
Its menu features a variety of breakfast dishes to satisfy most appetites. It serves classic dishes like Eggs Benedict and French Toast.  And more unique offerings like the Japanese-inspired Oyako Don and the hearty Big Breakfast.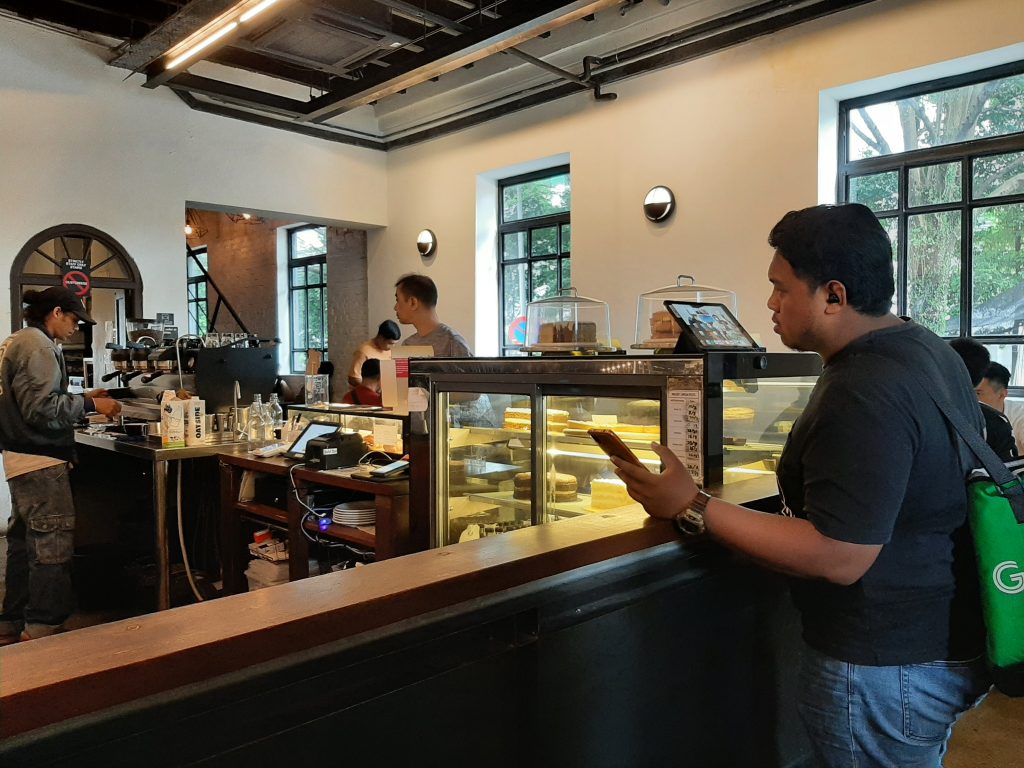 Its standout dish is the VCR Signature Waffle. It's topped with generous servings of fresh fruit and a dollop of whipped cream. The coffee menu is equally impressive, featuring many specialty brews, expertly crafted by skilled baristas.
Its relaxed atmosphere, delicious food, and top-notch coffee, breakfast at VCR make it a must-visit destination when in Kuala Lumpur.
Location: VCR, 2, Jalan Galloway, Bukit Bintang, 50150 Kuala Lumpur
(Afternoon)
Unveiling History, Culture, and Faith Inside the National Mosque of Malaysia
The National Mosque of Malaysia ("Masjid Negara"), conveniently located in the heart of the city, symbolises Malaysia's commitment to Islam.
Built in 1965, the mosque's design combines traditional Islamic and modern architectural styles. The main prayer hall accommodates up to 15,000 worshippers.  And its stunning, blue-tiled roof is a striking feature visible from afar.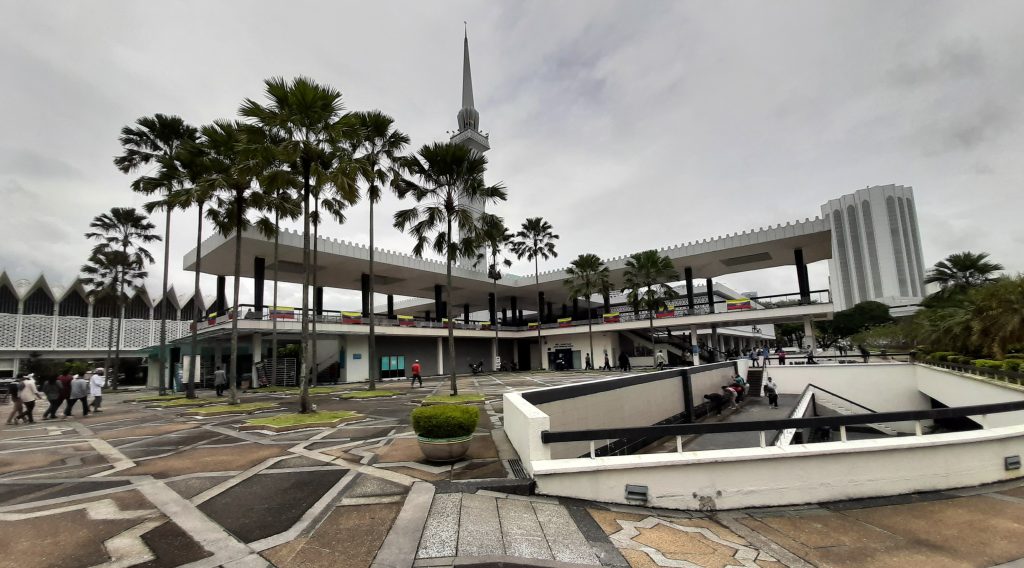 Visitors can take guided tours to learn about its history, design, and significance to the Malaysian people. Explore the beautiful gardens and fountains surrounding the mosque, which provide a peaceful retreat from the bustling city.
EDITOR'S TI: Plan your visiting times carefully. The mosque is largely off limits to non-Muslims and tourists on Fridays.
Location: Malan Perdana, Tasik Perdana, 50480 Kuala Lumpur
Timings: Hours vary depending on prayer times
Recommended Duration: 30 minutes
Admission: Free
Escape the Hustle and Bustle at Perdana Botanical Gardens
Perdana Botanical Gardens, is a beautiful, serene oasis amidst the city's hustle and bustle.
It probably wouldn't be on everyone's list of best places to visit in Kuala Lumpur.  But spread across 91.6 hectares of lush greenery, they offer a refreshing escape from the urban chaos. Formerly known as Lake Gardens, the gardens boast an array of flora and fauna.
They are home to over 1,700 species of plants, including rare and exotic varieties from all around the world.
Stroll through its tree-lined paths.  Enjoy a picnic on the spacious lawns.  Admire the many water features and sculptures scattered throughout the grounds. The gardens house several notable landmarks, such as the Orchid Garden, Hibiscus Garden, and the National Monument.
With its tranquil beauty and diverse attractions, it's no wonder that the gardens are a popular spot for tourists and locals alike.
Location: Jalan Kebun Bunga, Tasik Perdana, 55100
Timings: 7am to 8pm
Recommended Duration: 1 to 2 hours
Admission: Free
Thean Hou Temple: Discovering Kuala Lumpur's Iconic Buddhist Landmark
Thean Hou Temple, a prominent Chinese temple, is popular with both locals and tourists.
The temple is dedicated to the Chinese sea goddess Mazu, who is revered as the protector of seafarers and fishermen.
It also serves as a place of worship for other deities such as Guan Yin, the goddess of mercy, and Shui Wei Sheng Niang, the goddess of the water source.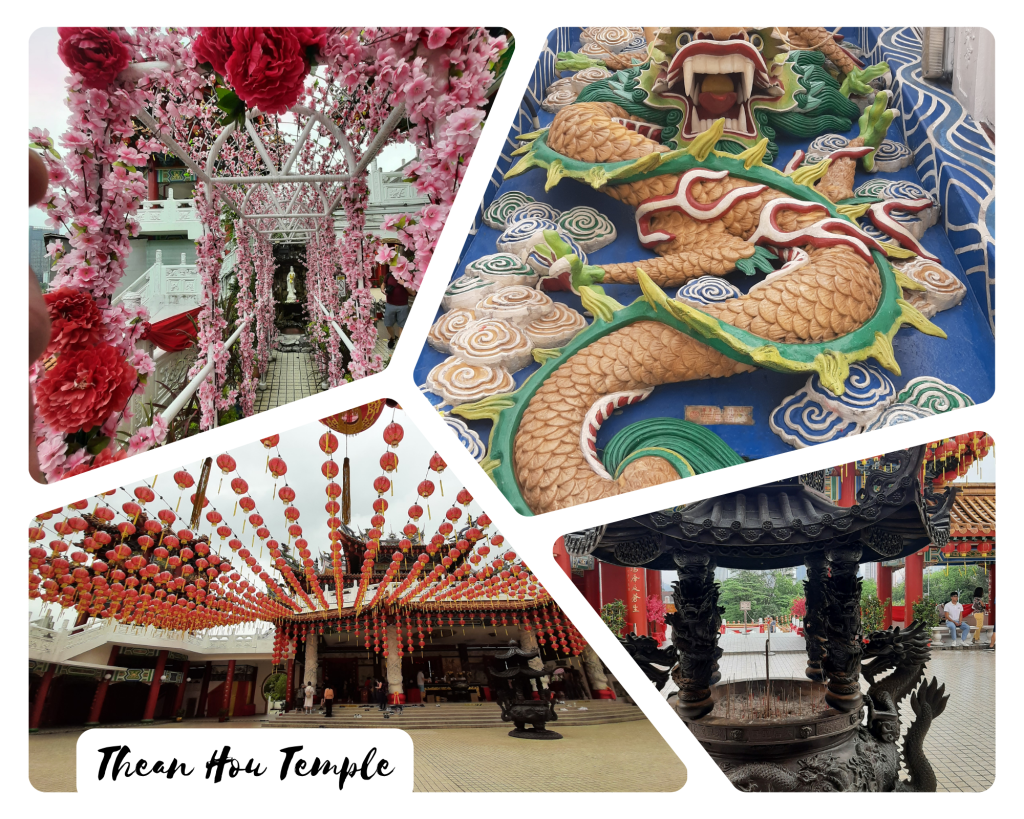 In addition to its religious significance, Thean Hou Temple is also admired for its stunning architecture. Admire the sweeping curves of its tiled roof and vibrant colours of its ornate carvings.  Marvel ay the delicate sculptures of dragons and other mythical creatures.
Inside, visitors light incense, make offerings, and pray to the goddess for protection, good health, and prosperity.
Thean Hou Temple is not just a place of worship, but also a cultural and educational centre. The temple hosts various cultural events and festivals throughout the year, showcasing the vibrant traditions and customs of the Chinese community.
Location: 65, Persiaran Endah, Taman Persiaran Desa, 50460 Kuala Lumpur,
Timings: Every day 8am to 10pm
Recommended Duration: 1 to 2 hours
Admission: Free
Peek into the Opulence of Istana Negara: The Regal Splendour of Malaysia's Presidential Palace
Istana Negara, or National Palace serves as the official residence of King Yang di-Pertuan Agong.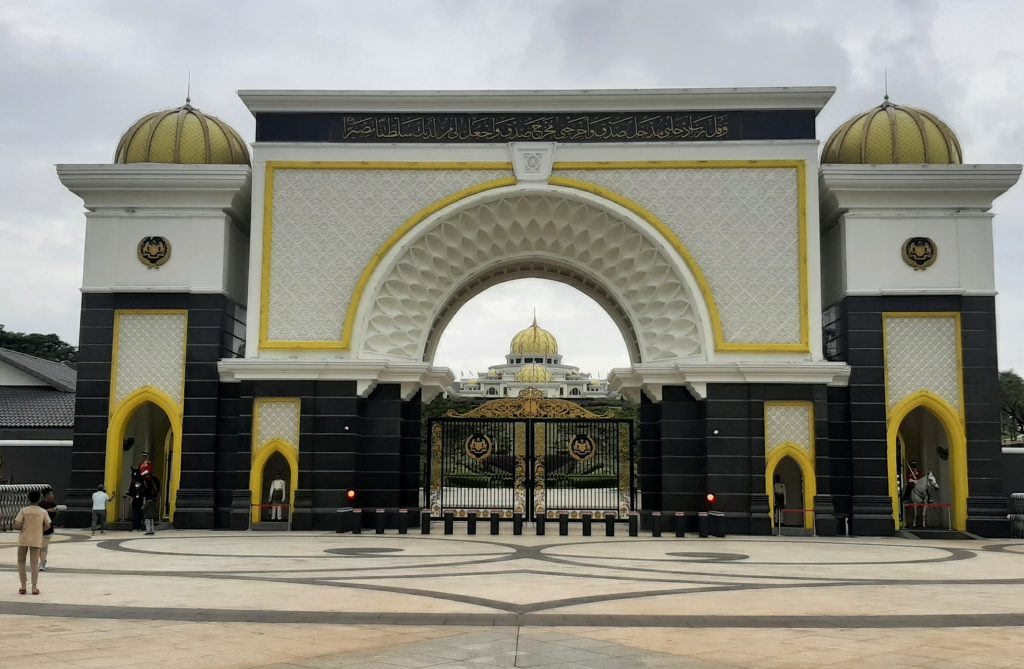 Built in 1928, the palace was originally the residence of a wealthy Chinese businessman. The Malaysian government acquired it in 1957. The palace boasts a stunning blend of Islamic and Western architectural styles, with intricate carvings, beautiful gardens, and grand halls.
Visitors must admire the palace's beauty from the outside.  Unfortunately, it's not open to the public. However, tourists can witness the changing of the guards ceremony, which takes place daily at the palace's main entrance.
Location: Jln Tuanku Abdul Halim, Bukit Damansara, 50480 Kuala Lumpur
Timings: 24 hours
Recommended Duration: 1 hour
Admission: Free (No entry to Palace grounds)
(Evening)
Experience the Ultimate Dining and Drinking Experience at Heli Lounge Bar
Heli Lounge Bar offers a breath-taking view of the city. Located on the 34th floor of Menara KH, this rooftop bar is popular.
One of its main attractions  is its helicopter pad, which is transformed into a bar and lounge area during the evening. Visitors enjoy a variety of drinks, including cocktails, wine, and beer, while taking in panoramic views of KL's skyline.
The bar also offers a menu of delicious snacks and light bites to accompany the drinks. From satay to nachos, there's something to satisfy everyone's taste buds.
Heli Lounge Bar also hosts live music performances and DJ sets on certain nights, adding to the lively atmosphere.
Location: 34 Menara KH, Jln Sultan Ismail, Bukit Bintang, 50450,
Timings: 5:00pm to 11:30pm
Recommended Duration: 1 to 2 hours
Admission: Free.
Unwind, Dance and Drink the Night Away at Changkat Bukit Bintang's Most Popular Hotspots.
Changkat Bukit Bintang is one of KL's liveliest and most popular entertainment districts. Packed with trendy bars, clubs, and restaurants it caters to all tastes and preferences.
From sophisticated cocktail bars to rowdy sports pubs and everything in between, you'll easily find a place that suits your mood and vibe. The area attracts both locals and tourists, making it a great place to meet new people and experience different cultures.
Accommodation Options
Budget-Friendly Accommodation
Finding affordable accommodation in KL city can be a daunting task for budget-conscious travellers. But fret not, plenty of options are available if you want budget-friendly accommodations in the city.
Hostels are popular and offer a comfortable stay at a fraction of the cost of hotels. Most hostels offer shared dormitory rooms as well as private rooms, making it a great choice for solo travellers or groups.
Another option is budget hotels, which provide basic amenities such as air-conditioning, TV, and Wi-Fi at affordable prices.
For a more authentic experience, opt for homestays or guesthouses.  They offer a chance to stay with locals and experience their way of life. They often come with home-cooked meals and a chance to learn about the local culture.
With a little research and planning, you can easily find budget-friendly accommodation in KL without compromising on comfort or location.
Mid-Range Accommodation
These mid-range hotels are popular for those who wants to balance comfort with affordability.
KL's mid-range accommodation usually comprise spacious rooms with comfortable beds, basic amenities, and a decent level of service. They are typically located in convenient locations, close to the city's popular attractions, shopping malls, and public transportation.
Some popular mid-range hotels in Kuala Lumpur include Citin Hotel Masjid Jamek, Swiss Garden Hotel & Residences, and Hotel Sentral Kuala Lumpur. They offer comfortable accommodation, good food, and friendly service, making them ideal for budget-conscious travellers.
Overall, mid-range accommodation in KL provides a great balance between comfort, convenience, and affordability.  They are an excellent choice for visitors looking for a comfortable stay without breaking the bank.
Luxury Accommodation
The city boasts some of the world's most luxurious hotels.  The Mandarin Oriental, Ritz-Carlton and Four Seasons are among them.
These hotels offer top-notch amenities such as infinity pools, award-winning restaurants, and spa facilities.
If you prefer more privacy and space, there are also luxurious serviced apartments.  The Ascott Kuala Lumpur and the St. Regis Kuala Lumpur Residences are popular. These apartments come with fully equipped kitchens, living rooms, and dining areas, as well as access to all the amenities of a five-star hotel.
Whether you are in KL for business or leisure, the city's luxurious accommodation provide the perfect setting for a comfortable and unforgettable stay.
Getting Around Kuala Lumpur
Public Transport
KL's public transport system includes buses, trains, and monorails, and cover almost all areas within the city limits.
One of the city's most popular modes of public transport is the RapidKL bus system. With over 170 routes, it's easy to get to any part of the city. The buses are air-conditioned, and the fares are very affordable, making it a great option for those on a budget.
Another popular mode of transport is the MRT and LRT trains. These trains are connected to most parts of the city.  They are a great option to avoid the heavy traffic during peak hours. The trains are air-conditioned, making them a comfortable alternative.
KL's Monorail is another great option. It runs through the city's busiest areas, making it ideal of you want to see the city's landmarks while sitting down!
Overall, using KL's public transport is convenient and affordable. It's also a great way to experience the local culture and meet new people while travelling.
Taxis
KL's taxis can be an efficient and convenient way to see the best places to visit in Kuala Lumpur. Especially if you are unfamiliar with the local public transport system.
They are widely available and can be hailed on the street, or through ride-hailing apps such as Grab and MyCar. Fares are metered, to help reassure you that you're paying a fair price.
However, additional charges apply for tolls and surcharges for rides to certain destinations and during peak hours.
Taking a taxi in KL can save time and provide a more comfortable ride compared to other forms of transport. They will take you directly to your destination without needing multiple transfers or stops along the way. Additionally, they are air-conditioned, which can be a welcome relief from the city's heat and humidity.
While taking a taxi in KL can be convenient, exercise caution and be aware of potential scams. Only take taxis registered with the government and display a valid license.  And ensure the taxi driver starts the meter at the beginning of the ride so you are not overcharged.
Ride-Sharing Services
Ride-sharing services have revolutionised how people commute in KL. With their convenience and affordability, more people are turning to ride-sharing services to navigate the city's busy streets.
Grab, Southeast Asia's leading ride-sharing service, dominates the market with its extensive coverage and competitive pricing. Other popular ride-sharing services in Kuala Lumpur include MyCar, MULA, and GoCar.
I used Grab extensively during my stay.  Fares are very economical and the app is easy to use.  I recommend it to reach some of the best places to visit in Kuala Lumpur.
Apart from being a more affordable and efficient way to get around, ride-sharing services may be safer alternative to traditional taxis. With GPS tracking and driver rating systems, some passengers feel more secure.
Ride-sharing services have helped to reduce the city's traffic congestion.  It has encouraged carpooling and reducing the number of vehicles on the road.
Conclusion
My second trip to Kuala Lumpur was memorable and filled with fascinating sights, sounds, and tastes.  The city's is a must-try for any foodie. I couldn't get enough of nasi lemak, laksa, and satay, which were bursting with flavours.
Batu Caves, with its towering statue of Lord Murugan and 272 steps to the top, was another memorable experience.  Although climbing up the stairs to the main cave was much more challenging than my last visit!  But the stunning views and peaceful atmosphere were well worth it. The Hindu Temple's vibrant colours and intricate carvings were also a feast for sore eyes.
Lastly, with its excellent transport system, getting around the city is a breeze.
I'm sure I'll visit again very soon.  Share in the comments box some of your suggestions of the best places to visit in Kuala Lumpur.