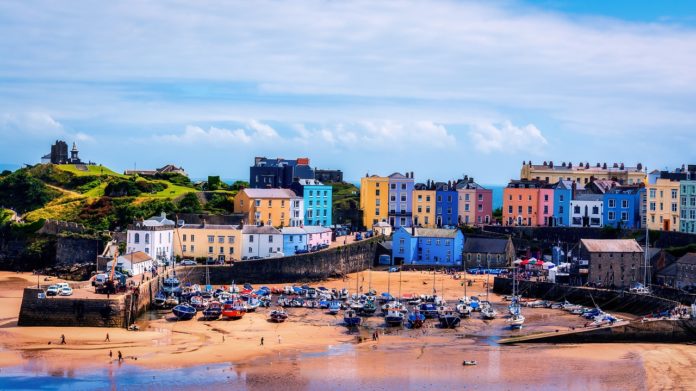 I fondly recall many, and sometimes wet, summer holidays as a child in West Wales.  If you allow it, Pembrokeshire will immediately capture your heart.  Purple-grained sea cliffs fall abruptly to sea caves, golden bays, and rock formations lashed by the Irish Sea.
After you've discovered Pembrokeshire, you'll wonder how it took you so long to visit.
DISCOVER SOME OF THE BEST PEMBROKESHIRE HAS TO OFFER
1.  Tenby
It's not difficult to understand why Tenby was voted the UK's second-best coastal town in 2016.  It's so magical and picturesque that you'll pinch yourself just to confirm it's real.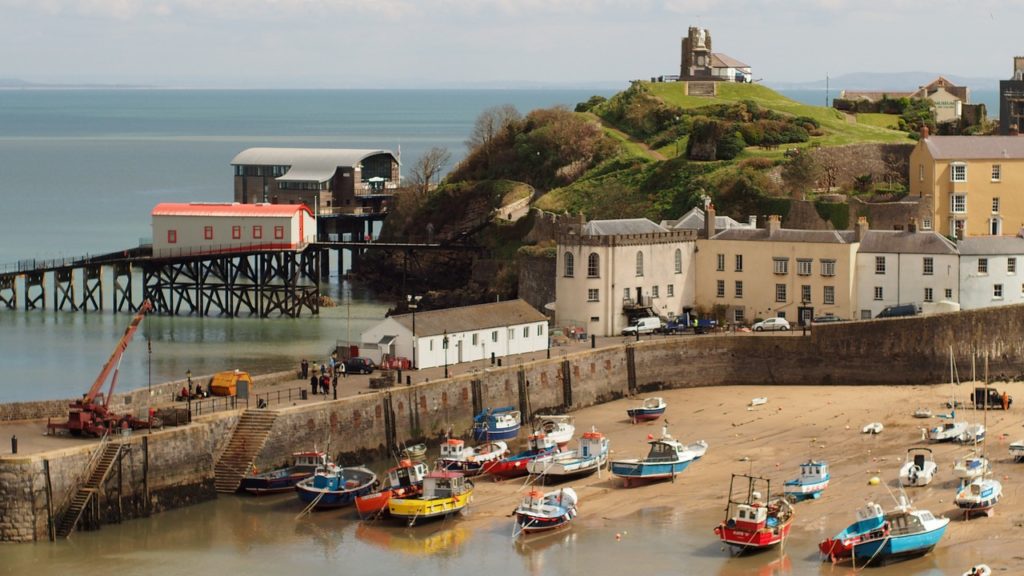 As a child, my annual pilgrimages to Tenby cemented its place at the top of my UK seaside destinations.  It's steeped in history and proudly retains its 13th century town walls.  Its narrow, cobbled lanes, and pastel coloured Georgian homes skip and wind their way down to its small quaint harbour.
And if that's not enough, the town is delightfully rimmed by three sweeping and clean beaches.  The perfect place to unwind and let the children build sandcastles while you scoff ice-cream and watch the seabirds glide by.
2.  St Davids
Sitting on Wales' rugged westernmost peninsula, St Davids lies between St Brides bay, Cardigan Bay and St George's Channel.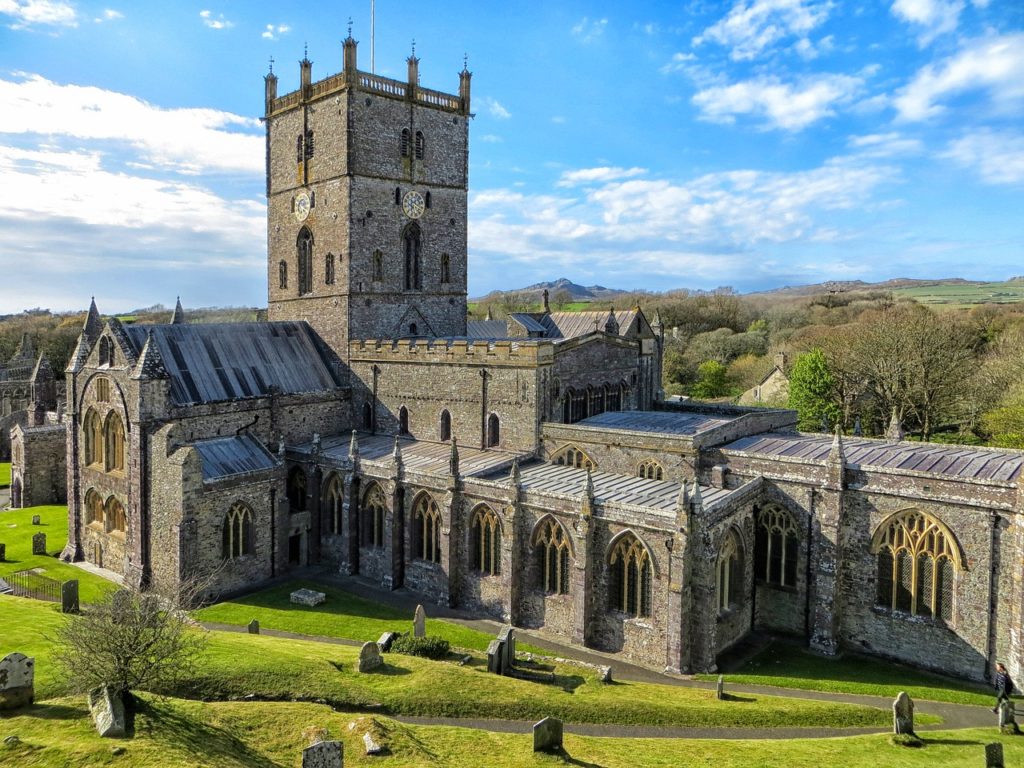 St Davids, birthplace of Wales' patron saint, is the UK's smallest city, with less than 2,000 residents.  Queen Elizabeth II restored its city status in 1994.  Rumour has it that Pope Callixtus II decreed that two pilgrimages to St Davids equalled one pilgrimage to Rome!
No trip to St David's would be complete, without visiting the magnificent 12th century St Davids Cathedral.   Pilgrims have flocked to St Davids for centuries to see and pray at the shrine that allegedly contains the bones of Welsh hero and patron Saint David, who founded a local monastery and preached at the cathedral in the 6th century.
+44 (0)1646 65178 – Opens daily between 09:30 and 17:30. Admission is free but a £5 donation is encouraged.  http://www.stdavidscathedral.org.uk
3.  Carew Castle and Tidal Mill
Carew Castle's spell-binding ruins stand majestically on the River Carew's banks.  It boasts 2,000 years' history and tells of civil war, kingmakers, knights of the realm, and much more.  Locals report seeing several ghosts at the castle.  A Celtic warrior wanders grounds and clanking sounds of pots and pans can be heard from the kitchen.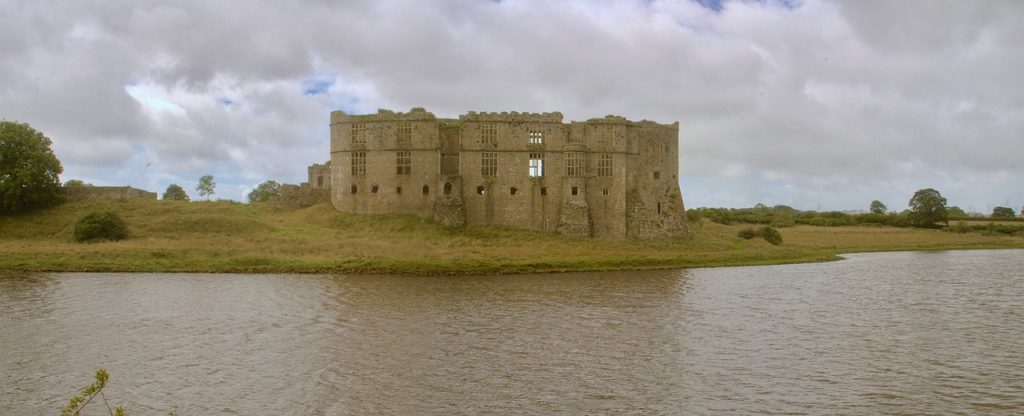 A circular walk around a 23-acre millpond offers stunning castle views from.   every angle.  The castle's northern side was built as a new luxurious wing in Tudor times to enjoy the views across the lake.  The oldest side of the castle dates back to medieval times and faces away from the millpond.  This part was built for defence and has an impressive gatehouse.
A short walk from the castle, Carew Tidal Mill has been fully restored and remains the only one of its kind throughout Wales.
+44 (0)1646 65178 – Open every day from 10:00 to 17:00.  Free guided tours are available at 10:30am and 14:00.  Admission is £6 for adults and £4 for children. http://www.carewcastle.com
4.  Pembrokeshire Coast Path National Trail
Did you know? No part of Pembrokeshire is more than 14 miles from the coast. Or that Wales is the only country with a continuous path around its entire coastline?   Its most famous, Pembrokeshire Coast Path National Trail, twists and turns as it extends 186 miles.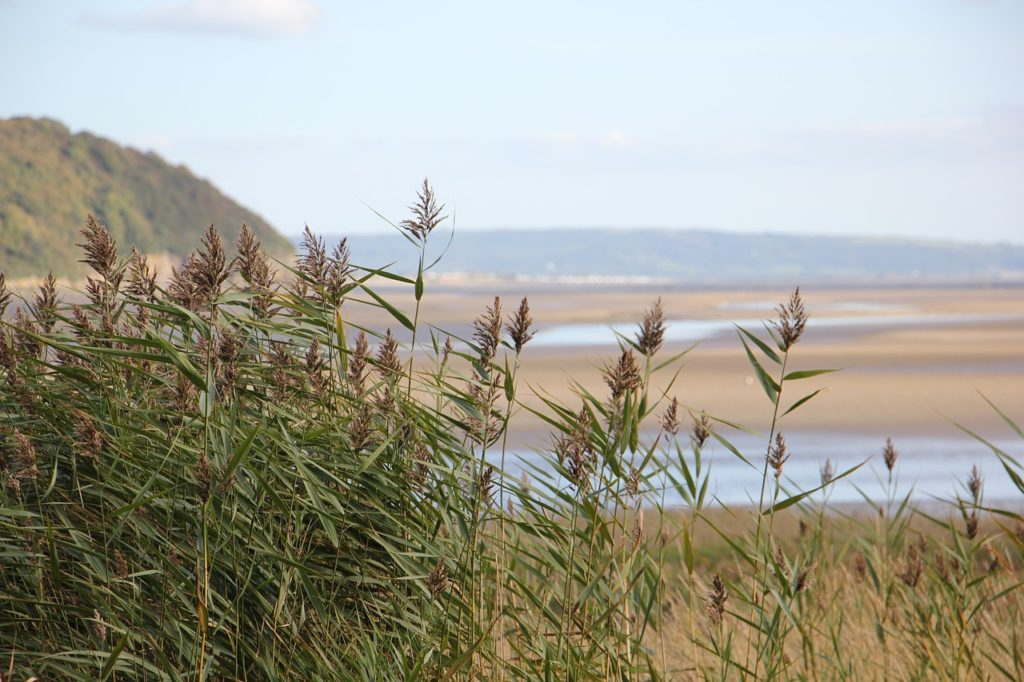 Weaving along a rocky coastline between Amroth and St Dogmaels, the National Trail guides you past spectacular coastal scenery, hidden coves, dramatic cliffs and countryside.  It also offers a wealth of gems such as remote churches, sandy beaches, quaint little quays, and friendly fishing villages.
5.  Skomer Island
Less than one mile off southwest Pembrokeshire's coast, the UK's largest puffin colony call Skomer Island its home.  The best time to spot them is during June and July, after they've returned home after a long winter at sea.  Skomer Island welcomes visitors between 1 April and 30 September.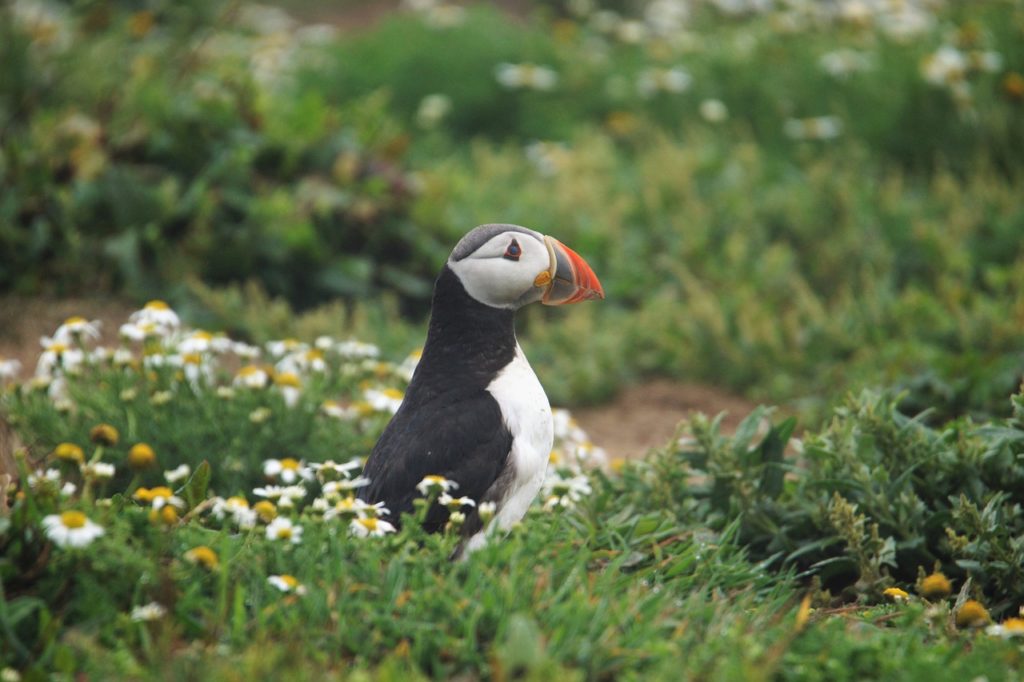 Visitor numbers are carefully managed and strictly limited to 250 per day.  Queues for the fifteen-minute boat trip can be lengthy during peak season, so you'll need to arrive early.  You cannot book in advance, so if you arrive too late, you'll miss out.  Boats leave from the jetty at Martins Haven at 10am 11am and 12:00 and leave the island at 3pm onwards.
OTHER THINGS TO SEE AND DO IN PEMBROKESHIRE
Wales' coast is home to the UK's largest population of bottle-nose dolphins.  Take a boat trip and you could be lucky enough to spot a pod or two.  Porpoises and seals, and an occasional whale are also regularly spotted.
St Brides Bay will reveal picture-perfect sunsets.  With an unbroken horizon stretching out across the sea, watch the sun set seemingly melt in the sea while you relax on the beach.
St Govans Chapel, nestled in Pembrokeshire's southern tip, is a tiny chapel built into limestone rock overlooking the sea.  Preseli "Mountains" form the high backbone of Pembrokeshire.  Its landscape is wild, and contains burial sites dating back to the Bronze Age.
The small market town of Laugharne is where Wales' most famous poet, Dylan Thomas, lived for several years.  He is buried in the village's small cemetery where his simple headstone is easy to find. His home is now a museum.
GETTING AROUND PEMBROKESHIRE
Car – A good road system links all of Pembrokeshire's major towns and villages, with most being served by either bus or train.  Coastal roads are often narrow and may be congested during the peak summer season.
Rail – Pembrokeshire is well served by rail and all the major towns have train stations.  Most trains operate to and from Swansea with many continuing to or from Cardiff.  +44 (0)8457 48 49 50 or www.arrivatrainswales.co.uk
Buses – Pembrokeshire has good bus services.  Public buses operate six days per week between every town.  Heading out to the coast and popular countryside areas is easy, but business to and from some rural locations run less frequently.
Flights – The nearest major airport is in Cardiff which hosts several internal UK flights and flights from Dublin and Cork in Ireland.
WHEN TO GO
Pembrokeshire is often wild and wet during winter months, with strong westerly winds.  Spring's mild weather can be a nice time to visit as everywhere begins to erupt with wild flowers and blossom.
Summer is prime time for camping, and for swimming and surfing.  But you could still be interrupted with the odd shower or two.  Avoiding July's school holidays will snag you better deals and sidestep the swelling crowds.  Early Autumn can be pleasant, with random sunny days, perfect for rambling in the Preseli Mountains and along Pembrokeshire's coastal walkways.
Pembrokeshire is perfect for family holidays that will create lasting memories.  Exploring its castles, coast and boat trips, wild and incredible landscapes and harbours will certainly leave you wanting to return.