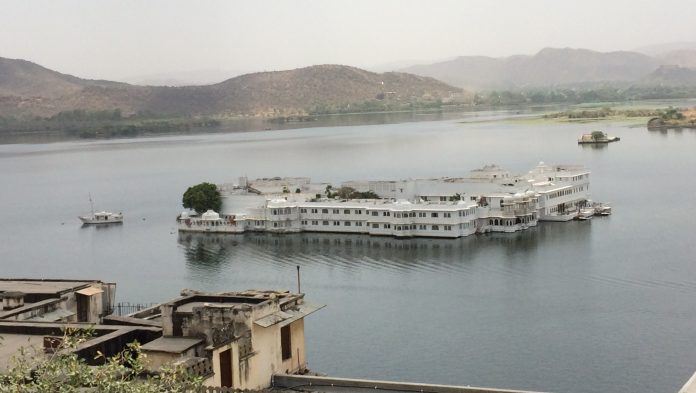 India is a vibrant country steeped in tradition, culture and contrasts.  She boasts mountain ranges, sweeping plateaus (deccans) and deserts, and modern sky-scrapers developed next to slums and temples.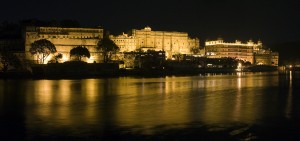 Udaipur nestles in the south western part of Rajasthan and revels in its title of "The Venice of the East" and home to James Bond's Octopussy.  After a few days in Jaipur, Rajasthan's capital, I am looking forward to discovering Udaipur's secrets.
Travelling from Jaipur on an overnight train was supposed to deliver me to Udaipur Central energised and ready to explore what the city has in store for me.  Crawling into cot 12 in carriage B, my nightmare began.
I'm not expecting luxury. But sheets that medical staff in a war zone's makeshift hospital would instantly reject and blankets as rough as a blacksmith's hands soon dispels thoughts of a restful night.
I pray the train's distinctive clickity-clak clickity-clak would be a welcome lullaby and send me into deep slumber.
And it might have done if only the train and my bunk hadn't conspired to provide a 6 hour roller-coaster ride.
It's amazing how quickly a tired, lethargic body can transform itself.  I rub my blood-shot eyes and marvel at Swaroop Vilas Hotel's location.  A cold shower energises me and I'm soon tucking into scrambled eggs made with spices, onions and potatoes served with roti and accompanied by hot spicy pickles.
It is early.  A chorus of birds compete with a Bollywood actor serenading his sweet-heart on TV.  The sun lazily begins to show itself and last night is quickly forgotten.
Anil introduces himself as our chauffeur.  His air-conditioned car is surprisingly clean.  First stop is Jagdish Temple.
Exquisitely carved pillars, decorated ceilings and a spire adorned with images of dancers, elephants and musicians welcome me to this 17th century temple dedicated to Lord Vishnu, the Hindu God.  The four armed idol of Vishnu, that is said to have been carved from single black stone, stirs me.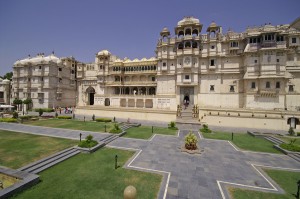 Udaipur's City Palace is reputedly Rajasthan's largest.  Paintings of maharajas, Mewar art and mosaics adorn the walls.  Unobstructed views across Lake Pichola, quaint courtyards and sun-filtered rooms make it easy to understand why Udaipur's Royal Family still occupy parts of the Palace.
I imagine myself as Roger Moore sipping vodka martini as I stroll through the labyrinth of marbled courtyards.
The short drive through the Western Ghats to the 8th century Eklingji temple gives me just enough time to admire the inside of my eyelids.  Anil warns me that "opportunists" occasionally steal shoes from outside the temple that's dedicated to Lord Shiva.
I ponder the solution he presents me and then hesitantly remove my left shoe.  Twenty paces later, I discard my right shoe – that would keep them guessing!
Amused by his ingenuity, I progress and am welcomed by a huge sculpture of Nandi, the sacred bull who was Shiva's loyal steed.
Hilarity ensues as I struggle to recall where I had left my shoes!  I slept well that evening.
The city buzzes with early morning activity.  Vendors set up their market stalls and swat flies; school children walk carefree in a timeless state; dogs sleep under the shade of a tree and buses crammed with at least twice their legal capacity chug slowly through dusty streets.
An old woman is bent over an old Singer sewing machine.  Other women go about their daily routines – they remind of a school of Angel Fish as they glide serenely in brightly coloured saris.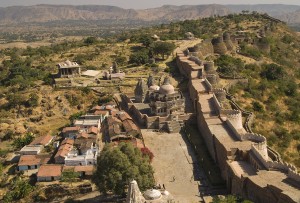 The highlight is yet to come.  Winding roads, pot-holes and absent-minded cows make the 64 kms to Kumbhalgarh Fort seem like 640.  My first view of this 15th century construction leaves a lasting impression as I survey its perimeter walls – surpassed in size only by The Great Wall of China.
No wonder it was only captured once – and then only because the invaders poisoned the water supply.
The short walk uphill to the 'Badal mahal' (Palace of Clouds) rewards me with 360 degree panoramic views.  There is no way I can explore all 350 temples within the fort's grounds. Surrounded by 13 mountain peaks, it's an impressive sight.
A blissful evening is spent walking through Udaipur's narrow cobbled streets.  Cows roam without a care in the world, the sounds of children swimming in the Ghats and old men sipping piping hot chai all add to the charm.
Udaipur's romantic nature is matched only by the warmth and friendliness of its people.  This is India showing all her endless charm.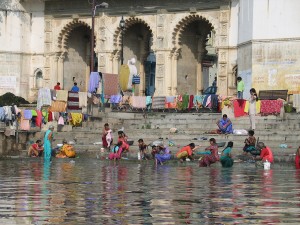 After dinner under the stars, I'm already planning my next trip to the city of the mighty Rajputs!