Today was another official "blob out" day as we needed to check out the hotel by 12:00 and were flying back to Mumbai in the afternoon.  The day got off to a bad start as Rhys discovered that someone had stolen his "favourite" shoes from our "private" courtyard – needless to say hotel staff denied any responsibility and the hotel manager blamed fellow guests!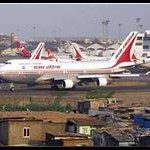 We arrived at Udaipur airport 2 hours before our 15:45 flight – the airport was clean, air-conditioned and modern – but very empty.  Time for more reading!
After the relative peace and tranquility of Udaipur, arriving back in Mumbai was not fun.  We pre-paid for a taxi to take us to our hotel and navigated through the congestion and noise.  The hotel upgraded us to a one bedroom apartment for 2 nights which was a very pleasant surprise – well for me anyway, as Rhys "volunteered" the sofa bed!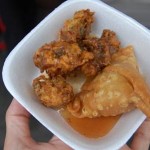 Tonight we plucked up courage to try food from the infamous street markets just around the corner from our hotel in Juhu.  And what a pleasant surprise!  Rhys and I feasted on bhajias and samosas, followed by Sohan Papdi (one of India's most popular sweets) – all for 40 rupees (just over a dollar!).